Lyrics for: Blind World, split 7" EP with Agatochles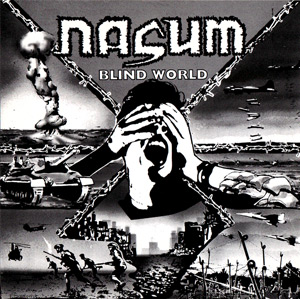 1. BLIND WORLD
(Music: Anders, lyrics: Erik Ohlsson)
I live in my own world, me and my family
To things that happens in the third world
- I turn my back
Why be so fucking trapped in yourself?
Stand up and say no to the bad things in life
I don't see anything!
If we could open our eyes and see how it is
Instead of running away from the truth
2. THINK
(Music: Anders, lyrics: Erik Ohlsson)
The world is owned by MNC's
The slay our forests for personal gain
When the oxygene is gone and the air is black
Where are we heading? Please tell me where!
It happened so fast, the earth had enough
What happened? No one understood
Think about the world we live in
Let the environment stay clean!
3. SCARECROWS
(Music: Rickard, lyrics: Anders)
Our world is injured by pollutions and war
But you people in control, you don't care at all
Like scarecrows on a field
You stand stale and quiet
When will you act for humanity?
When will you let your opinions be heard?
Like scarecrows on a field
You stand stale and quiet
4. NO TIME TO WASTE
(Music & lyrics: Anders)
By the green-house effect the forests suffocated
Pollutions and dust - the earth's desecrated
There's no time to waste!
Another natural catastrophe, all animals died
A nuclear meltdown, humans start to fry
There's no time to waste!
A scorched landscape that used to be green
What made the human so stupid and mean?
There's no time to waste!
5. TOTAL DESTRUCTION
(Music: Anders, lyrics: Anders & Cal)
A claring light, an unatural tremor
Napalm's burning, a suffocating heat
Blood runs red on scorched earth
People groan in pain of their burns
Skin's looking like hardened meat
Smouldering remains of life
6. BETWEEN THE WALLS
(Music: Mieszko & Anders, lyrics: Mieszko)
I'm crawling on my knees, I shut myself in
I cannot see the point of living in a world
Where I don't belong
I smash the glass I hold in my hand
Purchasing the theft of the forgotten dream
And realising so many things, so explored...
But I'm shut in between the walls!
Where I live my own life
Where I think my own thoughts
Where I dream my own dreams
Between the walls!
Shouting, crying, mourning...
The misery I'm forced to witness, tears me apart...
Lyrics for the releases
•
Blind World, split 7" EP with Agatochles
•
Really Fast vol 9, comp LP
•
Grindwork, comp MCD
•
Smile When You're Dead, split 7" with Psycho
•
Domedagen, demo
•
Industrislaven, MCD/12"
•
World in Turmoil, 7"
•
The Black Illusions, split 7" with Abstain
•
Regressive Hostility, comp CD
•
Inhale/Exhale, LP/CD
•
The Nasum Campaign, split 7" EP with Warhate
•
Human 2.0, LP/CD
•
The Bloodbath is Coming..., comp 2x7" EP
•
Untitled, split 7" EP with Asterisk*
•
Untitled, split 7" EP with Skitsystem
•
Polar Grinder, comp LP
•
Helvete, LP/CD
•
Shift, LP/CD
•
Grind Finale, 2xCD
Discography in recording order