DETAILED DISCOGRAPHY:
Inhale/Exhale
CD/LP+7"/PICTURE DISC
Released by:
• Relapse Records, USA (CD)
• Distortion Records, Sweden (LP+7" EP)
• Vinyl Maniacs/GMR (PIC-LP)
Recording info:
• Recorded at Soundlab Studios, Örebro, Sweden December 1997-January 1998 by Mieszko Talarczyk, Mathias Färm, Anders Jakobson and Per Lindberg.
• Mixed by Mieszko Talarczyk and Anders Jakobson.
• Edited and premastered by Dan Swanö and Mieszko Talarczyk at The Sanctuary, Örebro, Sweden.
• Mastered at Sonorous Mastering, Tempe (AZ), USA February 1998 by Dave Shirk and Bill Yurkiewicz.

Line up:
Mieszko Talarczyk - guitar, bass and vocals
Anders Jakobson - drums and low vocals
Comments by Anders Jakobson:
About the recording...

"Inhale/Exhale" was recorded on Unisound's old 16 track tape recorder. Soundlab Studios was then located in a small basement next door to a Chinese restaurant's kitchen. It always smelled of old food and garbage and the corridors to the studio really felt like a level of "Doom" or "Quake".

I actually don't remember much of the recording other than I once sang until I spat blood. The first indication that vocals might not be my thing...

About the title...

I feel in love with the word "exhale" after seeing the movie title "Waiting to exhale", a movie staring Whitney Houston that I haven't seen. The word was cool and combined with "inhale" it became a good phrase. I thought the idea of having a title with a slash (/) in it was quite original so we had it that way. Many people asked me if "Inhale/Exhale" was a concept album. It wasn't but the title kind of sums up the themes on the album.

About the cover...

I got the cover picture from a friend of mine as I was looking for something to use for a cover to a demotape Mieszko and I did with out one time death metal band Bloodshed. The picture was all wrong for that project but 100% a Nasum cover. So I kept the small paper clipping (just a little bit larger than an average cassette box) for future use.

When we started talking to Relapse I told them that we had a good cover and I made a quick montage in Photoshop adding the logo and our then suggested title "Hear the screams from the dying race", and sent it to them. But when we did the cover with our friend Robert Ahlborg we got cold feet because we figured that it was a famous photo by some hot shot and we didn't wanna get in trouble.

So we did another cover and sent it to Relapse. I then got a call from Matt Jacobsen asking me: "Where are all the gasmasks?". I told him about our cold feet and he said that they would take the risk. So I sent him the picture and another small picture that ended up on the CD print. The "Venice picture" Relapse found in a book. The cover turned out excellent and the gasmasks became a gimmick for Nasum.

About the vinyl versions...

Again I don't remember all the details but I guess we decided to have a bonus 7" with only covers coming with the LP before we started recording the album. The covers were personal favorites that we'd been inspired by. Maybe some odd choices like the Refused and Propagandhi songs, but in my opinion a good track is a good track. I must also mention that members from all bands except S.O.B. has gotten in touch with us and given us thumbs up for our versions.

The LP was released by Relapse in collaboration with Sweden's Distortion records on yellow vinyl. A second edition on black vinyl was also issued.

The picture disc was made by Sweden's Vinyl Maniacs/GMR in 2005 when they released the first three albums on this format.
Navigate through the discography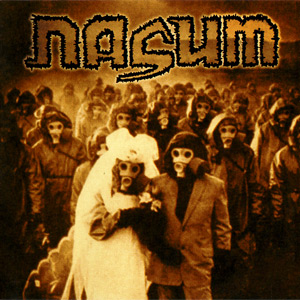 Tracklist
1. This Is...
2. The Masked Face
3. Digging In
4. Time To Act!
5. Disdain And Contempt
6. I See Lies
7. Inhale/Exhale
8. Too Naked To Distort
9. There's No Escape
10. The Rest Is Over
11. Disappointed
12. Lägg Om!
13. You're Obsolete
14. Tested
15. Shapeshifter
16. Feed Them, Kill Them, Skin Them
17. When Science Fails
18. Closing In
19. The World That You Made
20. The System Has Failed Again
21. For What Cause?
22. Fullmatad
23. Screwed
24. Shaping The End
25. The New Firing-Squad
26. No Sign Of Improvement
27. My Philosophy
28. I'm Not Silent
29. The Breathing Furnace
30. Information Is Free
31. Burning Inside
32. A Request For Guidance
33. Grey
34. Worldcraft
35. It's Never Too Late
36. Du Är Bevakad
37. Blinded
38. Can De Lach

Songs on the bonus 7" EP:

39. Bullshit Tradition (Drop Dead cover)
40. The Real (Refused cover)
41. Device (S.O.B. cover)
42. Rio De San Atlanta, Manitoba (Propagandhi cover)