DETAILED DISCOGRAPHY:
Regressive Hostility
Compilation CD
Released by:
• Hostile Regression, Finland

"Songs of Regressive Hostility" stand-alone released by Death by Digital, Canada and Selfmadegod Records, Poland.

Recording info:
• Recorded June 9-13 1997 by Mathias Färm and Mieszko Talarczyk in Studio Punkpalace, Örebro - Sweden

Line up:
Mieszko Talarczyk - guitar and vocals
Anders Jakobson - drums, bass and low vocals
Comments by Anders Jakobson:
About the recording...

We got contacted by the Finish record label Hostile Regression, by traditional snailmail I assume, and got offered to be a part of a compilation CD. So we wrote the songs and recorded them in the first version of Soundlab Studios.

I think we really hit it with this recording. In my opinion the sound is really powerful and it was the first time we really had a good production. And I have never had such a good voice. "Dis sucks" has the best vocals I've ever performed.

I really, really love this recording. Some of the playing is kinda sloppy but still there's something special about this one. If it had been released as a separate Nasum release I think it would've been one of the classics. I can even smell the old Soundlab Studio when I listen to this recording. Also my number one favourite line in a Nasum lyric is on this one: "Fuck the system as it fucks you every fucking day!" I love that line!

About "The Green Tape"...

When we had recorded the songs for the "Regressive Hostility" compilation, I taped them to a green cassette that I sent to Relapse Records. They liked it and it ultimately led to a record deal and then "Inhale/Exhale". "The Green Tape," as Relapse refers to the session, is definitively one important part in the life of Nasum.

About "Songs of Regressive Hostility" - the even greener tape...

Early 2021, Doug Brown from Death By Digital in Canada approached me and asked if there was something from Nasum that he could put out, perhaps on cassette? I came to think about this recording, how it never had been a stand alone release and also that "Green Tape" anecdote. Why not release it as a green tape for real?

Doug dug the idea and I got cracking with the sleeve design. I originally planned the cassette to be called "Hail the Chaos!" after one of the songs, but then ultimately decided on "Songs of Regressive Hostility". I didn't want it to appear as something completely new and/or exclusive since the songs had been out for years. "Songs of Regressive Hostility" is really what it is and Doug assured me that the phrase made sense in English.

The artwork came from a bootleg t-shirt that I found on Instagram. The design was really good and I got in touch with the guys from Ill Will that screen printed it themselves and we came to an aggreement that I could use it as a t-shirt design and as the front cover artwork. It's really cool.

In time for the release, I decided that an European version was needed for different reasons and offered the release to Selfmadegod Records who put it out immediately. Both releases had green sleeves but the Canadian edition actually had green cases and shells. Could it be more green? Possibly not!
Navigate through the discography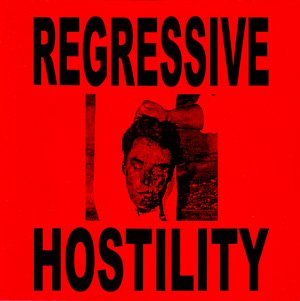 Tracklist
1. Dis Sucks
2. The Leak
3. Eviscerated (By the Fiend)
4. Shambler
5. Lack of Ammunition
6. The Machines
7. Låt Inte Asen Styra Ditt Liv
8. Going Nowhere
9. Generation Ex
10. The Soil Bleeds Black
11. Hail the Chaos!
12. Fuck the System
13. The Spiral Goes Down
14. Shortcut to Extinction
15. Vows
16. Hate Division