DETAILED DISCOGRAPHY:
The Bloodbath is Coming
Compilation 2x7" EP
Released by:
• Sound of Betrayal, Sweden
Recording info:
• Recorded October - December 1999 by Mieszko Talarczyk in Soundlab Studios, Örebro - Sweden

Line up:
Mieszko Talarczyk - guitar, bass and lead vocals
Anders Jakobson - drums and low vocals
Jesper Liveröd - bass
Comments by Anders Jakobson:
About the song...

This song was from the "Human 2.0" recording. We recorded way more songs than what was needed for the album, and this one was one of the one's that was left once we had chosen the songs for the album. I will not say that it is a left-over per se, as most of the unused tracks from the session could have been on the album.

Anyway, if I remember correctly we had agreed to be on this Swedish produced 2x7" EP compilation prior to entering the studio so it was just a matter of picking a song. The appearance of the word "Bloodbath" in both our song title and the title of the compilation is just a coincidence. The compilation had no title once we submitted our song and it might even be so that the compilation title came out of our song. Who knows?

The song itself is quite punkish so it fit well on the compilation.
Navigate through the discography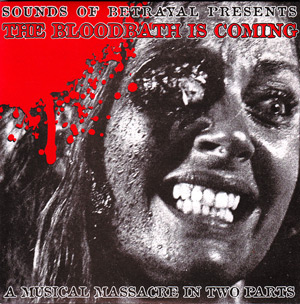 Tracklist
1. A Bloodbath Displayed