DETAILED DISCOGRAPHY:
Domedagen
Demo tape
Released by:
• Self released
Recording info:
• Recorded November 14 1994 by a couple of students in Studio Ferger, Fjugesta - Sweden

Line up:
Rickard Alriksson - drums and vocals
Mieszko Talarczyk - guitar and bass
Anders Jakobson - guitar and bass
Comments by Anders Jakobson:
About the recording...

We recorded the "Domedagen" demo in an old studio outside of Örebro. I guess the studio was built in the 70's, because it had that kind of vibe and I'm sure the studio could have been really great if the right people were behind the desk. Obviously, we recorded our demo with the wrong people.

Mieszko was back in school learning how to be a studio engineer and "Domedagen" was recorded with a couple of his fellow students who really had no clue what we, or they for that matter, were doing. I remember Mieszko sound checking my guitar – EMG-81 pick-ups through a Boss DS-1 distortion pedal and a Peavey bass amp – and I asked the guys to crank up the bass even more, although it was way too much bass. They couldn't tell if I was joking or not. Another funny anecdote is when they stopped the tape after the fifth song or so and asked us when we were going to "start playing for real!"

About the songs...

The stuff on "Domedagen" was pretty much rushed, I think that most of my songs suck really badly and the best stuff was re-recorded for the "Industrislaven" MCD. Regurgitate had released a demo after a couple of EP's and we were sort of inspired by them to do a demo for the sake of it. It sort of shows, and I guess one of the reasons we did it was because we could record it for free.

It was, however, fun to record a few cover songs for the first time. The Napalm Death track came from a legendary split 7" flexi with S.O.B. that eventually will show up again in the comments for another release...

Also the demo includes a few songs in Swedish. It felt right to write in Swedish, which would be even more evident on the following recording.

About the cover...

Mieszko designed the cover and "front" part of the sleeve, which I did the "back" with the lyrics. Not much to say, it's punk!
Navigate through the discography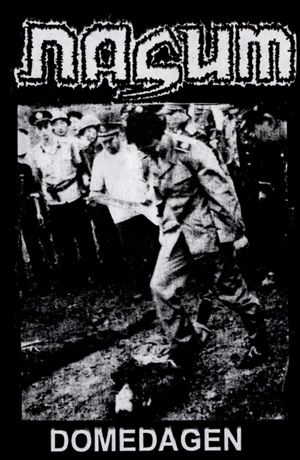 Tracklist
1. Cut to Fit
2. Forcefed Opinion
3. Domedagen
4. Left in a Dream
5. Distortion & Disinformation
6. Stalemate (Napalm Death cover)
7. Bag
8. Revolution
9. What's "Life"?
10. Think
11. Verklighetsflykt
12. Face Obliteration
13. Enough!
14. Dom Styr Våra Liv (Mob 47 cover)