DETAILED DISCOGRAPHY:
Smile When You're Dead
Split 7" EP with Psycho
Released by:
• Ax/ction Records, USA
Recording info:
• Recorded September 1 1994 by Dan Swanö in Unisound Studios, Finspång - Sweden

Line up:
Rickard Alriksson - drums and vocals
Mieszko Talarczyk - guitar and bass
Anders Jakobson - guitar
Guests:
Dan Swanö - additional screams on "No Chance"
Comments by Anders Jakobson:
About the record...

If I remember correctly this release was a result of some serious mailing from my part. I sent out tapes with the "Blind World" recording to each and every smaller and suiting label I could find, among them Ax/ction run by the Psycho guys. This ultimately brought Nasum to the USA, which eventually led to us signing to Relapse.

About the recording...

This was our third recording, and apart from these eight songs we recorded eight more that ended up on the "Grindwork" compilation . After doing the first two recordings tuned to D we decided to tune the guitars even lower and ended up on the "death metal standard" B, and thus started to approach the "Nasum sound". The songs are distinct and I remember that it was a fun time writing and rehearsing them.

We had been instructed to record six minutes at most and we decided to end the record with a lot of chaos and noise so the pressing plant could just cut the music at the six minute mark. Instead they cut the first seconds of "Sawder"...

About the title and cover...

"Smile when you're dead" is a song, but not on this record. It ended up on the "Grindwork" compilation that was recorded at the same time.

As for the cover we found this great image of the skulls with the flowers in full colour in a magazine and made a black and white version as we thought that was the deal... Only to realize that we could have made the cover in full colour after all... Shit happens!
Navigate through the discography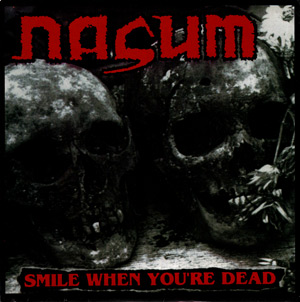 Tracklist
1. Sawder
2. A Look at Society
3. Fucking Murder!
4. Black Visions (Scarecrows II)
5. Escape
6. See the Shit (With Your Own Eyes)
7. Restrained from the Truth
8. No Chance