DETAILED DISCOGRAPHY:
The Nasum Campaign
Split 7" EP with Warhate
Released by:
• Relapse Records, USA
Recording info:
• Recorded October 21-24 1998 by Mieszko Talarczyk in Soundlab Studios, Örebro - Sweden.

Line up:
Mieszko Talarczyk - guitar, bass and lead vocals
Anders Jakobson - drums and low vocals
Comments by Anders Jakobson:
About the songs...

Relapse wanted a couple of songs to have for compilations and stuff, so we wrote a number of songs as we were supposed to be on a weird compilation with four split 5" EP's. We set a side four short songs for that release, that eventually never happened, and had four remaining songs for Relapse. One debuted on the "Contaminated" promo CD and all four were used for this split 7" EP with Warhate and later as bonus tracks on "Human 2.01", (the Japanese version).

About the recording...

My half of the songs for this session was written in the "drop-A" tuning to increase the heaviness even further. It's quite audible in the sludgy beginning of "Silent". This tuning eventually became the standard for Nasum from the following recording.

This was the last recording as a two-piece and it also must have been the last Nasum recording in the original Soundlab Studios. Oddly enough I have no memories what so ever from the recording...
Navigate through the discography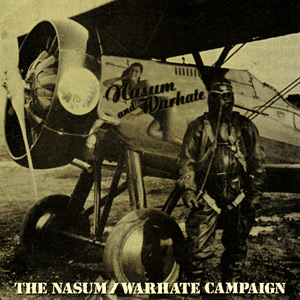 Tracklist
1. …And You Were Blind to What Lay Beyond the Horizon
2. Stolen Pride
3. Silent
4. Losing Faith