DETAILED DISCOGRAPHY:
Doombringer
CD/LP
Released by:
• Relapse Records, USA (CD/LP)
Recording info:
• Recorded January 9, 2004 at Club Quattro, Osaka, Japan by Bo Lund.
• Edited by Anders Jakobson.
• Mastered by Scott Hull.

Line-up:
Mieszko Talarczyk - vocals and guitar
Urban Skytt - guitar
Jon Lindqvist - bas
Anders Jakobson - drums
Comments by Anders Jakobson:
About the release...

This live recording from Japan was always intended to be a split with Napalm Death, but that release got delayed and then more delayed. I sort of gave up on the idea and talked to Relapse about doing a Nasum only release on CD.

But then the split was on again and the idea was to release the split on vinyl first and then do the CD a couple of months later. In the end both versions were released, but the CD and a LP version was released before the split.

About the recording...

This show was recorded in Osaka at Quattro Club on the first evening of Nasum's second tour of Japan. Our Danish sound engineer Bo Lund, who met while touring with The Haunted and who came with us on both trips to Japan, recorded all the shows on his mini disc, but the best recording was without question the first one.

I have a clear and vidid, perhaps partly manufactured, memory of the five of us coming out of an elevator at the Osaka hotel and stopping to listen to the recording. Bo passed around his headphones and we were all amazed of the good quality of the sound. Now, Bo is a very talented sound engineer but this recording was something special. We had recorded ourselves a couple of times earlier but never been able to really capture our sound and the feeling of our show. This time we succeeded.

A couple of years later I did some editing to the recording, touching up the sound, removing tracks which were bad either sound wise or playing wise, moved around some songs and came up with the 16 tracks that makes up this live recording. We always put our songs in blocks of perhaps two or three songs when we played live and this edited recording includes blocks that we never played. That makes this recording sound fresh even for me after all the shows with Nasum.

About the title and artwork...

When I was about to discuss artwork ideas with Orion Landau from Relapse I hadn't decided on a title yet. I was thinking about "Doombringer" and "The Masked Face" and asked Orion which one got him most excited as an artist. He called "Doombringer" "the winner" and thus the title was set. Orion immediate presented an idea for the artwork was very different from what it ultimately became. I'm happy with the outcome and it's quite different from the other Nasum releases.
Navigate through the discography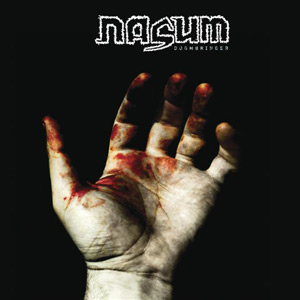 Tracklist
1. Corrosion
2. Doombringer
3. Just Another Hog
4. Inhale/ Exhale
5. Scoop
6. Bullshit
7. Relics
8. Löpandebandspincipen
9. I Hate People
10. Masshypnosis
11. A Welcome Breeze of Stinking Air
12. Fatal Search
13. This Is...
14. The Masked Face
15. The Idiot Parade
16. Den Svarta Fanan