DETAILED DISCOGRAPHY:
Grindwork
4 way split 3" MCD with Retaliation, Vivisection and C.S.S.O
Released by:
• Grindwork Productions, Sweden
Recording info:
• Recorded September 1 1994 by Dan Swanö in Unisound Studios, Finspång - Sweden

Line up:
Rickard Alriksson - drums and vocals
Mieszko Talarczyk - guitar and bass
Anders Jakobson - guitar
Comments by Anders Jakobson:
About the record...

This very small CD (3" - actually, the cover image to right is almost the actual size of the record...) was the second release on Grindwork Productions. The first one was the "Blind World" t-shirt... Grindwork Productions was Mieszko's label/whatever that he had together with his friend Jonny Deubler. They also has a fanzine called Scenkross together which was in the unusual tabloid format.

I guess the inspiration to make a 3" CD came from the Swedish hardcore band Union who released one prior to this. I don't remember much about how the compilation came together, as it was Mieszko's and Jonny's project but it feels like it's a no brainer that Mieszko asked a few bands he was in contact with to supply a couple of minutes of grind for him. As it happened it became a four-way split with two Swedish and two Japanese bands.

Apparently there has been a bootleg release of "Grindwork" on vinyl...

About the recording...

This was our third recording, and apart from these eight songs we recorded eight more that ended up on the split with Psycho. After doing the first two recordings tuned to D we decided to tune the guitars even lower and ended up on the "death metal standard" B, and thus started to approach the "Nasum sound". The songs are distinct and I remember that it was a fun time writing and rehearsing them.
Navigate through the discography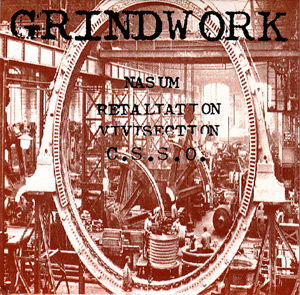 Tracklist
1. My Fear
2. Fur
3. A Game Played by Society
4. It's All About the Information
5. Smile When You're Dead
6. Blindfolded (By the Media)
7. Erased
8. Warfuck