DETAILED DISCOGRAPHY:
Blind World
Split 7" EP with Agathocles
Released by:
• Poserslaughter Records, Germany
Recording info:
• Recorded July 2, 1993 by Dan Swanö in Unisound Studios, Finspång - Sweden.

Line up:
Rickard Alriksson - drums and vocals
Mieszko Talarczyk - guitar
Anders Jakobson - guitar and bass
Guests:
Henke Forss - backing vocals
Comments by Anders Jakobson:
About the recording...

The recording of "Blind World" was originally scheduled at the same time as Necrony recorded the "Necroticism: Distorting the Originals" cover MCD, but due to lack of time it didn't happen. That was actually a good thing because it gave us time to remove some not particularly serious songs we had written and most important of all - add another member, i.e. Mieszko.

I discovered Mieszko's ability to play grindcore when he, a mutual friend and I were fooling around in the practise room just improvising shit. Suddenly this guy that I hardly knew at that time just whacked out one great grindcore riff after the other. When I asked him what it was he just said that he just made it up at that moment.

So I asked him to join the then dynamic duo Nasum. Mieszko wrote "Between the Walls" and we recorded the songs with Dan Swanö in Finspång.

This recording is kind of strange – Rickard's vocals are way too deep, the guitars are tuned in D and the drums sound like a drum machine. We invited Henke Forss to do some guest backing vocals, which can hardly be heard, and when I picked him up at a bus stop I crashed my mother's car…

But it's a very important recording in the history of Nasum, no doubt about that.

About the lyrics...

Those who have scanned the insert for this release may have seen two odd names in the credits for the lyrics: Erik Ohlsson and Cal. The truth is that writing lyrics wasn't something we were putting much time into in the early days, so we basically translated two Swedish lyrics written by Erik, who played in a punkband with me and who today is in Millencolin, that we found on a piece of paper in the practice room. And Cal is of course Cal from Discharge from whom we stole some classic phrases. I don't even know if Cal wrote the lyrics for Discharge, but he gets some credit from us anyway!

About the artwork...

The average grind fan obviously sees where the inspiration for the artwork comes from. I guess we weren't good at hiding our love for Napalm Death in the early days... The artwork is made by Fredrik Fogelqvist who attended the same school as I went to. If I remember correctly I think I ordered a pencil drawing, but he delivered something that was way more advanced and really good. I think this remains are really cool cover two decades later, and I still have the original in my house.

About the samples...

The samples in the beginning and the end of this session are from the classic horror flick "Flesh for Frankenstein." In these dialogues you'll be able to hear the correct pronunciation of "Nasum", at least in some "Eastern Europe-English". Rickard and I saw the film about the same time as we started the band and laughed at the word. It came natural to pick it as a band name, especially since the band was just a project with no future… So we called ourselves "nose" in some odd Latin form. Not the coolest name around…

About Agathocles...

Younger grind fans, of perhaps those who doesn't keep track of each and every band in the grindcore scene, might not know who Agathocles were. They were a Belgian grind band who were famous for putting out an extreme amount of split 7" EP's. Our split was originally going to be with some other band, but ended up as a shared piece of plastic with Agathocles, which was a great promotion tool for us. Despite Agathocles productivity, I never really liked them and their side of the split is some uninspired live recording that only can appeal to the extreme Agathocles fans.
Navigate through the discography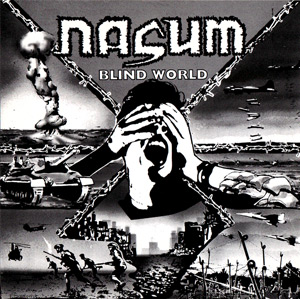 Tracklist
1. Blind world
2. Think
3. Scarecrows
4. No Time to Waste
5. Total Destruction
6. Between the Walls