THE FAREWELL TOUR 2012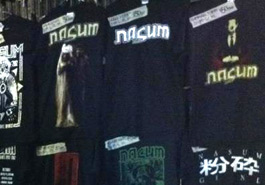 Posted: November 6, 2012 12:42:43 by Anders Jakobson
The Nasum shop is open again with the leftover merchandise from the tour, and - ta da! - the reissue of the "Grind Finale" 4xLP! Now about the leftover merchandise: for some designs there are just a...
•
Read the entire post
PREVIOUS POSTINGS:
•
October 26, 10:38: European final tour - Part 5
•
October 16, 11:40: Behind the scenes: The band that almost happened
•
October 10, 11:39: European final tour - Part 4
Farewell tour videos
A collection of all the videos from the Farewell tour found on YouTube.
•
See the videos
Farewell tour merch
A look into the selection of the merchandise sold on the Farewell tour.
•
See the merchandise
The Statement
YOU THOUGHT NASUM WERE DEAD? WE ARE.
THIS IS NOT RESURRECTION. IT'S FAREWELL, FOR GOOD.
If things were different, if Mieszko hadn't died, Nasum would have celebrated its 20th anniversary in 2012, believe it or not. Therefore, and after long deliberation and scrutiny, we have decided that it's now or never: Nasum will do a handful of shows and festival gigs around the world in 2012 - to celebrate our anniversary, say a final goodbye to the fans and Mieszko.
No cheesy reunion, no new albums, no epitaph for Mieszko. We will play only a few cities and festivals in a limited number of disruptive, unruly concerts. It will be a total blast, and we aim to go out hard. Just you wait.
•
Read the entire statement