THE NASUM VAULT - 1998-2004: THE ALBUM YEARS
"Inhale/Exhale" Rehearsal #2 1997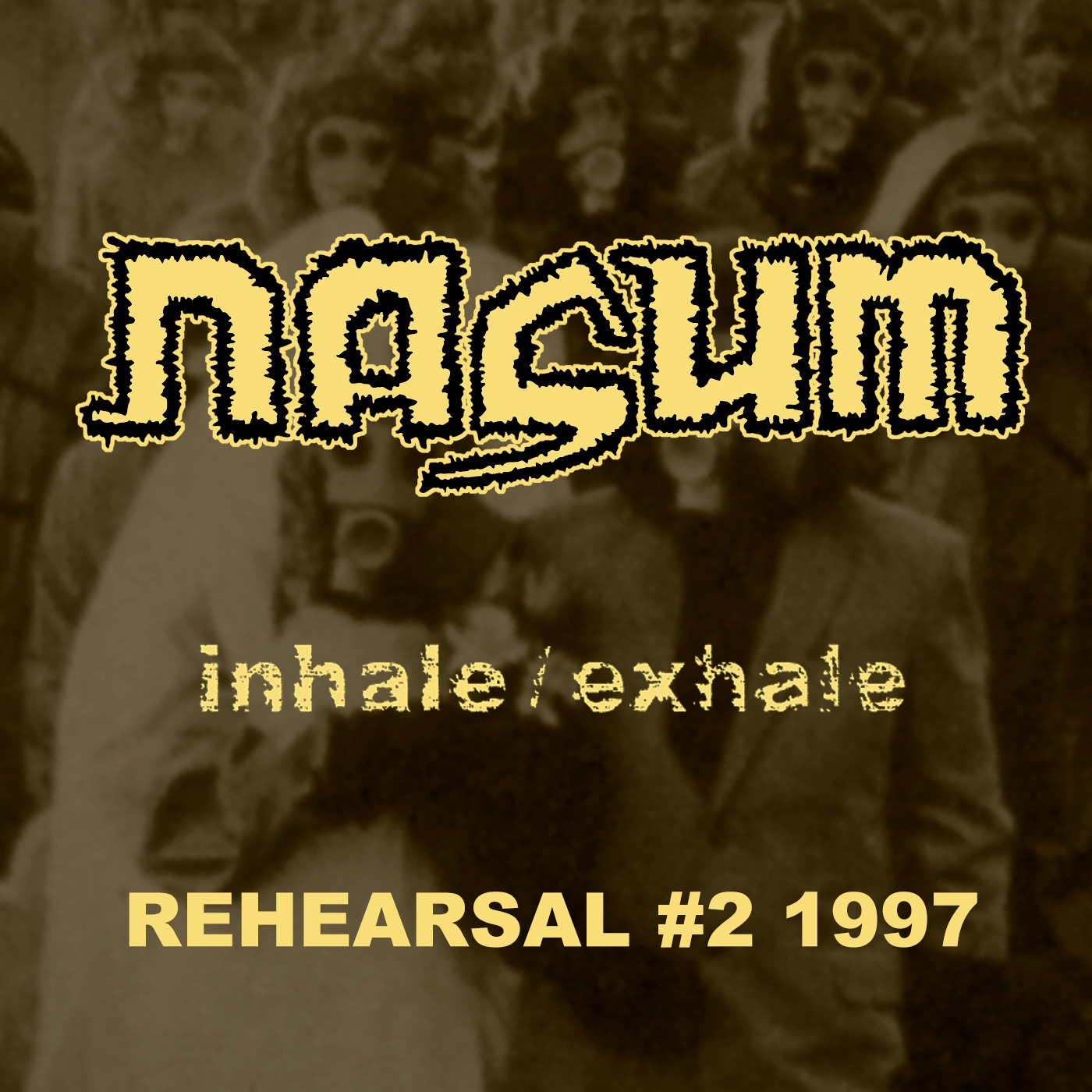 NOTES ON A REHEARSAL

Five years ago, when "Inhale/Exhale" turned 20 years old, I uploaded the first "album" in The Rare Nasum project, which was a rehearsal tape for "Inhale/Exhale". That was sort of the stepping stone for the whole Nasum Vault thingy that's been going on for the last five years. Now, when "Inhale/Exhale" turns 25 I thought it was fitting to go full circle and release another rehearsal for the album.

I knew when I found the first one that it wasn't the only rehearsal for the album that I had on tape, and when I did my big tape research project in 2021 I found another one. And another one. And... In total I think I found four or five additional sessions with a total of 44 recorded songs. Some in multiple versions but most of them were unique. I can't say that I remember that there were so many different recordings, and they really are different. Some are as the rehearsal released in 2018 in-studio recordings as my drum kit doubled as the house kit for Soundlab Studios for while and were miked most of the time. Others are much more simple recorded rehearsals.

I've been sitting on these 44 songs for a while because I knew I had to do narrow it down to a selection. And when I started the work on that, I quickly realized that only a few of them might have some public value. First of all, many of the songs were already recorded and released on the first rehearsal album, so I excluded most of those songs just for that reason. Then the sound quality were another issue. The worst sounding stuff were put aside unless it was a really unique song. In total, two thirds of the material were canned and I ended up with a 14 song long rehearsal, picked from a few different sessions.

In the other rehearsal albums I have released in the past, there has always been one or two songs that has been different from it's final form. Some more than others. The 44 songs I had here were basically exact as how they ended up on the album. One exception was a version of the song "Grey" where I played blast beats on the verses instead of d-beat. Ultimately I chose not to included it here because it was clearly an experiment that made the song worse and my playing on this particular rehearsal recording was subpar. You do not want to hear that!

The unique things among these 14 songs are in my humble opinion the four cover songs that ended up on the bonus 7" EP and two unused songs. It's fun to hear them in rehearsal form. Unfortunately, most of this unique material are of the worst quality sound wise, but chosen for being odd. That goes for the two unreleased songs "Need some…" and "Truth Fed Through a Tube". I really wish they had been part of the better sounding rehearsals.

Anyway, if you want to hear the 14 songs, just get to Bandcamp where you of course find all the other rare stuff from the Nasum Vault.

Tracklist
1. The Breathing Furnace
2. You're Obsolete?
3. This Is...
4. Burning Inside
5. Shapeshifter
6. No Sign of Improvement
7. Du är bevakad
8. Rio de San Atlanta, Manitoba (Propaghandi cover)
9. The Real (Refused cover)
10. Device (S.O.B. cover)
11. Bullshit Tradition (Dropdead cover)
12. Need Some... (Unused song)
13. Worldcraft
14. Truth Fed Through a Tube (Unused song)

- Anders Jakobson, May 26, 2023
HELP ME FUND THE VAULT AND THE RARE NASUM
I have a lot of Nasum "vaults". There are the digital vaults, harddrives, CD-R's and whatever that contains some stuff. And then there are the analog vaults. Boxes filled with documents and notes and boxes filled with tapes containing rehearsals and rare stuff. I'd be more than happy to share this with the fans, but I need some funds to take time of from work to really do all that boring excavating that's needed to find and document everything.

I have put together a GoFundMe page for this: gofundme.com/the-rare-nasum and any donation is appreciated. You can also support this cause by buying The Rare Nasum stuff at Bandcamp. Or you can make a donation without going through GoFundMe or Bandcamp - just contact me at nasum@nasum.com. Everything that comes in via these channels are ear marked for a future massive excavation.

I really hope you can help me to preserve The Nasum Vault for the world. Thanks!

- Anders Jakobson.