The Tour Blog - DATE: July 11, 2012
Extremefests and Roskilde
Posted: July 11, 2012 18:58:51 by Anders Jakobson
Yet again we had extremely early flights from Stockholm and Helsinki and after a layover in Frankfurt we landed in a very hot Vienna where we were picked up by our Czech driver Tomas. For the Extremefest dates we slept in what could be described as a very large van with beds or a very small bus. It had nine casket like bunks where one had to be used for our guitars and other equipment. We were really crammed but it worked surprisingly fine, especially since the bunks got comfortably cool during the nights. During the first trip from the airport they were so hot that I doubted that we would be able to sleep at all. We have not been particularly graced with long nights during this tour so far, but during these dates we actually got a good night's sleep while Tomas drove like a champion.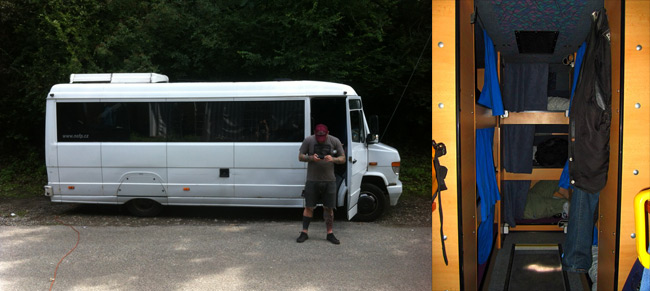 One bus and one Tomas, and then the sleeping area.

Extremefest was a quite original set up with three three-day festivals at the same time at three different places and with three "packages" trading places with each other from day to day. Unfortunately they were quite poorly attended and I would guess that the organizers weren't that pleased with the ticket sales. Was it because of too many European festivals at the same time or because the Austrian and Swiss shows had to change locations? I can't say, but the one in Germany felt like the best one of the three and despite a quick and stressing changeover our best show of the three.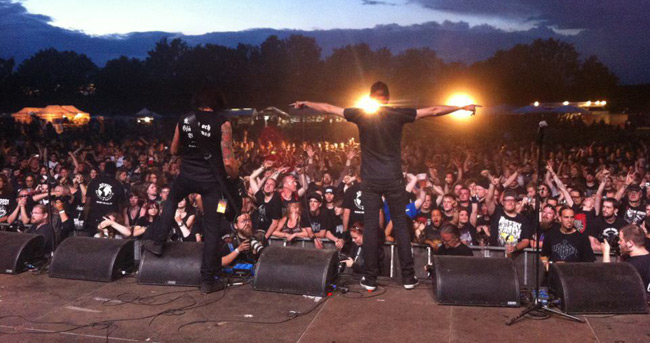 A quite dramatic vista during the German show.

During these dates we decided to change the setlist quite a lot from night to night, mostly to "air" some songs that we hadn't played in a while. That made all nights unique and fun. The headline band on all these nights was Suicide Silence that we sort of bonded with, which we are very thankful for - considering what happened after the third show… I'll come back to that later. They are a very professional band combining death metal with heavy breakdowns. Cool stuff, and we look forward to meeting them again at Wacken.

Traveling the way we did gave us a bit more time to kill than what we usually have, so in Pratteln, Switzerland, Jesper, Urban and I took a walk with our tour manager Janne down to the river Rhine and just sat there for a while. It's really nice to get away from walls of trigged bass drums, growling vocals and all the "extreme" stuff when you are on tour. Something that is really different gives you a lot more energy. Not that we were displeased with the venue Z7 where the Swiss Extremefest was held. On the contrary, it was a sweet return as Jesper and I were there during the Napalm Death tour in 2000. It's a cool place with outstanding in-house dinners.




Hanging out down by the riverside. This is actually two photos from two different cameras and different photographers, but the angle was almost identical that it was easy to combine them into one manipulated shot.

In Germany some time were killed by doing some technical work on the bass, and since that work was done by our crew I think it's about time they get a proper introduction. Antti is our front of house, our sound engineer - a very experienced dude with lots of ideas and obviously a great talent. After the show at the squat in Bologna a couple of weeks ago some people approached him and said that he had made the impossible - getting a good sound in that room. Talented for sure. Our other crew member is Hannes, whose main chore is to take care of the monitors, but he's doing so much more. He basically takes care of all our backline - together with Antti - and make our lives a little bit easier. Both guys are really professional and super nice, funny people so we are very pleased to have them with us. And then we have Janne, of course, who keeps track of everything just like a good tour manager should do.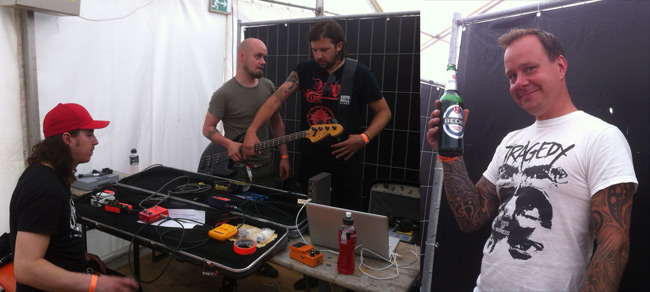 Hannes, Antti, some hang-around that insists he's the bass player and Janne enjoying an alcohol-free beer.

After the Swiss show we had an early flight (what else…?) to Copenhagen, so we left at 4 in the morning and had just a short hourlong drive to the airport. When we got there we realized that we had forgotten our three backdrops at Z7! Janne got hold of the production manager at the venue who was just about to leave and he put the backdrops by Suicide Silence's bus as they were heading to Copenhagen with a later flight, and luckily they were able to bring the backdrops to Roskilde. You see why I felt that bonding with them was important? I seriously thought that we had seen the last of those backdrops. On another note Janne managed to forget his laptop at the security check-in in Zürich… Shit happens on tour…

Roskilde then - well, this is a festival that has been around since 1971 (!) and they obviously know what they are doing by now. What a professionally run festival! Everything was perfect and we could relax at the super cozy backstage area and have a couple of meetings. Many months ago we were approached by a film crew who wanted to shoot the show. We finally met the crew and talked through a number of ideas. In the end the show was shot by seven different cameras, where I had one of them strapped to my chest! I felt like Iron Man. We don't know what we will do with this recording in the end, but the film crew wants to incorporate as many sourced as possible so if you were at the Roskilde show and shot something with your phone, get in touch with siegfriedproductions@gmail.com and find out how to submit your video.

The fact that the show was filmed and also recorded by the Danish radio added an extra layer of tension to the show. Every little mistake felt like something massive, but in the end it was a fine show and a truly fine festival.

Next up: Obscene Extreme and Ilosaari and then a well-deserved break...
Share this blog post