The Tour Blog - DATE: July 2, 2012
Peace and Love and With Full Force
Posted: July 2, 2012 10:48:44 by Anders Jakobson
We've had some strange weeks already, but I wonder if the Peace and Love/With Full Force weekend takes the price for the weirdest one in the end. Usually we fly somewhere, play, fly somewhere else, play and so forth. This time, as Peace and Love - which is Sweden's biggest festival - was just a few hours by car away from us we were able to drive to the festival, play, drive home and sleep in our own beds. Not the Finnish part of the touring party, obviously, but I guess it was as odd for them as it was for us Swedes.

Anyway: usually we end up on metal stages or whatever, but as this is a huge festival with "everything" on the bill, we shared stage with some debates and lectures about ungrinding things. Yet another addition to the weirdness. But never mind that - it was a small venue for music never the less so we did our shit and apparently did it good as the local press gave us five out of five for the show. I thought the show was okay, but apparently we are so far into the zone right now that we don't really know when we do really good anymore. We blasted shit to bits without knowing it.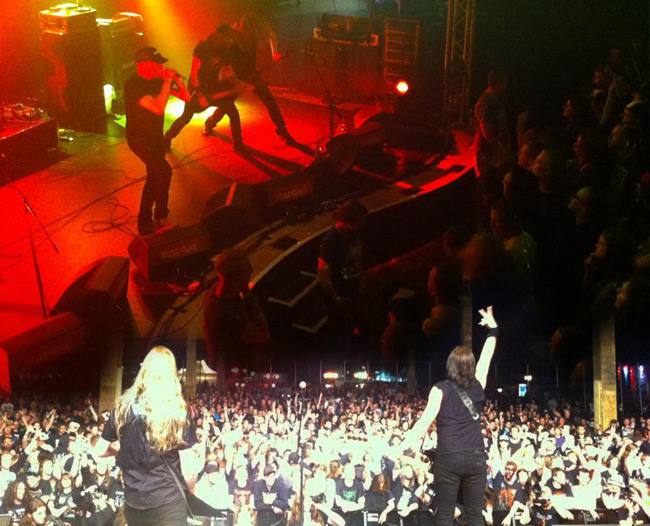 Peace and Love vs. With Full Force

The weirdness of a day trip and a split debate/grind stage aside - that was nothing compared to what followed the next day. We did another day trip to Germany, but it was during the night and some shitty things happened… We had a stage time at With Full Force at 02.45 (which technically was Saturday morning) and we weren't even the last band on stage - not even the second last! Considering the late time, our flight was at 07.15 in the evening so we all had a lazy day before even getting to the airport. We had a round trip booked with Air Berlin, where the Finns and Jon would go to Helsinki on the following day as Jon was playing at Tuska with Victims. Oddly enough we got our boarding passes for the return trip already in Stockholm and in hindsight that might be the reason for the fuck up that was to come.

The flight was slightly late leaving Stockholm. The captain said that the "window" for the landing was full in Berlin so we might have to wait for 50 minutes before we could take off. 50 seconds later we took off… Weird. Anyway, about 90 minutes later we landed and waited for our luggage only to realize that four pieces of luggage were missing - two guitars, the cymbals, our backdrops and a big case of expensive microphones. After some detective work, it came to our knowledge that the luggage - all part of the Finnish party's booking - already had been checked in for the return flight, as if they wanted to fly from Stockholm to Helsinki via Berlin including an 8 hour layover… Not likely!

It took about an hour before we had all our shit and we went in the rainy night to With Full Force and got there about midnight. None of us weren't in a particularly good condition to play some grind at that point, but after some food and drinks the energy returned and we did a pretty good show for 40 minutes. An hour later we went back to the airport to catch our early flights. That's right, no sleep!

We split up in two parties and Urban, Jesper and I ended up on a flight that in the end got an hour late to Stockholm, so three very tired guys touched Swedish ground again around 11 in the morning. By that point, or even at the airport in Berlin, we had already forgotten that we had been on stage just a few hours earlier… Such a strange notion, but considering how weird this weekend was, it was no surprise.
Share this blog post
Charity t-shirt for Obscene Extreme
Posted: July 2, 2012 09:43:39 by Anders Jakobson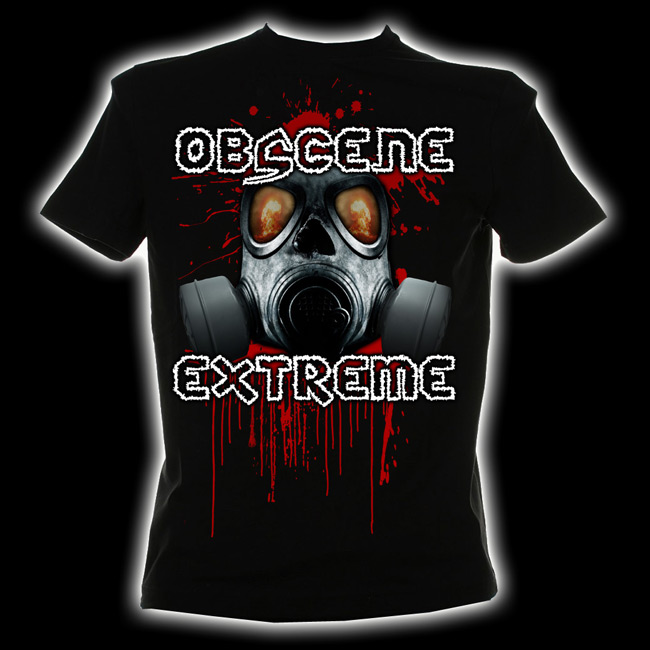 For the Obscene Extreme Festival there will be a limited Nasum-esque charity t-shirt where all the profit goes to Médecins Sans Frontières (Doctors Without Borders). There will be only 100 copies available and the starting price is 350,- CZK but you can pay how much you want for your copy.

Read more about this at the OEF website.
Share this blog post