The Vault Blog
Preorder brand new official merch!
Posted: November 20, 2017 18:12:02 by Anders Jakobson
About five years ago we opened the Nasum shop again after the Farewell tour had folded. We had a few boxes of leftover merch that since then have sold out. There were also some stuff from related bands and during the years a number of "new" releases have been added (like the 7" version of "Domedagen" and the vinyl represses of all the albums and "Grind Finale").

But no new Nasum clothes. Until now - today you can preorder a brand new design and the classic Nasum logo in the first time printed with gold ink, and we will do a totebag with the logo as well.

Here's a mockup of the brand new design: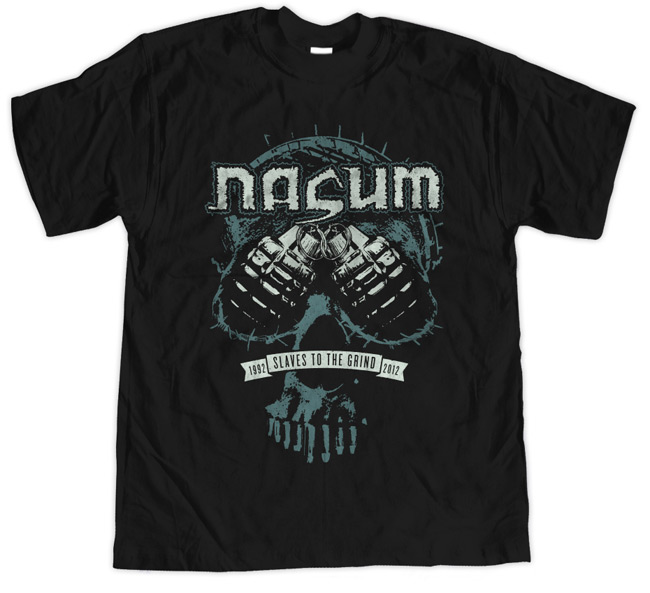 Actually, this design was originally created while we were preparing designs for the Farewell tour and we opted not to print it then because we had so many designs to choose from. I really liked the design and wanted to do it someday, and with some minor adjustments that day is finally here.

This design was made by Robert Samsonowitz (rbrt.org) who designed the "Shift" CD/LP back in 2004, and some elements from the album artwork can be spotted in this design.

As Robert is doing a year long tour (summer 2017 to summer 2018) with his old hardcore band Adhesive where ALL profits goes to Médécins Sans Frontières (Doctors Without Borders) a part of the sales of this particular design will be added to Adhesive's fundraiser.

As of now we're accepting preorders for the three new items, where the t-shirts have a lower price. We are also taking preorders for t-shirts in bigger sizes (2XL-4XL) that will be printed on demand and not be stocked once the preorder is over.

The preorded expires mid-December so place your orders right now at the merch page!
BLOG CALENDAR
<<
November 2017
>>
Su
Mo
Tu
We
Th
Fr
Sa
1
2
3
4
5
6
7
8
9
10
11
12
13
14
15
16
17
18
19
20
21
22
23
24
25
26
27
28
29
30
SEARCH OR SUBSCRIBE
SEARCH THE BLOG
SUBSCRIBE
•
Subscribe to the blog via RSS
TWITTER - #NASUM
#nasum Tweets