The Tour Blog
European final tour - Part 4
Posted: October 10, 2012 11:39:55 by Anders Jakobson
October 2 - Blasting Czech to bits

The show at the Czech festival Obscene Extreme in July remains on of the highlights of the entire tour, and the Czech Republic really is a grindcore country for sure. The Barrak venue in Ostrava was unfortunately placed in a really depressive environment and when I woke up in the morning I wasn't entirely sure that we were at the right place. Eventually, a bit later on the day, I walked with a guy just a few streets away and found lots of shops and even a big mall, so a real city was just behind that depressing building.

The inside was better though and we had quite a good evening there. There was a support band added more or less in the last minute called Carnal Diafragma, that played what I would like to call typical Obscene Extreme grindcore which in a way was a good compliment to Black Breath and our styles.




Antti decided to stop any further communication with a nice message to the people, and Hannes was found hiding behind bags of "death" and "murder"…

This was another of those days where nothing really happened until it was time to get up on stage and play some grind in Czech for the very last time. I felt in a particularly grinding mode this day. The blast beats were working really well, so I surprised the other guys by going off our decided setlist and led us into the first three songs of "Shift", which are the most blasting block of songs we have. That was fun. And when we had finished the set I wasn't particularly exhausted. One of those nights that could have been a bit longer.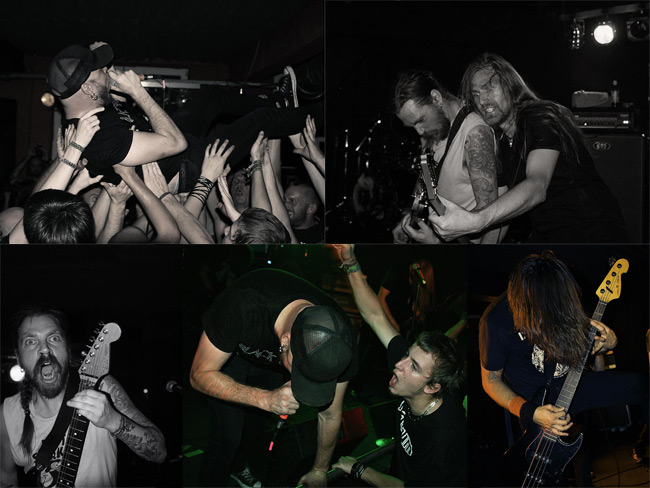 A collage of photos taken by Milan Jurkas - see more here.

October 3 - Mieszko's old home country

Next up: Poland for the very first, and last time. Our show was in Krakow at the Kwadrat venue, a quite large room that was a nightmare sound wise. I was feeling a bit under the weather for most of the day, and took it easy in our bus watching some stuff on my laptop and drinking lots of fluids, just to hopefully avoid getting worse for the remainder of the tour - which would be a total disaster. There are a few others in the tour party that coughs and feels a little bit sick, and as we are traveling in the same bus it's no surprise that something is spreading. Hopefully it will not be any worse than this.

It felt a bit special to play in Poland. As most of you, if not ALL of you, know Mieszko was originally from Poland and in a way it's quite surprising that we haven't been here before. I really wanted the Polish fans to feel extra happy about Mieszko's heritage so I instructed Keijo to say something from the stage. And so he did and there were some extra cheers which felt good. This evening we were joined by The Dead Goats and Antigama who warmed up the crowd before Black Breath crushed them as usual. I'm so happy that we share this final tour with Black Breath - they surely are one of the greatest bands of today.

During our show I felt that true band chemistry again. The almost 60 shows we've done so far since May has really payed off, and we will quit when we are as good as we can be. So strange to think about that. I know that there's only three shows left, but it's really hard to understand that the end actually is only a few more blasts away… And as usual we did the best we could in Poland, although the sound probably wasn't that good. Our FOH Antti was very disappointed after the show, but he's also his own worst critic, so I would say that the sound probably was good, but not as good as he wants it to be.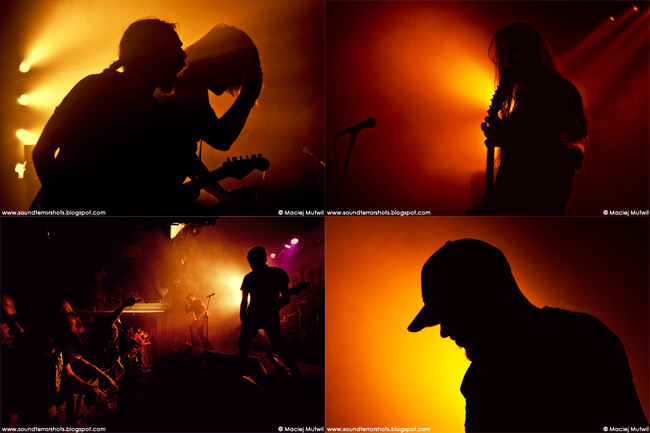 A collage of photos taken by Maciej Mutwil - see more here.

October 4 - Goodbye Europe and the world

Back in 1995 the second ever Nasum gig, and the first one outside of Sweden was in Berlin at the Knaack Club, where we returned in 2004. Now, the final non-Swedish show was also in Berlin. Just another detail that is bookending the 20th anniversary. Speaking about Knaack in 2004 - someone actually gave our merch guy Petri a CD of that particular show, that now is in my possession. Quite funny to listen to and compare to the shows we've done on this tour.

Anyway - the day in Berlin was slightly shadowed by some logistical hassle. We had gotten a message from the company that supplied the nightliner that we had to change bus in Berlin due to some booking detail that we never really understood. As the parking situation outside of the venue Magnet is a little bit tricky, we were parked at another location as we arrived a bit earlier. All of a sudden our driver said that the new bus was at the venue so we drove there, only to realize that the bus wasn't there. Our previous bus was now parked in a very bad way, so it left for a few hours without us and the trailer with our gear. Everything was in disarray and about three hours later the new bus arrived - and the old one so we could transfer our bags and stuff. Everything could have been handled way more smoothly, but in the end we got a bus that perhaps is slightly nicer and a new driver called Udo!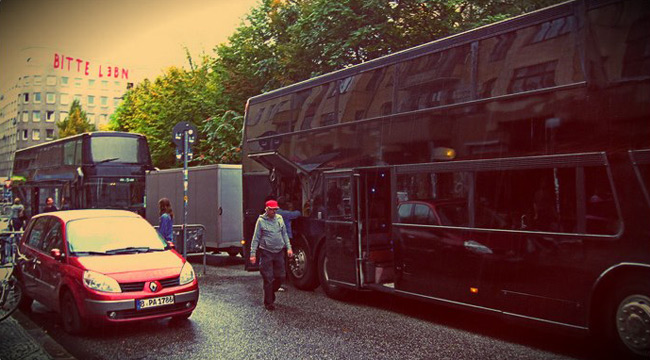 Udo in the middle and then the old nightliner to the left and the new one to the right. One each - one for Black Breath and one for Nasum… Well, not really…

During all this we were able to load in, do the soundcheck and check out the town. Janne, Petri and I went to a recordstore while Urban and Jesper went to big tv tower, Fernsehturm. Come showtime it was very evident that the show would be another of those stupid hot ones. Black Breath came off stage gasping for air and recommended a lot of water on stage. Not exactly what you want to hear when you are about to hit the stage. And it sure was hot, at least in the beginning of the show. Then someone got some big fans working so it got less hot. The general feeling was quite intense - the room was packed and the venue was small and it got really intimate.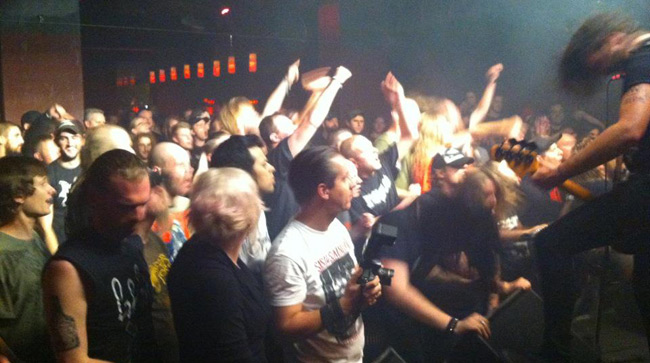 October 5 - Back in Sweden and at KB again

Eleven years ago, Nasum were on a Scandinavian tour together with The Haunted and Nine. It was the first of the "Close-Up Made Us Do It" tours, that since then have appeared on and off during the years. It was quite a large tour considering it mostly covered Sweden, and got some media attention especially since The Haunted just had won a Swedish Grammy. When the tour hit Malmö and the KB venue, Swedish tv made a half-hour special interviewing all the bands. In other words: KB is another important part of the Nasum history.

It is a killer venue and one of the best on the entire tour. You feel very welcomed at KB. The people who work there are nice and helpful, and you feel appreciated, which makes it much more easy to work. After breakfast and load-in I went to the city to do some chores, most importantly to buy a pair of jeans! I had basically lived in the Black Breath sweatpants for almost two weeks, and although they served me well, I was in desperate need of a pair of proper pants. While at the store trying them on, I got a text message from Janne: "Soundcheck!". I was 15-20 minutes away so I rushed out in the pouring rain, walking fast and running some parts to get to the venue as soon as possible. Completely drenched in rain and sweat I finally reached KB and went on stage to do the usual 2-4 song soundcheck.

This night we yet again had Skitsystem on the bill, but also Pyramido - a Swedish doom band with our friend Ronnie as the vocalist. Ronnie has many ties with Nasum - he was one of the original members of Burst back in the early days, and he has also helped us out as a driver at some occasions, like when we came back from the first US tour back in 1999. I've written it before, and I write it again: this final tour is really tying all the knots together!

During the time prior to the tour our booking agency had sent out updates on pre-sales every week and the number for Malmö had been very poor, but something must have happened during the last days because the number we got now was almost 300 and in the end about 600 people showed up for the show which was great. I had a few old friends in the crowd that I spotted from the stage and had a chance to talk to after the show.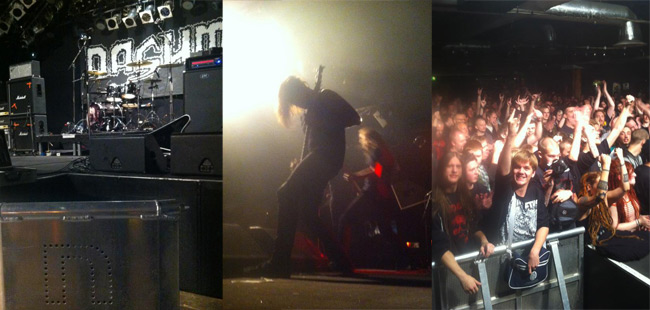 The barricades had an "N" on them, very similar to the Nasum "N"…

I believe all of us got a little bit struck by the notion that the final show was just one day away. I suddenly felt nervous, and that doesn't really happen at all anymore, and while speaking to the others I realized that they also felt a little bit strange. For me, this affected the Malmö show in a slightly negative way. I was very tense and I felt some nasty ache in my upper left arm almost from the start of the show. This was slightly alarming considering the Grind Finale was left, but it was also quite easy to connect the pain with the tension, so I wasn't that worried. Despite the pain, we did a good show although slightly different song wise. Keijo had informed us that his voice wasn't really responding to the high pitched parts so we adjusted the setlist slightly. No major changes but still a few so we could save a little energy for the last show.