The Tour Blog
Four continents - Part 2
Posted: August 22, 2012 17:45:05 by Anders Jakobson
At the second stop in Australia, Adelaide, we were met at the airport by Robert McManus who is responsible for all these shows. At the venue, Fowlers, we met our Tasmanian support band Psycroptic who are with us during the tour. We had already met the second support band Dyscarnate from the UK in Perth. All of these new acquaintances were nice people so we had a good touring party going on.

Fowlers was another cool venue with some old school arcade games as an unexpected bonus. Not that anyone of us had the time to play them, but the sheer presence of a "Pac-Man" at a venue was quite satisfying. Come showtime the venue wasn't really filled to the brink, and being a Thursday it felt a little bit mellow but we had yet another good show and the Adelaide crowd were loud enough for us to do some encores.

Our accommodations for the night were just a short walk away and we slept at some kind of apartment hotel, i.e. a couple of rooms with a kitchen and a living room type of space. Quite nice, and it was also very nice to crawl back into a warm place as Adelaide was quite rainy and cold this day. Unfortunately none of us slept that well during the night - our bodies and minds were in different time zones.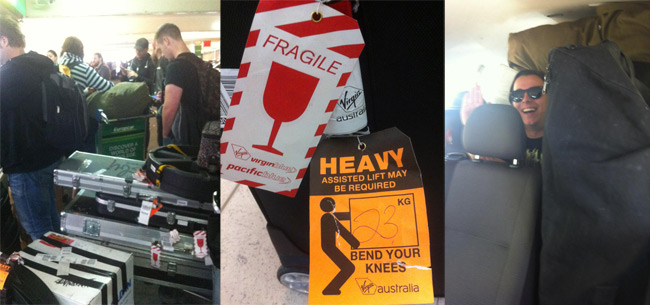 Although we only bring the most necessary stuff, we still have a lot of (heavy) luggage to check in - at every airport…

Another morning flight later and we were in sunny Brisbane. This felt more "Australia" in some way with a few palm trees here and there to spice up the environment. This time the venue was the very nice HiFi, which was one of those venues that you feel your own hometown is missing. If there was a way to excavate the whole building and bring it back to Örebro, I would do that. In Brisbane we met Nathan who is an Internet friend of Jon's who happens to do websites for a couple of bands and artists, among others Baroness and Nathan filled us in on the current situation of the band members and crew after that tragic bus accident. Later on Nathan told us a lot of interesting stories about Metallica, which was unexpected.

When it was time for the show, I wasn't really feeling particularly excited. It's been very tough adjusting to the different time zones since we've travelled to new ones every day. I believe I've found the right rhythm and sleep when you are supposed to sleep, while others in the touring party have trouble sleeping at the nights and are forced to take a nap during the days instead. Anyway - something very unexpected got my energy level rising a few songs into the show when I noticed that Jesper stumbled into the drum riser and sat down on our spare guitar and broke its neck! Rock stars usually smash guitars, grinders breaks them with their asses!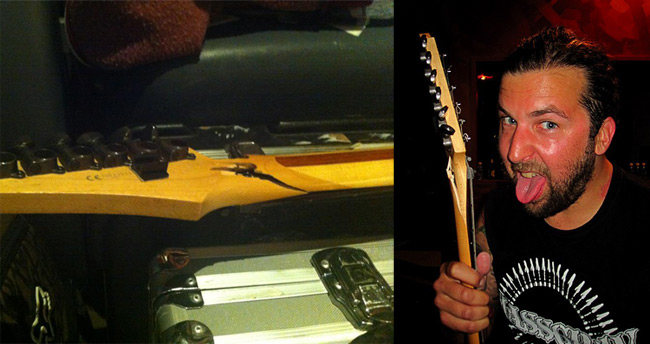 The broken neck and the guy who broke it...

This got the show slightly more exciting than usual because every now and then we are really depending on the spare guitar when a string breaks or something, but fortunately we finished the gig without any other incidents. There were slightly more people present compared to prior shows, which was nice.

Yet again we stayed at an apartment hotel and this time on the top floor, so the view from the balcony was quite astonishing, especially during the daytime.




View from the apartment in Brisbane. Nice!

The following day we had a shorter flight, and thankfully at a later time than the previous flights. A few more hours of sleep, which always is a welcomed gift. As I keep track of the weather reports every time I have access to the Internet, I was expecting the coldest day so far, but Sydney - which was the town of the day - was warmer than expected, but obviously not as warm as Brisbane.

Another HiFi venue was the goal for the day, but to get there we had to suffer some hassle at the car rentals at the airport, and some slow Sydney traffic, and some more hassle at the apartment hotel (yes, once more we get this type of accommodation…). After the soundcheck Jesper, Urban, Janne and I wanted to go to the Sydney Opera House as that is probably something you should see when you are in the biggest city of Australia. We had to wait for ages to get a driver that could take us there, but once there it was worth all the wait. It's an astonishing building for sure. We hung out in and around the Opera House for a few hours. Unfortunately it was already quite dark when we got there so the obvious tourist pictures we took turned out too dark.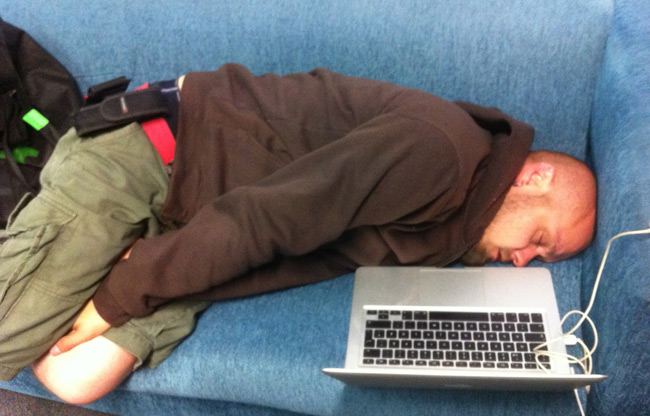 FOH Antti, pretty much before we left for the Opera House and pretty much how he was when we came back a few hours later. He and Hannes have gotten a routine where they sleep backstage for a couple of hours between the sound check and showtime - no matter how much noise there is…

The gig in Sydney turned out to be the best one so far in Australia, at least from a band point of view. Personally I made a few stupid mistakes that annoyed me, especially when they occurred in songs I've played a million times. No critical mistakes thought, it's just that you want your performance to be perfect every night. But the general feeling of the show was that it was great for all of us.

Here are some killer shots from the Sydney show by Jay Collier - More in his Facebook gallery!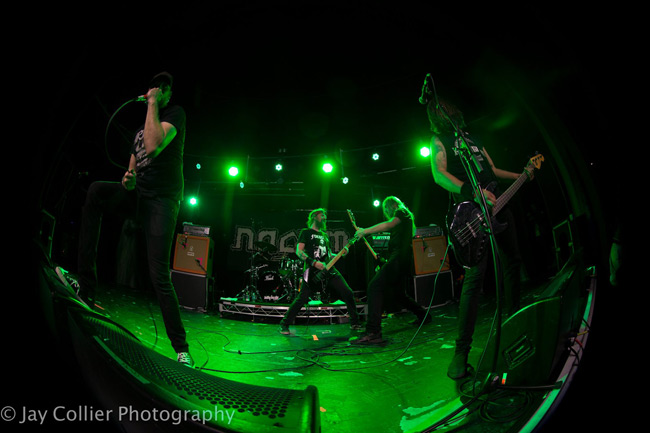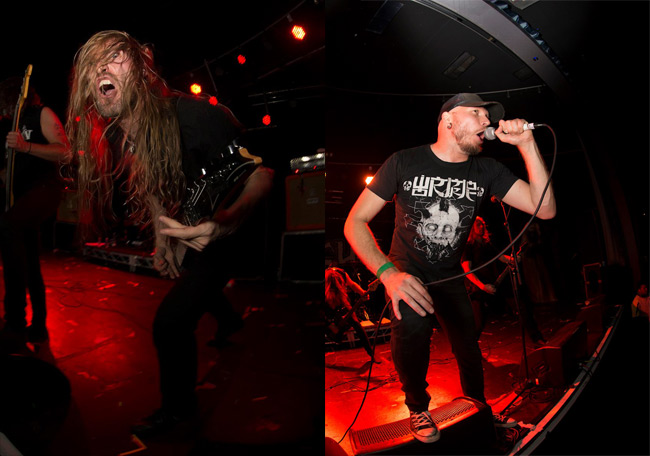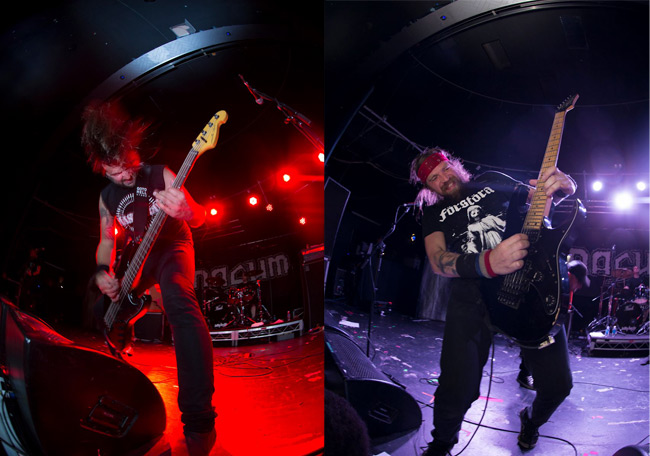 After yet another short flight we were in Melbourne for two shows. A second show were added on our day of between the first one and New Zealand. For some reason this show couldn't been announced before the day of the first show, so it became some sort of a secret "after tour" show. More about that in a bit. The first Melbourne show was held at yet another HiFi, this one being the oldest of the three. Robert picked us up at the airport and after driving for a while in the busy Melbourne traffic, he announced that we had reached the venue. The door to the HiFi was really discreet and if you didn't know that it existed you would easily miss it.

All of the other band members got back to the hotel while I stayed in town to buy something warmer to wear. I should have packed a jacket because Australia was in general much colder than I had expected. Well, we were on a very busy street with loads of open stores so it was an easy problem to solve. Then I hung out at the venue until the rest showed up in time for soundcheck.

At the Melbourne show we had an old friend on the guest list. Our beloved merch guy from the US tour, Jamie Getz, was in town, and it was very nice to see him again.

It seems like the good and bad shows alternate each other. During this show I had some trouble with moving cymbal stands and at two times my china cymbal fell of the drum riser, which was really annoying. The following day I discovered a crack in the cymbal that might very well have gotten there during the double falls… Anyway, the "bad" shows are most likely something that only we think of. The response was great with the largest crowd so far. It was also the final night with Psycroptic, Dyscarnate and the blazing Captain Cleanoff that joined us in Brisbane. The finale of the official Australian tour called for a party at a bar so every one but Jon and I went there. We went to the hotel instead which despite their freezing cold rooms served us with a good night's sleep, especially when we had no flight to catch in the morning.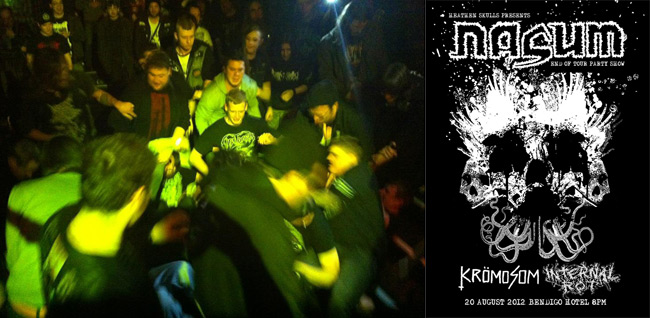 Keijo somewhere in the pit during the first Melbourne show, and the poster for the second.

Jesper and I who shared a room in the apartment slept very late, while Janne attended some business and Urban went to the gigantic cemetery opposite the hotel. Around 3 PM we gathered to go to the HiFi and move the back line to a much smaller venue in another part of town. The extra show was held at Bendigo Hotel which is a small venue that usually - well, at least according to the posters - book punk shows. That served us very fine and our support bands this day was two seriously ripping bands, Internal Rot and Krömosom, who kicked our asses sore with their aggressive hardcore punk before our show. As we knew that this night would be much more punk than all the other shows, we adjusted our setlist heavily with a brand new opening and a few odd songs in the list. I also believe it was the first time on the tour that we played "Detonator", the old d-beat song from "Human 2.0". It was a very fun and hot night with a great feeling in the room, despite the guy smashing a bottle in another guy's head during Internal Rot's show…

That was certainly a very aggressive and "non-Australian" move, as my general feeling after a week in Australia is that the people here are very friendly and down to earth. It was fun going here, although it obviously had been much more fun to see a lot more of the country than basically airports, apartment hotels and venues…

That concludes the Aussie part of this tour - the following day we traveled to the fourth continent on this stretch, the submerged continent of Zealandia… i.e New Zealand - home of Peter Jackson and Flight of The Conchords! Again we had some hassle at the airport, but were finally let into the country for a quite short visit. I believe we spent even less hours than in Thailand in this exciting country and that's obviously too bad. We all got a good impression of the little bit of the country that we actually saw, going from the airport to the venue in Auckland. It sure looked nice and cosy.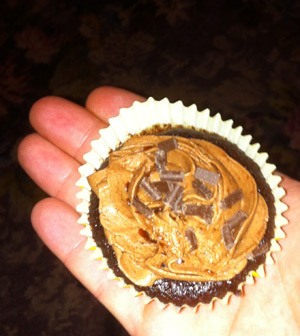 Kings Arms Tavern was yet another smaller venue, but it was really nice and the show turned out really good. The "kiwi's" went apeshit and we sure had a fun time although we were very tired from all the traveling and time zone skipping. Poor Jon got struck by a cold after the soundcheck and kept a low profile and there wasn't really much going on before the show. We had a backstage room in an apartment above the venue and our hostess Ami had baked us some yummy cupcakes, which obviously went straight into the biceps when consumed… Never had cupcakes in a backstage room before, so that was a really nice addition to the other stuff we chow down. And in the venue there were copies of the local fanzine Subcide Zine's special edition with an eight page Nasum interview and nothing else. Another positive thing about New Zealand.

Too bad we had to leave so early to go to Japan, where we are right now - but more about that in the next and final report!