The Tour Blog
Four continents - Part 3
Posted: August 27, 2012 20:43:33 by Anders Jakobson
Being an European band it's very easy to think "well, we'll do Japan after Australia as it's in the same 'neighborhood'". Well, it really isn't. Flying from Australia (or in our case New Zealand) to Japan is about as far as from Sweden/Finland to Japan… So we had a 11 hour flight ahead of us, which in my opinion pretty much flew by quickly. The seats were very comfortable and there were a rich variety of entertainment to experience in the seat monitor, and apart from some nasty turbulence the flight was fine.

As we flew back three hours in time we landed at the afternoon in Tokyo and fortunately had the night off. We were met at the airport by some familiar faces - the head promotor Nambu and Tetsu, that we met the previous two times in Japan, and there was also a new face there, a guy called George who was a translator. A very cool guy that helped us a lot during the time in Japan.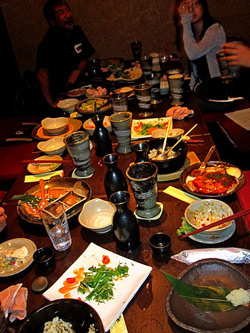 Due to heavy traffic the ride to the hotel took a bit longer than expected, but the van was comfortable and fortunately very well air conditioned so it was nothing, especially after 11 hours of flying. We had a few minutes to throw in our bags in our rooms before we went for a "production meeting" with the promotors and Napalm Death, who arrived an hour after us. The production meeting was in reality a huge dinner with plate after plate with food to be consumed, and yes - there were some production discussions going on as well.

Napalm Death came to Japan without Shane who had to sit this tour out due to some health issues. That's really too bad. We knew about this already in Perth as Mitch called Jesper and asked if he could play the bass for the gigs and the following three benefit gigs Napalm Death will do in northern Japan. As it didn't work out time wise for Jesper, they used their sound guy A.K. as their bass player. Unfortunately A.K. missed his flight with five (!) hours, so he was nowhere to be seen this first night. He arrived early the next morning though.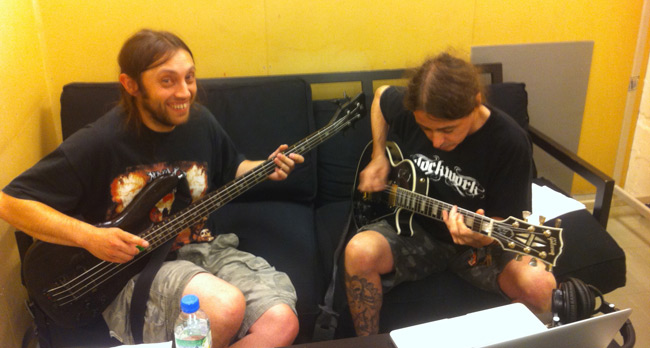 Last minute rehearsal - AK had a bunch of songs to learn, but seemed happy anyway.

After a good night's sleep at the Shibuya City Hotel, same as the last two times, we virtually walked for a few minutes to the venue - Club Quattro. I love it when the accommodations and the venue are so close! Touring in Japan is really so convenient and they have an organization that works flawlessly. Everything is on time, all the equipment is top notch and basically the only thing you have to do is play. Even our "do pretty much everything"-guy Hannes had less to do during these dates as some else was taking care of the back line before and after the shows. I remember this from the first tour in 2001 and at that point it was really a surprising thing, like the first time you felt like a "rockstar" in this genre where there are no rockstar elements.

At the venue we met Pig Destroyer again for the second time on this two week stretch. They had arrived one day earlier than the rest of us and managed to do a show in Tokyo prior to the Extreme the Dojo tour. After soundcheck we had a few hours off to eat and rest, but not too much time as the shows are really early in Japan. We were the middle band on the bill and played already at ten to eight. The show was fine. I felt somewhat claustraphobic behind the kit as it was placed just in front of Danny's kit, but with little room to move so I had some cymbal stands and bass drums up my ass all during the show. That annoyed me a bit, but overall the show was fine and the Tokyo crowd went nuts during the songs. Between the songs they were pitch silent, which sort of is the Japanese way and that really feels awkward.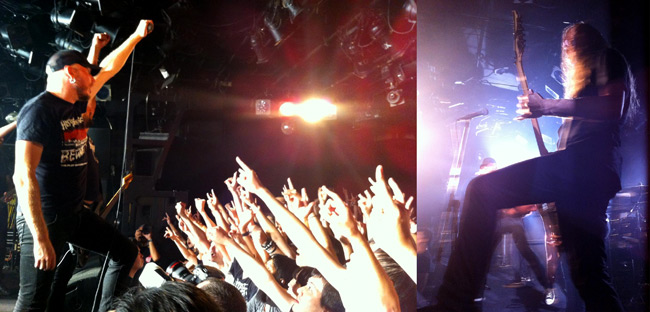 Live in Tokyo.

The following day we went by bullet train to Osaka for about two and a half hours. Another convenient way to travel in Japan.




The outside and inside of a bullet train.

When we got to the venue I was suddenly very confused. It wasn't the same Club Quattro as the previous times and I was told that old place had closed. That's too bad as I liked that place and it definitively has a special place in the history of Nasum as it was there the "Doombringer" live album was recorded. The new venue was really new and luxurious with almost sound proof walls. Our FOH Antti had to work a lot during the sound check as "everything was audible". It felt pretty good on stage though.

For dinner Urban, Jesper and I went to a really geniune Japanese place and had some Udon noodles. They didn't understand a single word English so to see Jesper "acting" that we wanted something vegetarian was really funny. In the end we got some Udon noodles with stripes of Tofu so it was fine and quite good. We were also swarmed by autograph hunters at the hotel. Some people have almost complete collections of all our bands so sometimes there are many record sleeves to sign…

The show in Osaka was quite hot and wet so some incidental sloppiness appeared out of nowhere. I almost dropped a stick in a break and Urban's pick slipped in the beginning of a song, both creating embarrassing errors, but nothing critical. My general feeling of the Osaka show was that it was worse than the Tokyo one. It seems like my theory of "good/bad/good/bad" applies even in Japan.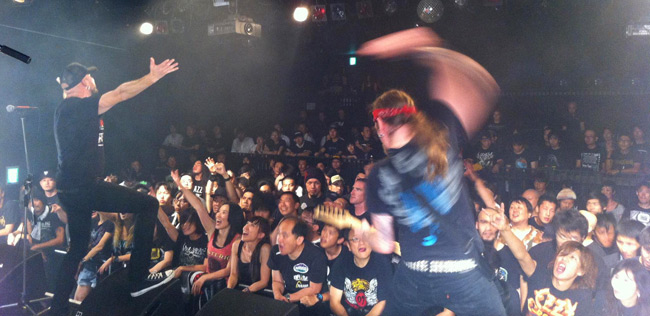 Live in Osaka.

I went back to the hotel (again very close to the venue) pretty early as I felt for a movie night. About 45 minutes I fell asleep and slept on the covers with the lights on through out the night. Tired? Well, slightly. Fortunately we had a late lobby call the following day as the bullet train to Nagoya is less than an hour. As we arrived to town we learned that there was some kind of dance/performance carnival on the streets just by the venue which meant that we couldn't use the hotel next door to the venue and instead had our accommodations 10 MINUTES away by car… Oh, the horror! Oh, the pain! Not really…




In Nagoya Jesper bought only the necessary stuff, Janne showed who's the boss and two guys found Sweden in a mall.

I got a really good feeling during the soundcheck and judging from my theory of alternating good/bad shows, the Nagoya show should be a good one… But before our show Pig Destroyer played as usual, this time with a certain bonus at the end. Apparently the Piggies have recorded a bonus CD to their upcoming "Book Burner" with only hardcore covers, so they decided to play one of these covers this night with a few people from the Nasum party as special guests. Both Jon and Janne have genuine hardcore roots - Jon with Outlast and Janne with Endstand - and they knew pretty much all of the cover songs by heart. In the end the song that was played was the Negative Approach song "Can't tell no one". It was really funny watching Janne going "all in" as he hasn't been in a band for a while. I managed to capture the song on video:


In my opinion the Nagoya show was the best one of the three in Japan. Perhaps some of that last energy reserve added some extra boost to the show, but I felt really good and in the mood for grind. At the end of the show when we played "Inhale/Exhale", Keijo did his usual thing and went into the pit. This tradition started as far as we can remember in Ilosaari, and he's been doing it almost at every show during this stretch. It adds so much to unity between band and audience and it always bring a smile to my face as the crowd goes mental and tries to sing with him in the mic. This time he had some company in the pit as Adam Jarvis from Pig Destroyer took one of the mic's and did some guest vocals. I didn't know that this would happen so I was quite surprised and truly entertained. In moments like that I get reminded that I wrote that song on an acoustic guitar back in my first apartment about 15 years ago.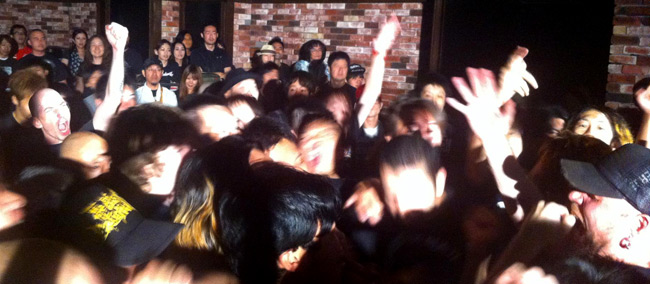 One enthusiastic fan to the left, one Keijo in the pit to the right and somewhere in between is Adam.
After Napalm Death finished their set we all relocated to a taiwanese restaurant nearby for a final dinner. It was loud and it was spicy but it was fun. I think most of us were starving since it was the first meal of the day, and a pretty late one, so we ate plate after plate of the food that was served. The meal was followed by a great hugging party as we all parted ways. We were heading back to Europe, Pig Destroyer to the US and Napalm Death would continue up north in Japan to play a few benefit gigs in the parts wrecked by the tsunami last year and then stop by in South Korea for the first time. And the Japanese people - Nambu, Tetsu, George and Jumbo - would obviously get back to their normal life and plan for the next tour. It was a sweet farewell and we headed back to the hotel for a few hours of sleep.

Three brothers of the blast, one Barney, a tiny beer and one Urban.
Well, speaking for myself, I didn't sleep that much and got perhaps two and a half hours before the alarm rang early in the morning. This wasn't necessarily a bad thing as we had a long, long day of traveling to get back home. First 12 hours to Frankfurt for a shorter (for the Swedes) and a longer (for the Finns) layover before we flew back to our capitals. Those few sleep hours at the hotel worked to my advantage as I dozed through the first half of the long flight. And late on the Sunday evening we were back at home.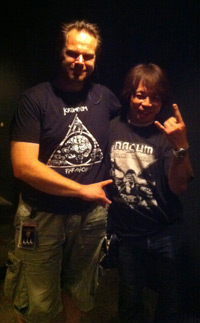 This part of the tour has been a weird one for sure. Not only did we play in four continents in two weeks, we flew 14 times, drifted through seven time zones, spent less than 24 hours in both Thailand and New Zealand, we broke one guitar, lost a few books and a set of headphones, ate Indian food in Australia and taiwanese food in Japan, we met a lot of crazy fans and signed a million things, one of us was almost sent back home from Australia, while someone else did a rockstar classic and another guy in the party hugged some koalas while a fourth person hugged a guy with the first ever Nasum t-shirt… Yeah, a lot of crazy and weird stuff happened during these two weeks and obviously we need to send out a bunch of thank you's to all the people we met, the bands we shared stages with, the friendly promotors and of course everyone who came to the shows. Thank you! Domo arigato gozaimasu! Tack! Kiitos!