The Tour Blog
Four continents - Part 1
Posted: August 16, 2012 13:20:29 by Anders Jakobson
The weirdest part of the Farewell tour where we will cover four continents in two weeks started with the final European summer festival: Ieperfest in Belgium. The trip to Belgium began very early in Stockholm (and this time I brought all of my luggage…) with a layover in Riga, Latvia - which is a quite a weird route to Belgium, but it saved a lot of money for our eight persons strong traveling group. It was also in Riga where we Swedes hooked up with the Finns.

Landing at Brussels airport we found some other Swedish rockers at the odd sized luggage (i.e. guitars and such) pick up area. Grand Magus was also supposed to play at Ieper so we hooked up and got picked up by some festival shuttles. 90 minutes or so later we were at the festival site.

Ieper is very much a hardcore festival, but with some metal as well. It's a quite small festival compared to many others we've played this summer, but it's a long lasting one. The fact is that the festival celebrated it's 20th anniversary this year, which made our appearance appropriate in some way. Some of the other bands playing this day that we met and talked to were Eyehategod and Pig Destroyer, the latter one being a band that we will spend much more time with later on in this trip.

The show went pretty good. Lot's of hardcore moshing going on and by the end of the show both Keijo and Jon went crowd surfing. It was a good start for this trip.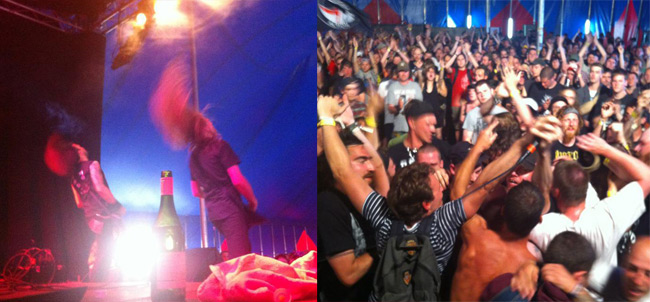 Grindcore action at Ieper and can you spot Keijo in the crowd?

The following morning we had some time to kill so some of us went for a walk in Ieper, watching the massive cathedrals that were close to the hostel where we slept. Some medieval architecture mixed with WWII memorials. Epic, Bolt Throwerish stuff for sure.

Then a very long day of boring traveling started. I'll spare you the details because not much is interesting. We went back to Brussels, flew to Vienna, had a three hour layover and then flew to Bangkok for ten hours. The first of a few looooong flights.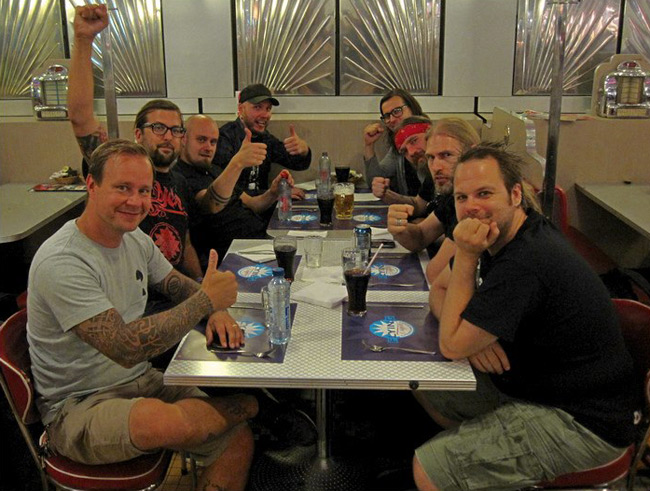 Lunch at Brussels airport - the whole gang in the same picture for the first time…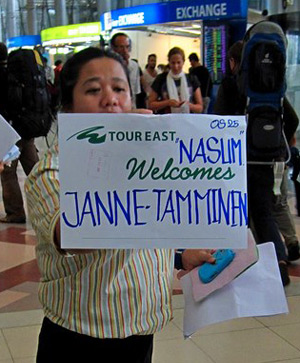 We landed in a very hot, humid and rainy Bangkok and were met at the airport by the very friendly promotor Jockey who went with us to the the hotel. The hotel was very fresh and comfortably cool and we could rest for about an hour. We had flown through many time zones so it was actually in the afternoon we landed, just a few hours before the show.

While at the hotel room I had a strong emotional moment. It could just have been because of the not particularly comfortable flight, but obviously there were some special feelings coming up because of where we were. Months ago when we decided to include Thailand in the tour my feelings were very mixed. If not for the tour I'm pretty certain that I would never have gotten to this country, but on the other hand - Thailand is not be blamed for Mieszko's death. The Thai people didn't kill him, it was an unexpected act of nature which basically could have happened anywhere. And now I'm pretty happy that I got to experience Thailand, although we only spent 20 hours in the country…

After that hour of rest we back into the lobby. There we met our friends of Wormrot who had gotten to the hotel a couple of hours earlier. We went to the venue, which was called Barbies. It was a small club that were undergoing some rebuilding so half of the place was a building site. Unfortunately the back line and PA were not the best we have seen, but we shouldn't complain as it would have been a real hassle bringing that type of equipment with us from Europe.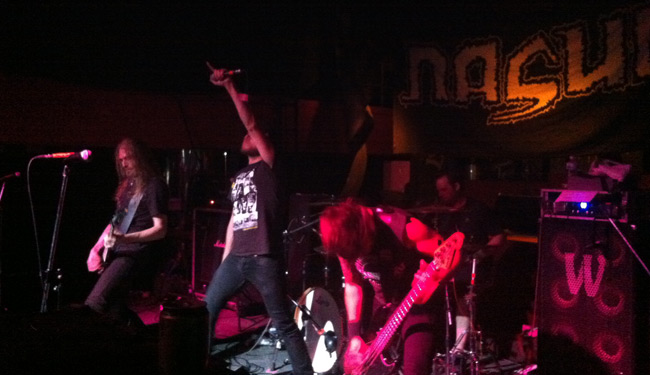 Nasum live in Thailand for the first and only time.

We managed to do the best of what we had, but during the actual show I was struggling quite hard with the drum stool that felt like it would break apart at any minute. That obviously made the show a bit annoying for me. The attendance was poor but the Thai grinders - and a bunch of Americans who came there - really were into it, but I will never really understand the Asian hospitality during the shows - between the songs they are dead quiet and it's so strange. The gig felt very punk and at the end of the show we played "The Final Sleep" which is the one song that I personally - in my mind - dedicates to Mieszko. So I thought of him during the song.

We wrote a lot of autographs in Thailand. Some of the fans had brought some quite surprising stuff, like Necrony and Crematory records, but obviously a lot of Nasum stuff. Signing stuff is part of the package - it it makes someone happy I'd be happy to do it. There were also massive amounts of photos taken, and that is a little bit more strange - but again: if it makes someone happy…

Back at the hotel some of us decided that a good night's sleep - although not that long - was a good idea, while others felt like spending as many waken hours as possible in Thailand was a better idea. To each their own.

The following day was yet another long travel day, but this one was slightly more enjoyable. We had a five hour layover in Singapore, which sounded like a drag, but in the end was quite easy. Jesper, who had been to Singapore before, decided to use this time to go to the city, while the other used all the pleasures of this great airport. Some went for a massage, and others hung out by an outside swimming pool. The weather was really hot so some pool usage went on. Even the water unfriendly Jon bought a pair of swimming trunks and really enjoyed the water. He managed to challenge a member of New Zealand's olympic team (a taekwondo champion) for a swimming contest. Jon lost, but on the other hand he got a pretty mean sunburn...




Antti and Jon enjoying Singapore Slings (what else?) and then the sunburn…

Then another five hour flight to Perth with some minor trouble at the immigration, but then we were in the third continent so far - Australia and went to a backpackers hostel where all eight of us were put in the same room. We had something to eat and then went to sleep and slept for a long time. Apparently it was needed. Before we went to the venue, which were basically next doors we caught a little bit of Perth, which despite the Australian winter was comfortably hot and sunny.

We did the usual business before the show - i.e. Antti and Hannes did all the work and the rest of us just fucked around. It's not that we are divas or anything - our crew like to work and we appreciate that a lot. We couldn't have asked for a better crew!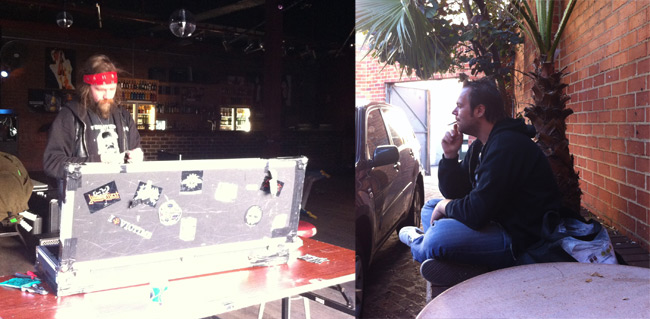 Jon changing broken strings and Anders doing nothing.

The first show of Australia went really good. We added a few more songs to our standard set to prolong the show, and we played "Worst Case Scenario" for the first time during the tour. It just happened because for some reason we tried it out on the soundcheck and decided to do it. The crowd was small but really into the show and reading a few comments online it seems like they really liked it. Always nice, especially when you feel that you've done a good show.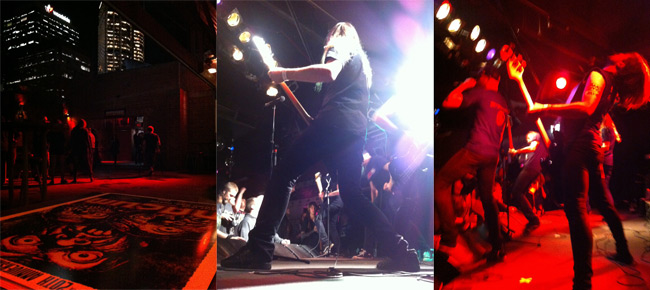 Nasum's first show of Australia.

We went back to the hostel where we received the terrible news that Baroness had been in a serious bus accident. It's always scary to hear about this stuff, especially when it's a band you have some sort of personal connection to. Fortunately there were no fatal injuries in the crash, but there will obviously will be quite a long time before they will be able to tour again. We wish them all the best.

Oh man, this is getting long… We're in Adelaide now and will actually go on stage in less than an hour, so we'll save Adelaide for the next blog posting...