The Vault Blog
Nasum vs. American festivals
Posted: May 22, 2014 14:24:12 by Anders Jakobson
As many of you know, it's the Maryland Death Fest weekend. It's all over my Facebook feed and it made me think of when Nasum played there two years ago. This year Nasum is "back" as Jon is playing with Victims at the festival.

Well, the thought of Nasum's day at MDF made me think of all the American festivals Nasum appeared at, which aren't that many, and thought I'd share a few stories straight out of my memory bank. So here it is:

The Overly Long and Wordy History of Nasum vs. American Festivals

Part one: Milwaukee Metalfest XIII, July 31, 1999

This was my first show as a drummer in Nasum and it was Jesper's first as a bass player in Nasum and come to think of it, it was actually Mieszko's first show as a guitar player in Nasum. And it was Nasum's third show ever. What's up with that? Well, the first two Nasum shows ever had a quite odd line-up where I played the guitar (semi-poorly), Mieszko played the bass and we both shared vocal duties. Behind the drum kit we had temporarily put Perra Karlsson, a Swedish death metal legend, who did a great job. Well, that's really a story for another time - back to Milwaukee, IL.

Actually, back to Lancaster, PA. We had arrived in the US a few days prior to the first show of an eleven date long tour we did with fellow Relapse bands Soilent Green, Today Is The Day, Exhumed and Morgion. The festival wasn't really part of the tour, but it was the beginning of our first US tour. Anyway, we landed in Philadelphia and travelled for two hours to Lancaster where the Relapse offices were at that point. We hung out at the office for a day or so while the staff members packed a lot of shit to sell at the festival. Now, there's a pretty long distance between Lancaster and Milwaukee and I was more or less sure that we would fly there. "No, we're driving" they told us. "It'll take 16 hours". I was flabbergasted. I had never taken part of such a long drive earlier, but the Relapse guys acted like it was just another day at the office.

Well, 16 hours later we were in Milwaukee. Fortunately we didn't play at the same day as we arrived, but the next day if memory serves me right. Relapse had their own stage - and a backstage room were we hung out a lot - and I remember that we had some trouble with FOH who had been smoking something sweet smelling and wasn't really present to 100%.

Anyway, we played our show. We started with "Inhale/Exhale" which was planned as a warm up song and also a possibility to take a break after if the monitor mix was fucked up. It's embarrassing and weak to think of it today, but we were really new kids on the grind block and lacked the proper confidence and experience. I don't really remember much of the show in retrospect (especially not if we took that little break after the first song or not - we probably did!), but I remember that it was a great feeling when it was done. We had had our first show and the tour had begun!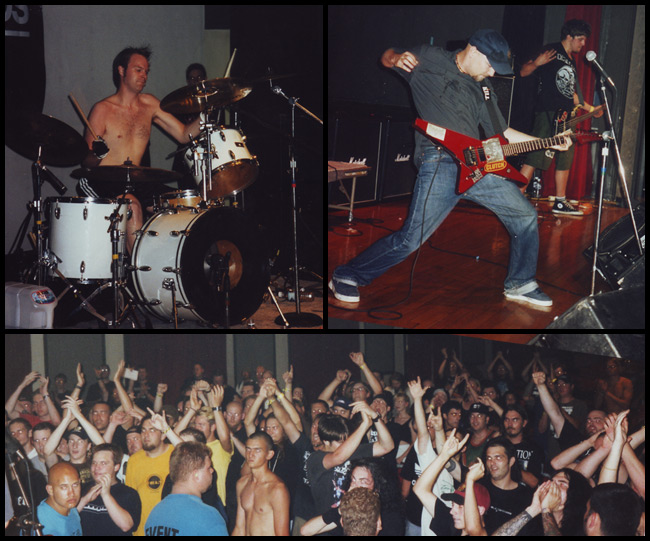 Three nervous dudes and a quite pleased crowd

It was quite a good weekend in Milwaukee. I saw Nile, Neurosis and The Dillinger Escape Plan for the first time. I met Mark from the legendary Impetigo in that backstage room, and I also by my own will helped Relapse to sell merch and records at their table. It was a fun time for sure!

Part two: Milwaukee Metalfest XV, August 11, 2001

The second time we travelled to the US we went there solely for Milwaukee Metalfest, and this time we flew directly to Chicago and shared a ride with Anathema to Milwaukee (or, perhaps we shared that ride on the way back to the airport…). It was quite strange to be in the US for just a few days. I guess we got there, played the next day, and went back home the day after that. You don't really get rid of the jet lag in such a short time.

This time we weren't part of the Relapse party in the same way as the first time, although we met a few of them of course. Especially a new face - a guy called Greg, who will be important to this part of this long tale - and the next.

I remember even less of this show than the one in 1999. We had released "Human 2.0" and had done roughly 80 more shows since the first festival, so I would assume we had a completely different setlist without taking that safe road with "Inhale/Exhale" as the opening song… What I do remember, clear as yesterday, was that I had some equipment trouble. The bass drum moved around like crazy when I got blasting and I had to lift it back to it's original position when ever I could. The stage hands tried to adjust the legs and put some weight on it, but nothing helped. In the end I got the bass drum to stay in place thanks to Greg, who sacrificed himself and sat beside it holding it firmly into place during the remainder of the show! Now that's a record label employee for you all!

Another thing I remember clearly from those few days was that it was the first time I saw and heard a little metal outfit called Mastodon. They had yet released their first EP, but was already the talk of the town. Obviously we had met Bill and Brann two years earlier as they were in Today Is The Day at that time, but the other members were new faces. I remember that Brett appeared crusty and drunk so when he introduced himself I became the introvert and reserved me and didn't really greet him back, whereas he set me straight: "You know, when some one introduces himself it's customary to say your name in return", he said (I'm totally paraphrasing now) with a smile on his face, and I felt stupid…

One final note. Look at the date. One month later the world changed…

Part three: Maryland Death Fest, May 25, 2012

Eleven years later, and some 80 shows more in our backs, we returned yet again to an American festival, this time the ever so popular MDF. It was the first confirmed show for the Farewell tour, and something of an early highlight of the tour. Some in the current line up of Nasum had been to the festival earlier, but for others - i.e. myself for instance - it was the first time.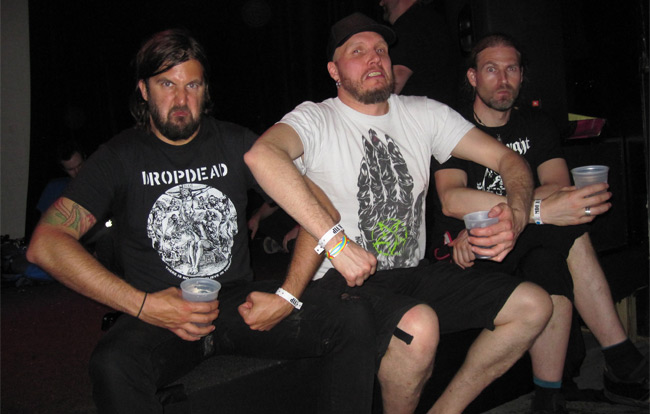 Three dudes getting pumped up for the show

My first thought was that it was much smaller than I had expected, which isn't necessarily a bad thing, but it still was quite a surprise. There were two outdoor stages where no band I heard managed to get a proper sound. And then it was the big indoor stage where the sound was much better, and there we played. Thanks for that! No thanks for the heat though, because it was crazy hot during the show. Easily among the top five hottest shows on the entire Farewell tour. There were some Swedish black metal band performing at the stage just before us, in full gear with corpse paint and the works, and I could not really understand how they managed to get of stage without passing out.

Apart from the heat, which nearly broke me totally, I remember it as a fun show. We had Jason from Misery Index doing some guest vocals and we also had the son of Kevin Bacon on stage. Imagine that. But what about Greg? Well, Greg and his now wife Meghan got in character and appeared as Mr and Mrs Gasmask during the intro of the show. It was fun to bring that stunt to one US show, and extra fun that Greg was the dude as a follow up to his prior stage duties with Nasum.

It was also fun meeting a lot of people at the festival, but Baltimore as a city freaked me out. Urban and I went for a walk to get some food a few streets away from the venue, and even though it wasn't the seedy part of the town I was really tense all of the time. I've seen "The Wire" too many times…

Part four: Chaos in Tejas, May 31, 2012

Less than a week later it was time for the final American festival appearance and also the final American show at all. It was great to be in Austin, TX - the multi-venue-festival capital of the world. I remember fearing another insanely hot show, as the temperature in Austin was as high as that FOH in 1999. But the actual venue was cool, and it also was a cool place.

There isn't really that much to say about that day in Texas. The final show was good and it was a nice ending to the US part of the tour. I don't think anything went wrong. The FOH wasn't doped up, the bass drum remained in it's place and the heat wasn't an issue. A great day, indeed.


BLOG CALENDAR
SEARCH OR SUBSCRIBE
SEARCH THE BLOG

SUBSCRIBE
•
Subscribe to the blog via RSS
ABOUT THE VAULT
Nasum might not be a performing band anymore or existing in the normal sense, but the legacy remains under the sharp supervision of the founding member Anders Jakobson. THE NASUM VAULT is the "umbrella" for a number of projects collecting information and items from the Nasum history.

The first project was The Vault Blog, introduced in 2014 as a place to share "interesting, semi-interesting or uninteresting things" from the Nasum Vault - stories, images and what ever. The second project was The Rare Nasum, audio goodies published on Bandcamp - rehearsals and live shows. Side by side with these two projects, there is The Official Nasum YouTube Channel where video oddities are posted.

This page is the collective portal for The Nasum Vault, grouped in the three different time periods of the band. This page will be updated when new stuff is added, and you can always help the Vault to grow by supporting The Rare Nasum - see more info at the bottom of the page.

Last updated: February, 2021.