The Vault Blog
The original Nasum logo
Posted: April 17, 2014 14:26:16 by Anders Jakobson
One of the most frequent fan questions is: "What the font of the Nasum logo?". The answer is none. It's handmade and other than the five letters of the band name there are only a few extra letters available, and very far from the entire alphabet.

The logo was hand drawn back in 1992 and the inspiration came from Disharmonic Orchestra's logo. Here's the original Nasum logo and the one that inspired it: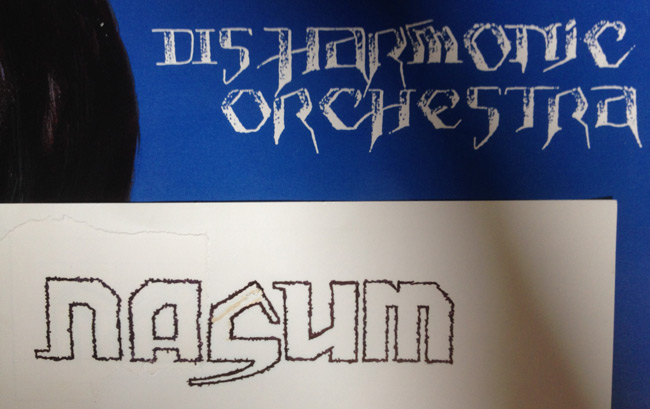 Now one can argue that the two logos are not particularly similar, but if you look closely on the bit of paper with the Nasum logo you might see that it's patched together and that the N, A and S are drawn separately. There are even some dried out white-out in the S. As originally drawn the letters was more alike the Disharmonic Orchestra style, but as it didn't work out another approach was applied and thus the Nasum logo as it is know was born.

Well, that's not entirely true as you can see that the black line is very thin and not as strong as it eventually ended up. A few versions were tested and ultimately the stronger-line version became the winner.





A close up on the patched part, and the flip side of the paper where one can see the original-original letters.
BLOG CALENDAR
<<
April 2014
>>
Su
Mo
Tu
We
Th
Fr
Sa
1
2
3
4
5
6
7
8
9
10
11
12
13
14
15
16
17
18
19
20
21
22
23
24
25
26
27
28
29
30
SEARCH OR SUBSCRIBE
SEARCH THE BLOG

SUBSCRIBE
•
Subscribe to the blog via RSS
ABOUT THE VAULT
Nasum might not be a performing band anymore or existing in the normal sense, but the legacy remains under the sharp supervision of the founding member Anders Jakobson. THE NASUM VAULT is the "umbrella" for a number of projects collecting information and items from the Nasum history.

The first project was The Vault Blog, introduced in 2014 as a place to share "interesting, semi-interesting or uninteresting things" from the Nasum Vault - stories, images and what ever. The second project was The Rare Nasum, audio goodies published on Bandcamp - rehearsals and live shows. Side by side with these two projects, there is The Official Nasum YouTube Channel where video oddities are posted.

This page is the collective portal for The Nasum Vault, grouped in the three different time periods of the band. This page will be updated when new stuff is added, and you can always help the Vault to grow by supporting The Rare Nasum - see more info at the bottom of the page.

Last updated: February, 2021.