Domedagen reissued as a 7" EP on Record Store Day
Newspost • Posted: February 17, 2014 13:53:40 by Anders Jakobson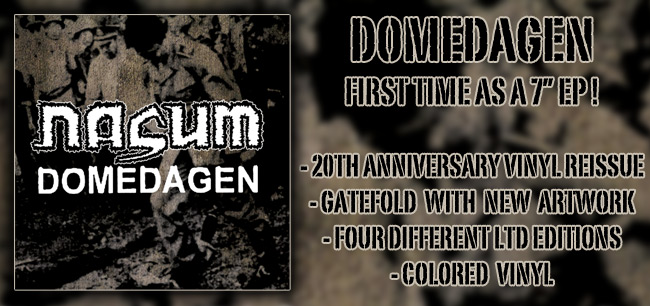 This year marks the 20th anniversary of Nasum's one and only demo - "Domedagen". This demo was our forth recording, and although it might seem slightly strange to release a demo just all of a sudden, it was all Regurgitate's fault. They did a tape, so we did one.

The fourteen songs included two cover songs, two re-recordings and ten new songs, where the best ones were re-recorded for the "Industrislaven" MCD. In a way you can see "Domedagen" as a pre-production as it was recorded with a bunch of fellow sound engineer students of Mieszko's who had no knowledge of grindcore. It was a fun recording, but perhaps not all that serious from our part. The result became a rough recording that we copied to an unknown number of tapes (not that many, to be perfectly honest) and spread around the world.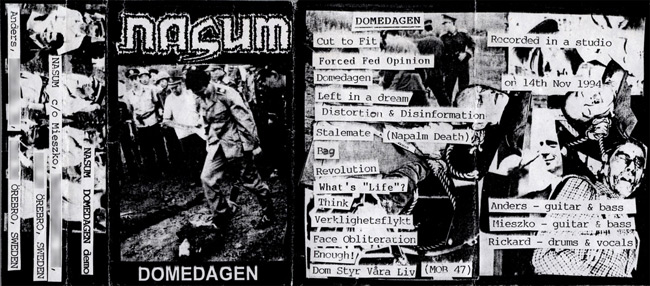 I'm aware of at least one bootleg of the recording, but I have never seen it myself. The recording later found its permanent home on the "Grind Finale" collection. Or so I thought…

Power-It-Up contacted me and expressed an idea to release it as a 7" EP for Record Store Day 2014. I liked the idea - although "Domedagen" once was a tape and now is a part of "Grind Finale", it has never been a record of its own, and a 7" EP sounded like a cool idea. So I accepted their offer and begun working on the artwork. I started with the original demo artwork that Mieszko put together and decided to go all punk on it and did all the additional work by hand. It seemed to fit the recording.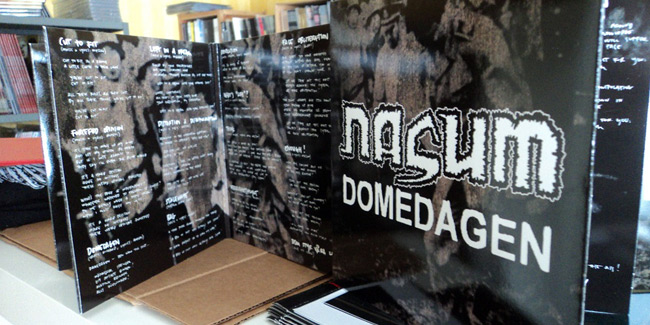 The printed gatefold cover at the Power-It-Up office...


Sneak preview of the handwritten lyrics...

The "Domedagen" 7" EP will be released on Record Story Day, April 19 2014. It will be issued in four different limited editions:

• Record Store Day Edition (300 copies on red vinyl)
• Power-It-up Mailorder Edition (100 copies on amber vinyl + embroidered patch)
• Regular Edition (100 copies on black vinyl)
• Nasum.com Edition (100 copies on white - perhaps with a twist - vinyl)

Two of the editions are exclusive to Power-It-up and Nasum.com and pre-orders will be taken shortly. There will also be a small edition on cassette, limited to 100 copies. The master used for the 7" EP version is the same as on "Grind Finale" and there are no additional, new material, apart from the packaging and Power-It-Up's patch.

More info about this release will be available at:

http://nasum.com
http://facebook.com/nasumband
http://power-it-up.de
http://www.facebook.com/pages/Power-it-up/423461250157

And additional information about the original release is found here.