THE NASUM VAULT - 2010-2012: THE FAREWELL YEARS
Live at Obscene Extreme 2012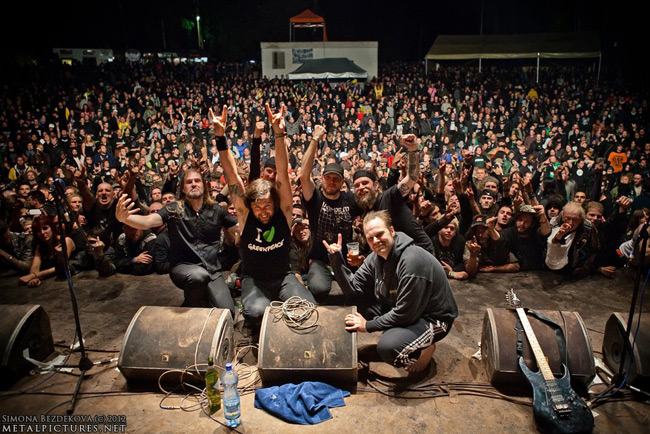 Today it's the tenth anniversary of Nasum's first and only appearance at Obscene Extreme in Trutnov, Czech Republic. We've had a professionally shot and edited video of the entire show in the vault for a few years so what better way to celebrate this than to release the show for free on YouTube?


Nasum never played at Obscene Extreme during the early years of the festival. I would believe we were asked to play there but it never happened. In all honesty I remember being slightly reluctant to go there then although I heard good things about the festival and a rumor that the festival general himself, Curby, had made pillow cases out of Nasum t-shirts.
Well, better late than ever! When I read my old tour diary from 2012 I learn that we got an extended playing time this night due to a late cancellation by Exhumed. We did a very long version of our setlist playing a total of 33 songs in roughly an hour. We also did the Mr and Mrs Gasmask gimmick on request from Curby. I remember that we said that the only way to do it was if he could provide the gasmasks, the suit and bridal dress and if he himself could be Mr Gasmask, and everything happened! I still get chills when I see the gasmask couple walk up on stage and just stand there while the intro plays. It's an effective image for sure.
This show was one of the highlights of the entire tour. I have very fond memories of it and everything connected to the festival. The Nasum styled Obscene Extreme t-shirt and the wrist bands. Lots of good memories.
Check out the tour diary entry for more photos and texts.
Ten years later Obscene Extreme Festival is still going strong. This years festval, the first in two years after the restrictions, actually starts today, so it's a double celebration! Long live OEF!
- Anders Jakobson, July 13, 2022
HELP ME FUND THE VAULT AND THE RARE NASUM
I have a lot of Nasum "vaults". There are the digital vaults, harddrives, CD-R's and whatever that contains some stuff. And then there are the analog vaults. Boxes filled with documents and notes and boxes filled with tapes containing rehearsals and rare stuff. I'd be more than happy to share this with the fans, but I need some funds to take time of from work to really do all that boring excavating that's needed to find and document everything.

I have put together a GoFundMe page for this: gofundme.com/the-rare-nasum and any donation is appreciated. You can also support this cause by buying The Rare Nasum stuff at Bandcamp. Or you can make a donation without going through GoFundMe or Bandcamp - just contact me at nasum@nasum.com. Everything that comes in via these channels are ear marked for a future massive excavation.

I really hope you can help me to preserve The Nasum Vault for the world. Thanks!

- Anders Jakobson.