THE NASUM VAULT - 1992-1997: THE PRE-ALBUM YEARS
"World in Turmoil/The Black Illusions" rehearsal 1996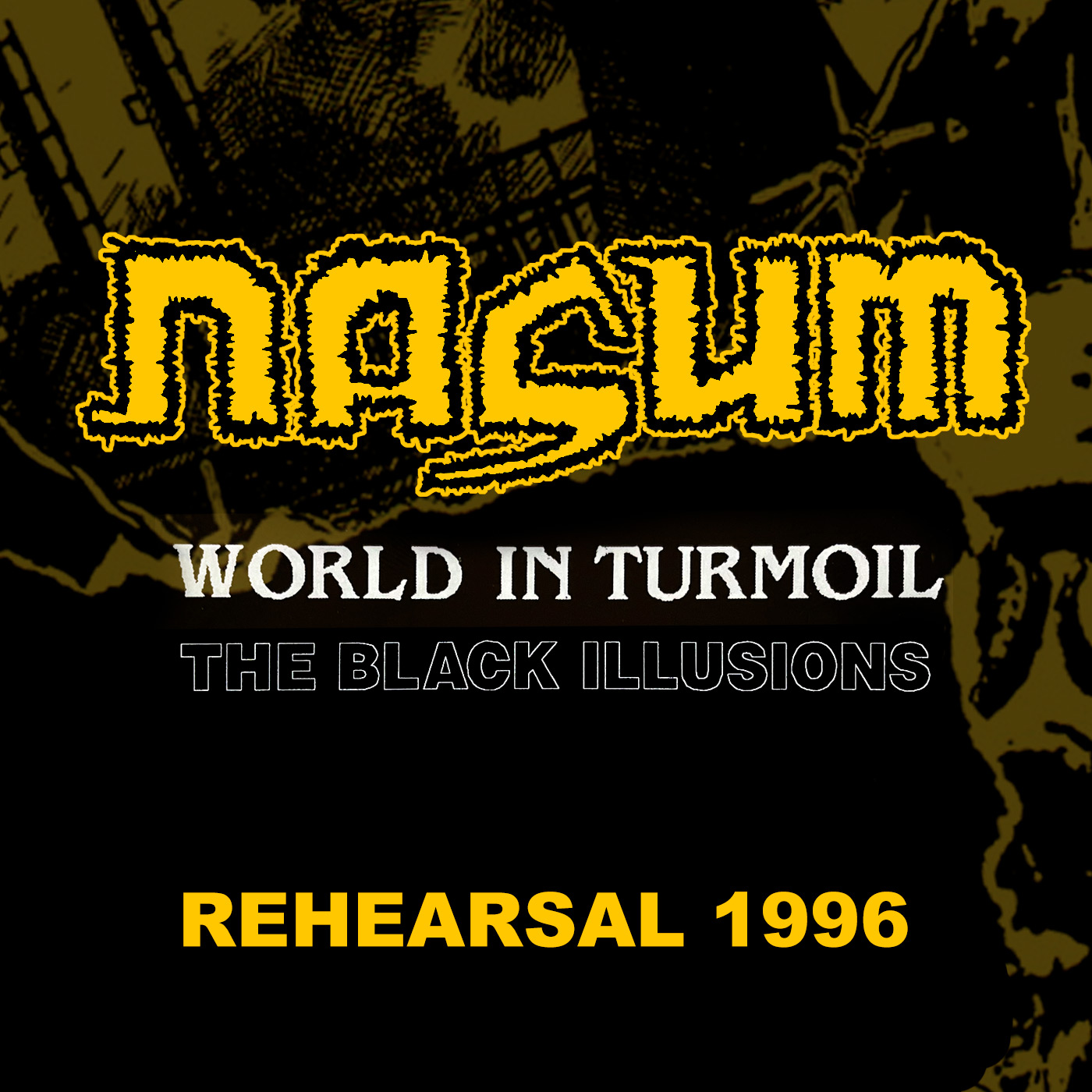 NOTES ON A REHEARSAL

By 1995, Rickard left Nasum as the drummer and main singer. We had done the first two Nasum shows in September with Perra Karlsson as a stand-in drummer and Mieszko and I shared the vocal duties, but continuing with Perra was never an option. He lived elsewhere and was busy with other stuff. So what should we do to go forward with the band?

The first songs written post-Rickard was "Blinded" and "Disdain and Contempt", two d-beat bangers, and I guess Mieszko and I fooled around with the songs while rehearsing with our main band at the time, the punk/hardcore band Charles Hårfager/Charles, where I played the drums. We did one audition with Jallo Lehto of Krigshot fame (among MANY others!) trying out the drums, but playing blasts and super fast d-beats wasn't his style at all. It was fun rehearsing with Jallo but it was pretty obvious that that wasn't the future of Nasum.

The solution to our problem came when I left the guitar duties and stayed behind the drums. After all, I had already played the instrument for twelve years. I didn't have that many blastbeats in the bag, so to speak, but at least I could try. The first attempts were exhausting, but it was doable and the duo era of Nasum begun.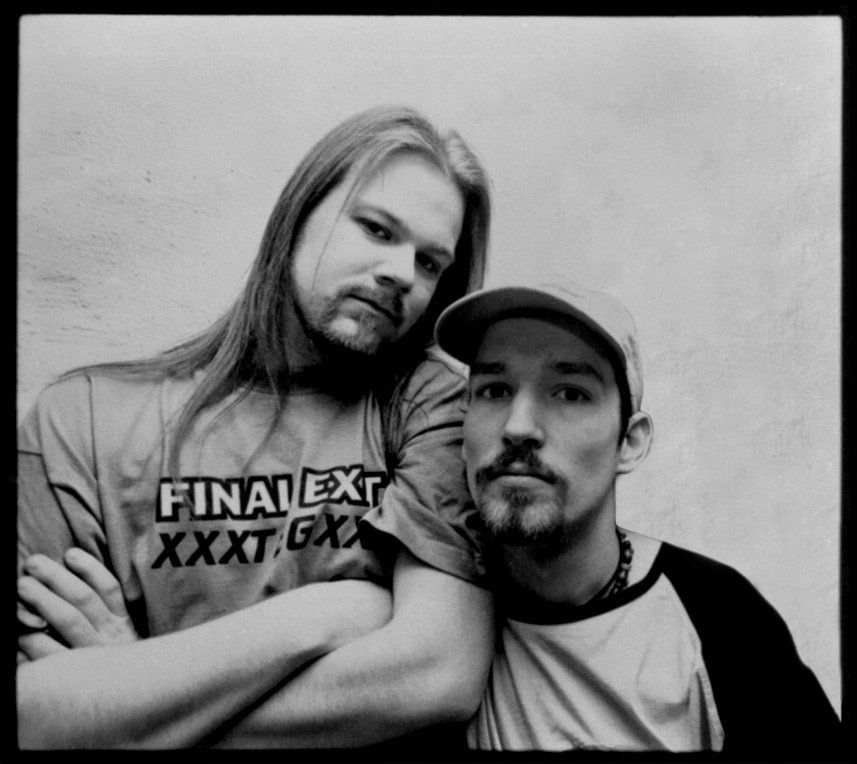 There are no images from this era so this is a edited promo photo of Charles shot late 1995.

I can't remember when the shift happened but let's say it was early 1996. That makes most sense in regards to the live shows from September 1995 and the first duo recording that happened in November 1996, the 24 songs that became the "World in Turmoil" 7" EP and the Abstain split 7" EP "The Black Illusions". In the vault I found two rehearsal tapes with a total of 43 recorded songs with 25 unique titels. 23 of them ended up on the final recording. One song was added after these rehearsal tapes, "Last", aptly titled that way since it was written last...

These rehearsals were recorded on a little tape recorded in the rehearsal room and they are pretty rough. While listening to the songs I felt that the second tape was tighter and faster and it also had the most unique songs, so that's the main part of this digital album release, with a few interesting bonus tracks from the first. More about this in a bit.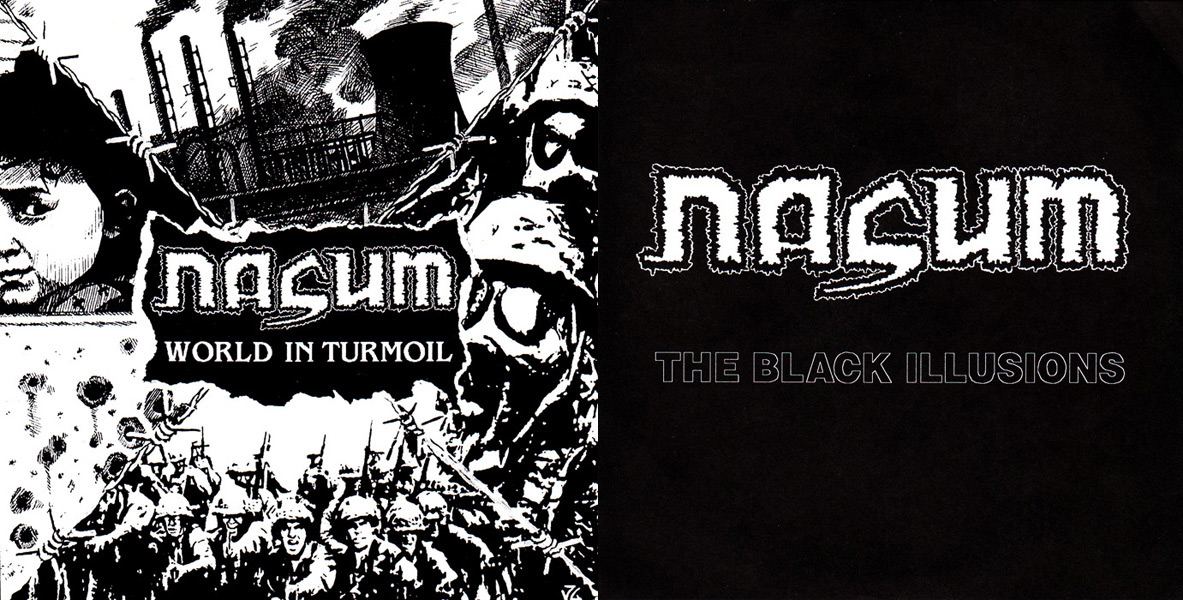 The "World In Turmoil/The Black Illusions" session is one of my personal favorites in Nasum. The final recording is on the rougher side of the spectrum, but I have very fond memories of writing and rehearsing the songs. Although there are 24 of them, I think that almost all of them have unique individual qualities that make them stand out. A reason for this is that it was very inspiring rebooting Nasum as a duo. Rickard and I had very different styles of playing the drums. He was perhaps rawer in his approach, but I had such a wide array of different sources of inspiration which added groove and variation to the songs. Mieszko enjoyed it too and it affected his writing. At the same time I struggled with getting a grip on how to play blastbeats properly and explored ways to make it more interesting for both myself as a musician and the listener.

It was very creative times and the rehearsals are direct links to those days. Wonderful!

THE SONGS:

1. World in Turmoil
2. The Final Confrontation (Scarecrows III)
3. The Dream
4. Zombie Society
5. Sheer Horror
6. Awake
7. En värld utan hopp
8. End
9. As Time Goes By/Our Revolution
10. Masquerade
11. Ripped
12. Rage
13. Law & Order?
14. Rise
15. Killed by Your Greed
16. No Paradise for the Damned
17. Dreamland/Silent Sanguinary Soil
18. A Change in Your Mind
19. The Black Illusions
20. Evacuate the Earth
21. Disgrace

I don't have any particular notes to add to these songs. Apparently we rehearsed a few songs joined together, which actually makes this 23 unique songs rather than 21. Also I believe there are multiple sessions in this set of songs as the sound changes slightly towards the end, but that might just be an illusion. Worth mentioning is that the first 15 songs are the 16 that became "World in Turmoil" in that exact order. The first rehearsal did not have the same order, which leds me to think that this rehearsal session was pretty close to the actual recording session when we had divided the songs between the releases.

22. Blinded
23. Disdain and Contempt

From the first rehearsal thus the slightly different sound. It's funny that we wrote and rehearsed these songs during this era but we opted not to record them until "Inhale/Exhale". Perhaps we felt like they were unserious songs in some way, which they weren't. Anyway, it's funny that there are rehearsal versions of them from a different era than the one they were finally recorded in. I don't believe there are any other Nasum songs that survived from one session to another like these did.

24. En värld utan hopp
25. Silent Sanguinary Soil

Also from the first rehearsal and chosen because they are versions of what the songs ultimately became. "En värld utan hopp" is a longer version with more repeats of the main riff of the song. I would guess that we felt that it was slightly boring and decided to make it shorter more to the point and removed some of the repeats. As for "Silent Sanguinary Soil" it's very different from the final song as it has only the intro and some kind of noisy concluding part. I am guessing once again, but this really feels like some kind of "outro" song rather than a proper song, so what better place to put this than as the final song of this digital album?

- Anders Jakobson, April 1, 2022
HELP ME FUND THE VAULT AND THE RARE NASUM
I have a lot of Nasum "vaults". There are the digital vaults, harddrives, CD-R's and whatever that contains some stuff. And then there are the analog vaults. Boxes filled with documents and notes and boxes filled with tapes containing rehearsals and rare stuff. I'd be more than happy to share this with the fans, but I need some funds to take time of from work to really do all that boring excavating that's needed to find and document everything.

I have put together a GoFundMe page for this: gofundme.com/the-rare-nasum and any donation is appreciated. You can also support this cause by buying The Rare Nasum stuff at Bandcamp. Or you can make a donation without going through GoFundMe or Bandcamp - just contact me at nasum@nasum.com. Everything that comes in via these channels are ear marked for a future massive excavation.

I really hope you can help me to preserve The Nasum Vault for the world. Thanks!

- Anders Jakobson.