THE NASUM VAULT - 1992-1997: THE PRE-ALBUM YEARS
"Domedagen" rehearsal 1994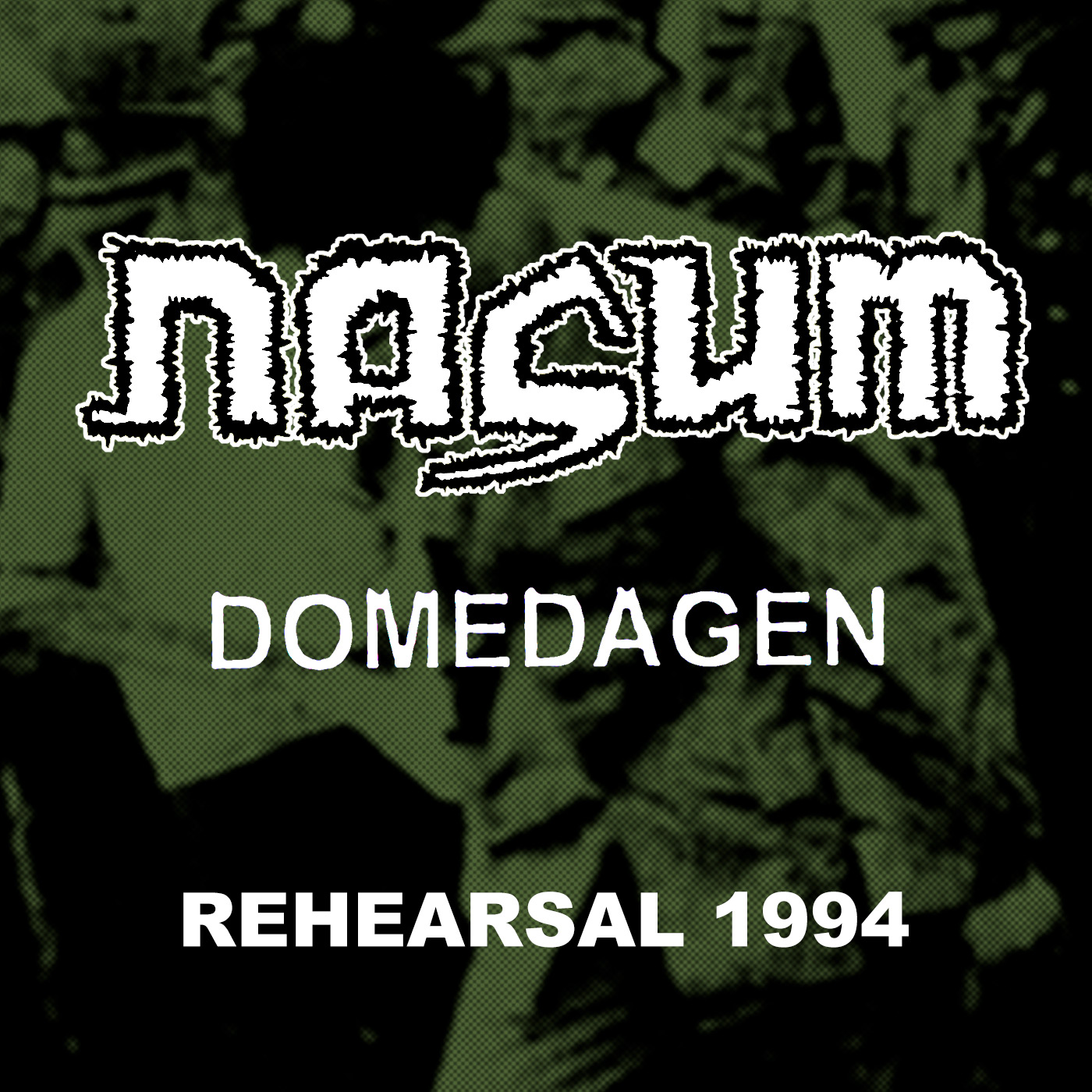 NOTES ON A REHEARSAL

I haven't got a date for this rehearsal but I would estimate that it was done pretty close to the recording of the "Domedagen" demo as it has all the 14 songs that ultimately were recorded for the demo. That would possibly mean that it's from October or early November 1994. I find it very odd that this rehearsal is in the exact same order as the final studio recording. I have basically no memories from the rehearsals but I can't believe that we decided on the order before we went into the studio to record it. On the other hand, I don't think we recorded the songs in the studio in any other order than the one they are on the demo. Which leads me to the conclusion that this is the order they were written or added to the list, as there a four non-new songs in there.

I think it was Mieszko that came up with the idea of making a physical tape three releases into the career. The inspiration came from Regurgitate who did basically that. Of all the early recordings it was the only one we didn't do with Dan Swanö. Instead we recorded it with a bunch of students who were learning how to be sound engineers. It was the same course Mieszko took later on, or perhaps these guys were his class mates? I can't remember. For me, it was a true demo . Of the ten new songs the best five were re-recorded properly on "Industrislaven" and the rest were, in most cases, rightfully trashed. For some reason we re-recorded two early songs, perhaps to add some more songs, and tracked two covers possibly for the same reason. One interesting thing is that two of the new songs and one of the covers had lyrics in Swedish, which became part of the Nasum concept from this point.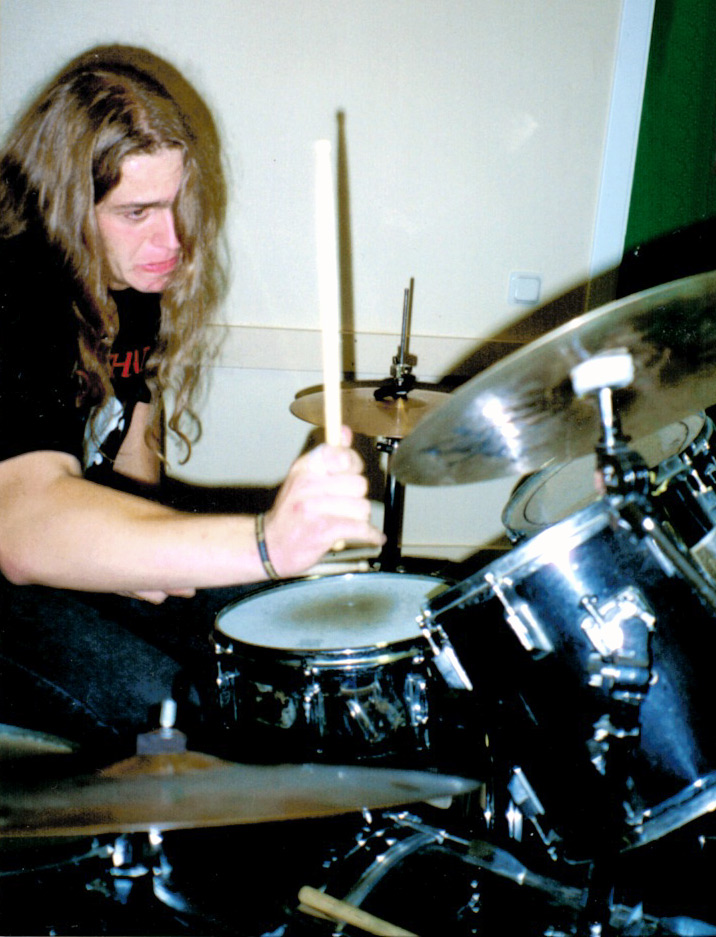 Anyway, I like listening to these early rehearsals with the original trio. It was good times rehearsing with a complete band. Don't get me wrong, all those years when it was only Mieszko and I were some of the best times in my life and obviously I enjoyed playing with Jesper, Urban and Jon too, but this was different. It was creative, focused and fun. Like on the "Industrislaven" rehearsal, Mieszko plays the bass which adds to the band feeling. I find it very fun to listen to Rickard's drumming as he's such a different drummer from me. Much rawer in his playing style and it would have been fun playing live during this era, but it was the idea of playing live that made Rickard quit the band later on.

This rehearsal is done in one session and I haven't been clinical in my editing. Some of the small talk between the songs remains as I find it amusing. I really love the guitar sound I had during these years. I wasn't a real guitar player and I definitively wasn't a tech guy. I had my red Ibanez DT 350 X Series (that I still have today) and a Boss DS-1 distortion pedal and I had a wonderful Peavey bass amp that provided a massive and bassy sound. You can hear it in the intro for "Think", one of the first Nasum songs written that we decided to re-record. It sounds fat and nice. Unfortunately the amp got lost years later. It was put in a storage room next to Nasum's last and Coldworker's first rehearsal room and then it disappeared. Very sad.

One final comment regarding the two cover songs that we decided to play in this session. The Napalm Death song "Stalemate" was lifted from the legendary S.O.B./Napalm Death split. I had gotten a copy of the 2nd press flexi 7" from Per Thunell of Filthy Christians years earlier and loved the split. "Stalemate" was the last song on Napalm Death's side and it might have been Rickard's idea to record it. Incidentally we covered the last song on S.O.B.'s side ("Device") on the bonus 7" EP for "Inhale/Exhale" four years later. Mob 47 was - and actually still is - one of the most crushing Swedish hardcore bands of all time and doing one of their songs was a no-brainer. I love Rickard's ultra quick count to the song, haha!

Tracklist
1. Cut to Fit
2. Forcefed Opinion
3. Domedagen
4. Left in a Dream
5. Distortion & Disinformation
6. Stalemate (Napalm Death cover)
7. Bag
8. Revolution
9. What's "Life"?
10. Think
11. Verklighetsflykt
12. Face Obliteration
13. Enough!
14. Dom styr våra liv (Mob 47 cover)

- Anders Jakobson, March 4, 2022
HELP ME FUND THE VAULT AND THE RARE NASUM
I have a lot of Nasum "vaults". There are the digital vaults, harddrives, CD-R's and whatever that contains some stuff. And then there are the analog vaults. Boxes filled with documents and notes and boxes filled with tapes containing rehearsals and rare stuff. I'd be more than happy to share this with the fans, but I need some funds to take time of from work to really do all that boring excavating that's needed to find and document everything.

I have put together a GoFundMe page for this: gofundme.com/the-rare-nasum and any donation is appreciated. You can also support this cause by buying The Rare Nasum stuff at Bandcamp. Or you can make a donation without going through GoFundMe or Bandcamp - just contact me at nasum@nasum.com. Everything that comes in via these channels are ear marked for a future massive excavation.

I really hope you can help me to preserve The Nasum Vault for the world. Thanks!

- Anders Jakobson.