THE NASUM VAULT - 1998-2004: THE ALBUM YEARS
Live at Kafé 44 in Stockholm 2000
NOTES ON A RECORDING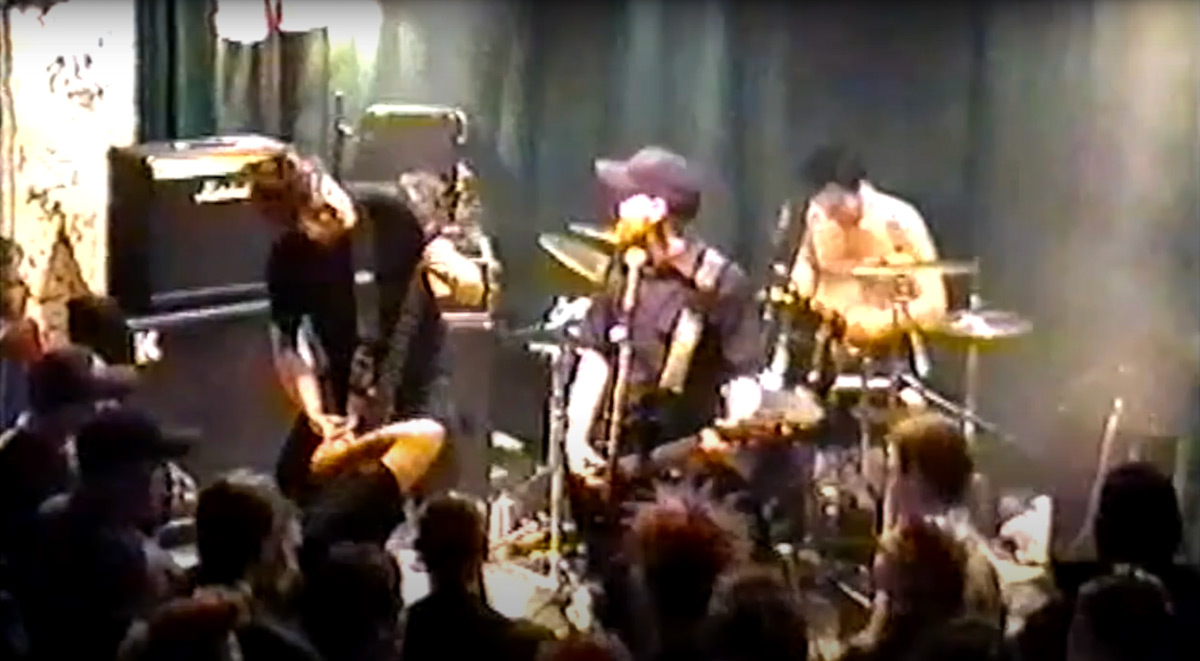 In March of 2000 we did a very small Swedish tour with Skitsystem. In all honesty it was just a weekend and we played in Uppsala and Stockholm. That's not much of a Swedish tour since Uppsala and Stockholm are quite close to each other. This was the first two shows we did with Skitsystem and we didn't share a stage again until 12 years later when they supported us on the farewell tour. But we did the split 7" EP some years after this weekend tour.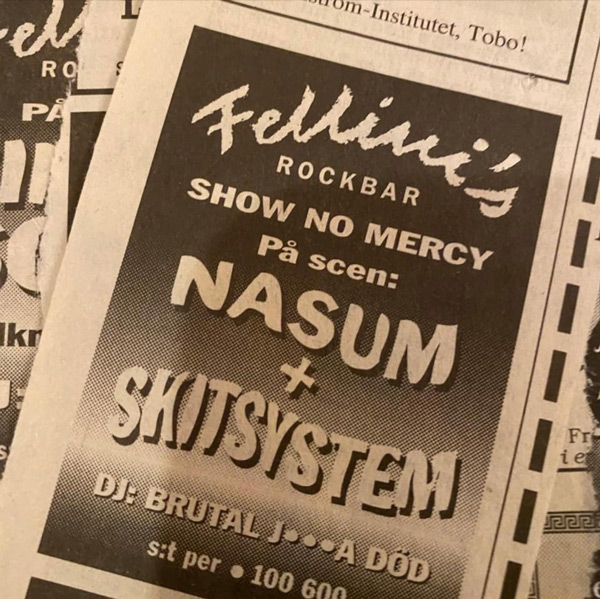 Anyway: In Uppsala we played at the restaurant Fellini. We came back to this place roughly four years later and did the final Swedish show with Mieszko. In Stockholm we played at Kafé 44, one of the classic Stockholm venues. We played a second time at Kafé 44 in 2003 but we also recorded our only video, for "Wrath", there bright and early in the morning! Apart from Nasum, I believe I have played with three of my other bands at this venue so it's really a classic place for shows.

Someone videotaped our show and I have had the VHS cassette for years. This is one crazy show. I mean just look at Jesper from the first SECOND of the opening song! He really brings it! And during the show I must admit that I got in the zone and played with a more visible enthusiasm than I usually do. It was a great night. We had only done a few shows in Sweden prior to this but we had built up some buzz and we had also written and recorded "Human 2.0" that was awaiting it's release. That's not that noticeable in the set list that only has three tastes from the upcoming album. Other than that, the set list is pretty much the collection of songs we played during the US tour the summer before. With a little difference, that I will address in the individual comments below.

Since the source for this video is a VHS tape the quality isn't exactly high def but what can you do? Once I had transferred it digitally I realized the sound was panned to one side so I exported the audio and made a mono mix. Then I realized the audio and video went out of sync, most notably when Mr Video Recorded paused between some of the songs so I had to resync the audio a couple of times. There are still some moments when the sync is fucked up. Other than that I haven't done anything else than the addition of the info screen in the beginning for which I copied some audience sound from the end.

One final thing: During the show I can hear Jon's voice calling my name and saying some other stuff. I hadn't met him at this point but I know he was at some of the Swedish shows before this as a fan. In fact I didn't meet him until he auditioned to be Jesper's replacement in 2003.


Here's the setlist and some notes along the way:
1. LÖPANDEBANDSPRINCIPEN
What an absolutely smashing opening! Not to toot my own horn, but this is a perfect grindcore song, haha! It's has such a relentless drive that makes it very fun to play and to make it really aggressive. A similar thing can be said about "Bullshit Tradition".
2. THE MASKED FACE
Tooting the ego horn again, but great fills during the mosh part.
3. THERE'S NO ESCAPE
4. MY FEAR
Another relentless rendition. This time with some human error in the middle of the song...
5. INHALE/EXHALE
6. TOO NAKED TO DISTORT
7. EVISCERATED BY THE FIEND
8. SHAMBLER
9. FANTASIBILDER
10. END
11. DETONATOR
Probably the first - or possible second - time this song was performed live. This night dedicated to Skitsystem.
12. A WELCOME BREEZE OF STINKING AIR
13. FATAL SEARCH
Probably the same regarding these songs, except that they are not dedicated Skitsystem.
14. I SEE LIES
If you look closely at me during this song you can see that I have my eyes focused on something to my left. It's actually a person. For some reason I decided to stare like a maniac at a chosen person during this song just to psyche him or her out. It was quite fun. I believe I did it in Uppsala as well.
15. NO SIGN OF IMPROVEMENT
16. SILENT SANGUINARY SOIL
This cut from the "The Black Illusions" split 7" EP was always fun to play. I kind of wished it had lived longer in the set lists. It's not exactly as it was played on the record. When we started to play this live, Mieszko thought that the first blast riff was played too slow so it was sped up to double time. Then the final part got some blastbeats as well.
17. MY PHILOSOPHY
18. DU ÄR BEVAKAD
I am going slightly crazy on the blast part, both in the beginning and in the end. This is what being in the zone means!
19. SHAPING THE END
...which is even better illustrated towards the second half of this song.
20. BULLSHIT TRADITION
20. TESTED
21. INFORMATION IS FREE
22. OUR REVOLUTION
I didn't expect this song in this show! Kind of obscure choice but it is a really cool song.
23. DIS SUCKS
24. EVOLVED AS ONE
Well, perhaps not a perfect cover of this legendary and strange opening track to Napalm Death's "From Enslavement to Obliteration". We opened our show in Umeå a few months before this show with this song and when we rehearsed it Mieszko improvised some "lyrics" since it was impossible to remember the spoken part after "Your pride". But in Umeå he totally blacked out after those two words and said nothing until we went into the "Your weak minds!" part. It's the same here, but I would guess that it's done by choice. Not a serious cover but still something special! Also notice how quickly I start dismantling the drums after the song is over. Can't understand why, haha!
- Anders Jakobson, December 23, 2021.
HELP ME FUND THE VAULT AND THE RARE NASUM
I have a lot of Nasum "vaults". There are the digital vaults, harddrives, CD-R's and whatever that contains some stuff. And then there are the analog vaults. Boxes filled with documents and notes and boxes filled with tapes containing rehearsals and rare stuff. I'd be more than happy to share this with the fans, but I need some funds to take time of from work to really do all that boring excavating that's needed to find and document everything.

I have put together a GoFundMe page for this: gofundme.com/the-rare-nasum and any donation is appreciated. You can also support this cause by buying The Rare Nasum stuff at Bandcamp. Or you can make a donation without going through GoFundMe or Bandcamp - just contact me at nasum@nasum.com. Everything that comes in via these channels are ear marked for a future massive excavation.

I really hope you can help me to preserve The Nasum Vault for the world. Thanks!

- Anders Jakobson.