Track by track commentaries to The Doomsayer's Call
1. A NEW ERA

Anders J: The demo that Anders B sent out for this song was kind of boring and bleak but I instantly saw the potential of the song and knew that it would come to life once we started rehearsing it. It was the last song we worked on for the record and the value of the song increased the moment we started to play it. There were just some minor changes to the arrangement but most of it is exactly as on Anders B's demo. That it would end up as the opening track surprised me. It never had that place on my suggestions for the track list, and it was a bold move to have it there. But it totally works.

Oskar: A mp3 of this song landed in my email inbox only a couple of weeks prior to the recording of the album. Anders B tends to do that, write a lot of songs in the last minute. I know that we/he added an intro that wasn't on the demo, and that the guitar-solo were featured on top of a riff that was removed in the final version. I love when the intro riff comes back in the middle of this song, it's so fucking heavy that you want to go out in the woods and wrestle wild bears! And the song became even better once I heard it with vocals and the awesome lyrics. The right vocal pattern could really lift a song even more, like in this case. I don't believe we ever rehearsed it with vocals in those few weeks with got with it prior to the scheduled recording, due to the fact that the lyrics was yet to be written. But I may be wrong!?

Anders B: I really wanted to do something that felt a bit different, and I was listening to Asphyx a lot at the time I wrote this song. I tried to do something that had that slow, "dragging your feet behind you" feeling, but still with a groove. The lyrics deal with my favourite "F.O.A.D" subject; religious fundamentalism.

2. THE REPROBATE

Oskar: The first of the three song that I wrote for the album. I came up with the intro in our rehearsal room, the verse one morning on acoustic while I was waiting for Anders B to come and pick me up (we worked at the same place for a short period of time). The d-beat part just popped up in my head one night while I was watching TV. The slow part was an old riff, originally written as a 3/4 tempo part, but I just happen to play it in 4/4 on a demo recording unintentionally (muscle memory?). The chorus on the other hand was a real pain in the ass. I remember that I did numerous riff for a chorus that all sounded like shit, before I came up with the existing one. I also thought it would be really cool to end the chorus with a really fast, two note tapping thing - Jack Owen style. I would never be able to play it myself, but I mentioned it to Anders B and Daniel who pulled it off. I came up with the title, but couldn't manage to get the lyrics together. I was listening a lot to Misery Index at the time, and felt that it would be really cool if Jason could write it for me. I'm happy he agreed! Probably the best song I written to this date.

Joel: I was a bit sceptical when Oskar first proposed that Jason from Misery Index should write the lyrics for this one. Not because I doubted that Jason would pull it off, he's a very talented guy, but because I felt the creative process was something that should remain within Coldworker. Anyway, Oskar and the others sweet-talked me into compliance, and in hindsight I'm happy they did. I had written some vocal patterns for the song already, but Jason wrote much better ones when he took over the reins. The lyrics themselves are great and it's refreshing to sing the song in a way that none of us in Coldworker would have done it. That Jason was so kind as to lay down some supporting vocals as well is just icing on the cake. The song turned out awesome, much thanks to the outside input.

Daniel: This one is a beast, straight through. Lots of great parts, especially the chorus. It's a challenging song to play, yet lots of fun.

Anders B: This is an intense piece. Great riffs, and fun to play. Jason wrote some awesome lyrics for it, and laid down crushing guest vocals as well. Daniel plays a great solo on this one.

3. THE GLASS ENVELOPE

Anders J: I don't remember much of the writing of "The Glass Envelope" but my memory of it is that it more or less wrote itself and ended up as a straight up grinding death metal track. I like the flow of this song and how certain riffs are played in different variations and different ways. The song also includes a riff that precede Coldworker's existence which prior to "The Glass Envelope" was featured in the first song we wrote after "The Contaminated Void", a song that got canned once André was replaced by Daniel. It's good that it finally has a home. In hindsight I have discovered that the chorus is quite similar to Carcass "Heartwork". It must have been subconsciously because I didn't think of it when I wrote the riff. The lyrics are probably my most political on the album. I wrote down the title in a document of possible titles and phrases I keep many months before the song was written. It's about how our world is getting more and more transparent. There's no room for privacy or secrets any more. But there's still room for full blasting death metal.

Oskar: I used to call this "the fun song" before it got it's title, due to the obvious fact that it is a fun song to play. The riff beginning at 1:54 was, as Anders J said "an old riff", that was used in one of André's songs that we dropped. I love that riff and told Anders that we needed to use it, so I'm happy it ended up in this song. One of the best riffs on the album in my opinion.

Joel: The chorus might be somewhat similar to Carcass' "Heartwork", but the chorus in that song is in turn very similar to the one in Kreator's "People of the Lie". It's a glorious cycle of metal! Also, this song kicks ass.

4. FLESH WORLD

Daniel: I probably rewrote this one ten times before I called it a song. The outcome is almost the same as the first version of it, though...

Anders J: The title "Flesh World" comes from the fictional BDSM magazine with the same name in "Twin Peaks". I was reminded of this and felt that "Flesh World" was a brutal title and suggested it for Daniel's Morbid Angel'ish song. The idea was that Daniel and I would write the lyrics together but once I started writing, picking some inspiration from the "Saw" series and "Dexter", I suddenly had the complete lyrics written. It was perhaps a bit unfair to exclude Daniel from the writing but it's hard to stop once inspiration hits you. The lyrics are quite graphic and gory but it's really about manipulation and the power to make weaker people do demeaning things, just filtered through the death metal dictionary. And the song is great with some of the heaviest parts we've had so far.

Oskar: I know that Daniel struggled quite a lot with this song. He was not convinced that the riffs were good enough, so he made several versions of some parts. At one point the two guitars played different riffs simultaneously in the verse. But in the end, if I recall it right, the original version also became the final one. The intro of the song was the last to be added. I really like the slow heavy part halfway into the song. I also love the title, which originates from one of my favorite TV-series.

Joel: This is a song where the music and lyrics invite me to go into "insane" mode and make the vocal delivery a little more theatrical than usual. It has a dark and vicious vibe that's fun to explore.

Anders B: I find this to be quite a special piece for Coldworker. It doesn't really sound like anything else we've done, and that's great. It's a solid, heavy "I will skin you alive, motherfucker" tune that features a really cool solo by Daniel.

5. MURDEROUS

Anders J: I believe this is the only song on the album that was born out of jam session, which is a weird notion since the riffs are certainly not "jam friendly". Anders B had a couple of riffs which we rehearsed just the two of us and he brought new stuff for each and every session until it was a complete song. We played it for the rest of the band who didn't understand a single second of the song and after that the demo was done. In all honesty it took quite some time for me to understand it as well and adjust my drumming to the riffs, but once all the pieces fell into place it became a really funny song to play. Early on Anders B had a very specific post-intro part that we never really got right and it sort of destroyed the momentum of the song so it was replaced with the grinding bass part which was perfect.

Oskar: This song really put my patience at test during the recording. I remember that I saved it for last, and that I was dreading the day I would have to face it during the whole recording process. There is a lot going on in this song, and almost every riff is a challenge to play. The riff that begins at 1:41 seems to be never ending, and is probably the most "odd" riff in Coldworker's history. The lyrics is really straightforward and pretty gory with Coldworker's measures. Also, the guitar solo is amazing!

Daniel: I don't know what Anders B was on when he wrote this one but I would sure like to try some. The riffs and arrangements are quite amazing, I like how the drums follow the guitars and vice versa.

Anders B: Riff-o-rama with lyrics somewhat inspired by classic video games like for example the very first "Unreal Tournament". M-m-m-m-m-m-moooooooonsteeeeeeeeeeeeer KILL!

6. PESSIMIST

Oskar: This song consists of riffs that were written right after "Rotting Paradise", or maybe even before it. I have a demo that Daniel and I made maybe two-three years ago with some of these riffs, along with a few riffs that Daniel wrote. That demo had a strange arrangement, and even though we changed it a couple of times, we never felt satisfied with it. So we shelved it... But since I liked the riffs I picked it up again, discarded Daniels riffs, added some new ones and re-arranged it. The idea to use different drumbeats on the first and second verse (which are similar riff-wise) felt like a fun thing to do. Making the first one slow and heavy only to come back in a rapid pace with a solid two-beat after the first chorus. We recorded two different endings, one were the last riff in the song comes back after a break... but we felt that it would probably be too repetitive. We struggled a lot with the vocal patterns for this song. And I have at least three very different versions on demos. The process of making the songs was more serious this time, and we made demos to really find the best patterns for the vocals. We have several demos with different patterns on many songs, and some of them features vocals from Anders J and Anders B as well. About the title and lyrics: I've been told my whole life that I am a real pessimist. So why not make a song about it huh? I like the word pessimist, so it was obviously the title for the song. But I had to check first, since I thought Napalm Death had already used it. But it turns out that theirs are called "Fatalist". Anyway... even though I had both title and a subject (for the third time) I just couldn't get it out of my system. I wrote the chorus, but then I handed it over to Joel and Daniel who finished it off. . Finally I have to say that I really like how the second verse in "Pessimist" ends with the word "grind", just before the mayhem begins!

Joel: The first lyrical "collaboration" ever in Coldworker, with three of us contributing. I don't find it a particularly easy way of writing lyrics, but that's how they came together for this tune. In a way I'm a little sad that this song ended up on the album, because I think "Pessimist" would have made a great title for an EP or a 7". I would love to be able to say "The Pessimist EP" for some reason.

7. MONOCHROME EXISTENCE

Joel: I don't write a lot of music, but sometimes I get the urge to be a little creative and try to write some riffs on an acoustic guitar at home. Usually nothing happens with them, but with "Monochrome Existence" I got enough good ones to actually make them into a whole song. The intro is borrowing heavily from Terrorizer and when the song gets going there's some Malevolent Creation in there as well as old Swedish death metal influences. The lyrics were a pain to write. I wrote them, threw them away and re-wrote them repeatedly in absurdum. In the end I was quite pleased with them, fortunately. As a whole, the song took a pretty long while to write.

Oskar: Joel is the only one in the band who doesn't have equipment to record a proper demo at home. So for this song (his first full songwriting credit in Coldworker) he sent a file of each riff on it's own, played on an acoustic guitar. To hear a song like that for the first time makes it very hard to figure out if it's good or not. But when we played the riffs in the rehearsal and put them together we uncovered a massive fucking beast of a song. Often quite simple, but brilliant riffs.

Anders J: Apparently Joel is a distant relative to the late Jesse Pintado. The heritage is evident!

Daniel: Joel sent us an acoustic demo of the parts for this one by mail. I remember that I digged the parts and even though it was a bad recording on an acoustic guitar, you could hear that it had potential, and as we started to put it together in the rehearsal room it became even clearer. It has one great riff after another, different beats and tempos, and KILLER vocals. A neckbreaker!

Anders B: One of the best songs on the album. Also, one of the best Coldworker songs so far. Well done Joel! It makes me think of Jesse Ventura with a minigun... Killer in every aspect.

8. VACUUM FIELDS

Anders J: In true Coldworker tradition Anders B presented his lyrics after everything but the vocals were recorded and neither "A New Era" nor "Vacuum Fields" were rehearsed with vocals prior to the recording. This is not a negative complaint as Anders B writes good lyrics with original vocal patterns so it's always a pleasant surprise when he teaches Joel the songs for the first time during a vocal session. I will never forget the session for "Vacuum Fields". The lyrics were so bleak and almost scary that they changed the whole feeling of the song. I was the recording engineer and piece by piece the song came together and then we did the spoken/whispering part which was the last rusty nail in the coffin. Holy shit... The song in general is one of the most complex we've done so far and is very fun to play. You can't really sleep through this song. The only negative remark I have is that a guitar solo that was featured on the intro of the song was removed. Our opinions about the solo came apart. I loved it and was very sad to see it go. Just the final tail of the solo is left, but in my head I hear the complete solo every time we play the song.

Oskar: In the mixing process a guitar solo at the intro of this song was edited out, much to Anders J's and my dismay. Instead we decided to fade in the beginning since it became quite long otherwise, once the solo had been removed. Aside from that, this is one of Coldworker's most intense songs playing wise. I love the way the drums follow the riffs (or is it the other way around!?!?). The part where Joel talks surprised me, but it certainly adds to a "floating" feeling in the song. It totally fits the great lyric that Anders B wrote.

Daniel: I didn't really know what to think about this one when I first heard Anders B's demo, other than it was something out of the ordinary. We didn't rehearse this one with vocals before recording it but as soon as I heard it with vocals, it tied it all together. It's one of the strongest tunes on the album, for sure.

Anders B: I stole some of Abbath's awesome Immortal riffing, and tried to combine it with a thrashy death metal vibe. I really like how this one turned out. Joel delivers the lyrics perfectly, and I'm really glad we tried the talking/whispering part in the studio, because it came out awesome!

9. LIVING IS SUFFERING

Daniel: When I was going through my old computer I found what would become the verse riff for this song and thought that I had to put it into use. The rest of the song pretty much wrote itself.

Oskar: I absolutely love the title of this song! It's so depressing and really make you feel the hopelessness. "You suffer every waking moment" makes me think of Napalm Death. We never got to hear any of the guitar solos before they were recorded (except "Violent Society"). I think most of them were written after we moved all our gear from the rehearsal room to the recording studios. I remember when I listened to them for the first time that my initial thought was that many of them, this one included, seemed to use or land on strange/wrong notes. So it took some time for me to get used to the solos. But today, I love all of them.

Joel: Daniel sent out a demo of this song and I thought the riffs sounded cool, so I immediately volunteered to write the words for it. The lyrics are about making the worst possible choices in life out of some subconscious desire to find comfort in misery. I came up with the title first and the actual words later.

Anders B: I'm glad Daniel wrote this. It has killer riffs, and the entire song is really fun to play! It will kick your ass, until "finally this shit is done"!

10. THE WALLS OF ERYX

Oskar: One of two songs from the album that we (Anders J) never did a proper demo recording of. All the other songs (except for "Monochrome Existence") have home demos made by the author of the song, complete with programmed drums, guitars and in some case even vocals. But "The Walls of Eryx" hit my mail-inbox with a tab and an mp3 of Anders J playing the song from start to finish, on acoustic guitar. The verse riff consists of 28 random notes, without any logical pattern at all. At least that's what it felt like when I learned how to play the song. I think the others agree with me.

Anders J: One could debate if the verse is a finger exercise or a riff. I'm sure the string section of the band says it's the first while I say the second. It's a "drummer's riff" for sure, but once you get the hang of it, it's not that difficult to play. The song grew out of that weird and long riff. It could have been played fast and intense, but it felt better to play it a little bit slower and build a heavier song around it. I think "The Walls of Eryx" ended up being an odd song on the album. It's not your average mid-paced death metal song, it's something weirder and I'm happy about how it turned out. Originally I planed to write the lyrics and had a title to work from. I felt that "Breeding the Colony" sounded like an exciting and fitting title. But it never went further than that, so I said "fuck it" and handed over the writing duties to Joel who wrote some great haunting words to the song. I did however write the vocal patterns and recorded a very weird whispering demo for Joel's ears only, so there is actually a demo of the song!

Joel: When Anders J first showed the riffs for this song, they really didn't make much sense to me. It wasn't until after repeated listens and when he provided the vocal patterns that I finally got it, and now I think it's a pretty catchy tune. The title is taken from a short story by H.P. Lovecraft and Kenneth J. Sterling, but the lyrics themselves only take a thematic cue from that rather fantastical tale. They are about seeking refuge in a dream world, not wanting to acknowledge the harsh reality surrounding you and wasting away in the process. I often start that way writing lyrics, with a title that sounds cool. The title of the album is taken from this song, something I certainly did not anticipate writing the words.

Anders B: Great song with a cool title. It's one of two songs on the album that contains no blastbeats. Refreshing, huh?!

11. VIOLENT SOCIETY

Joel: This song has been around for such a long while, to me it feels like a golden oldie. We have done it live on several occasions since a gig in Stockholm October 1 2009, where we played it sort of like a teaser of upcoming material. I love the in-your-face feel of it, and I think I got the savage vocal delivery to match Anders B's furious riffs perfectly. Overall it's one of my favourite Coldworker songs.

Anders J: This was the first song we wrote for the album. It was made during a period when Anders B for different reasons was unable to come to the rehearsals, so the other four of us were together trying different ideas but not getting anything proper done. So it was quite a surprise when Anders B out of the blue emailed this complete song. I got it just a few minutes before I left work to go to the rehearsal room so when I met the others I was the only one who had heard it and raved about this excellent surprise song that came from nowhere. It is a kick ass song that really got the ball going when it came to the song writing process.

Oskar: This song surprised me during the recording. There's a riff between the first and second verse that's a bit tricky, and according to Johan Berglund (who was the recording engineer), it took Anders B and Daniel a few takes before they nailed it on the guitars. Therefor I got very pleased when I manage to nail it on the first try. I felt that I finally got some flow... but then I got to the riff after the first chorus. One of the simplest riffs on the whole album. A riff that I never even thought of as a potential problem to record. But it took like 50 takes or so to get it done, mainly because I couldn't play it without getting a lot of string noise. So, recording an album always has it's surprises for sure. The intro is also pretty tricky to play, and I still need to count each time I play it to get it right. I like this song since it's so "in your face". The verse has a great riff that really gets the adrenaline going.

Anders B: The first song that was written for the album. It was written quite some time before we began writing seriously for the album, but it still made its way onto the album. It's quite a straightforward song with some definite hints of the kings of grind, Napalm Death.

12. BECOMING THE STENCH

Anders J: This song went through a number of different shapes until it was considered finished. Some parts were picked from one or two songs I had written which we rehearsed a couple of times early on in the writing process, but were filed in the archives. And then it was rewritten and rewritten and rewritten until I was satisfied and sent out a demo. The general response was "Where's the d-beat part?" and after I re-installed one of the excluded parts it ended up as it is on the record. This is a quite simple song with an old school feeling. It's deliberately played at a slightly slower pace than most of the other songs to sound even more old school. The lyrics are about being so ridden by feelings of guilt that you believe you're starting to decompose. Well, we all have felt that, haven't we? It was quite fun writing with all these death metal words and "Becoming the Stench" is a title I like very much.

Oskar: This song turned out so much better once Anders J replaced some riffs and rearranged it. The first demo wasn't that exciting, and I never really felt for the song in the beginning. But then Anders worked on it some more, and when the current chorus and the d-beat part was added, the song came to life in my opinion. And everything about this song reeks old school. From the riffs and tempos, to the clever title and lyrics. It's a fun song to play, and it's not as challenging as many of the other tracks on the album.

Daniel: Simply one of my favourite songs on the album. It has such flow in it, and the intro riff is awesome!

Anders B: Great riffs throughout this song. It's fun to play, and really intense. The lyrics are really cool, and hopefully, while you listen to it your flesh will liquefy, as your sanity is decomposed.

13. THE PHANTOM CARRIAGE

Oskar: I wanted to do a song that started with a fast grinding part, and put vocals on it right away, before the actual verse, as we don't have many songs with vocals on the first riff. I have about one million different demo versions of this song, with just as many million riffs that were tossed. All in all it took me about three weeks to get this song done, and I was more or less working on it every day. Somewhere along the way I saw an old classic Swedish movie from 1927 called "Körkarlen" (a.k.a. "The Phantom Carriage"), based on a novel by the famous Swedish author (and Nobel Price winner) Selma Lagerlöf. I loved the title so I stole it! ...and now that I knew what the song was going to be called, and what the lyric should be about, it became easier to come up with the remaining riffs. Since it's kind of a ghost tale, I figured that minor chords would fit very well. The chorus got a melodic black metal feeling, and reminds me of Dissection. Once again I could not come up with any decent lyrics, so I passed it on to Anders J. I thought it would be cool to have an outro on the song, connected to the theme. Once we decided to put the song as the closer of the album, it felt right so I gathered all the sounds I needed and mixed them down to an eerie and frightening outro...

Anders J: Oskar, like myself, usually comes up with an exciting title first and then writes the lyrics. This time he failed with the latter part and handed over the task to me. I was inspired by the title and wrote some sort of 19th century ghost story. I had helped Oskar with the vocal patterns for the song just writing down and recording some random lines and if I remember correctly some of the words ended up in the finished lyrics. I am quite satisfied with the lyrics - it was a bit hard to write in this fashion but the general eerie feeling of the song made the lyrics a bit uncanny and definitely fitting the music. For once the lyrics have no deeper meaning and there are no metaphors - it's just a scary story about meeting Death!

Anders B: Awesome song that's really fitting as the album closer! Disagree, and you will be taken by the phantom carriage. Alien abduction ain't shit compared to that...
The Doomsayer's Call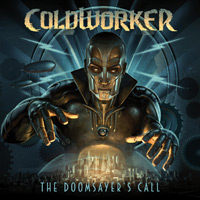 TRACKS

1. A New Era
2. The Reprobate
3. The Glass Envelope
4. Flesh World
5. Murderous
6. Pessimist
7. Monochrome Existence
8. Vacuum Fields
9. Living is Suffering
10. The Walls Of Eryx
11. Violent Society
12. Becoming The Stench
13. The Phantom Carriage

INFORMATION

Full length album released by Listenable Records, February 13, 2012.

• Drums recorded December 2010 at Soundlab Studios, Örebro, Sweden by Anders Jakobson.
• Guitars and bass recorded January 2011 at Ülgnor Studios, Örebro, Sweden by Johan Berglund.
• Vocals recorded January 2011 at Coldworker Studios, Örebro, Sweden by Anders Jakobson.
• Jason Netherton's guest vocals on "The Reprobate" recorded January 2011 at Cell Block Studios, Kent Island, Maryland, US by Darin Morris.
• Mixed and mastered February 2011 at Unisound, Örebro, Sweden by Dan Swanö.
• Outro by Oskar Pålsson.
• Band photo by Terése Andersson.
• Artwork by Pär Olofsson.
• Design by Anders Jakobson.
• Coldworker logo and symbol by Anders Jakobson.

STUFF TO READ

• Lyrics
• Track by track
• Reviews
• Studiodiary
A Tribute to Nasum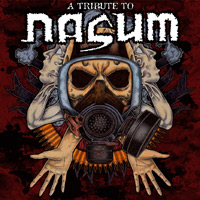 TRACKS

1. Coldworker - Den mörka tiden
2.-53. A lot of bands!

INFORMATION

A Tribute to Nasum released by Power-It-Up on LP/CD November 2009.

• Recorded in Coldworker Studios October 2008 by Anders Jakobson.
• Guitars re-recorded in Ülgnor Studios, April 2009 by Johan Berglund.
• Mixed by Johan Berglund.
• Featuring Rickard Alriksson on backing vocals

STUFF TO READ

• Track by track

Split with Deathbound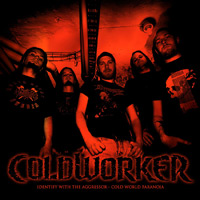 TRACKS

Coldworker:
1. Identify with the Aggressor
2. Cold World Paranoia

Deathbound:
1. Contributing with Social Sickness
2. Routine Life

INFORMATION

7" split EP released by Power-It-Up August 2009.

• Tracks recorded during the "Rotting Paradise" session in December 2007. Drums recorded at Soundlab Studios by Anders Bertilsson and Anders Jakobson. Soundcheck engineering by Dan Swanö and Niklas Källgren. Drum tuning by Peter Damin. Guitars recorded at Studio Ülgnor by Johan Berglund, Anders Bertilsson and Daniel Schröder. Bass recorded at A Noble Home by Anders Jakobson. Vocals recorded at Coldworker Studios by Anders Jakobson.
• Mixed and mastered December 2007-January 2008 at Unisound by Dan Swanö
• Cover artwork, Coldworker and CW logos by Anders Jakobson.
• Band photo by Terése Andersson.

STUFF TO READ

• Lyrics
• Track by track

Tribute to Repulsion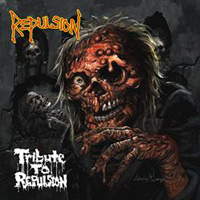 TRACKS

1. Afgrund - Splattered Cadavers
2. Belching Beet - House of Freaks
3. Blockheads - Horrified
4. Cephalic Carnage - Decomposed
5. Coldworker - Crematorium
6. Collision - Six Feet Under
7. Cretin - Eaten Alive
8. Fondlecorpse - Crypt of Terror
9. General Surgery - Maggots in your Coffin
10. Goregast - Lurking (the) Fear
11. Grind Crusher - Festering Boils
12. Impaled - Helga (Lost her head)
13. Inhume - Acid Bath
14. Haemophagus - Excruciation
15. Hamorrhage - The Stench of Burning Death
16. Looking For An Answer - Driven to Insanity
17. Machetazo - Pestilent Decay
18. Mindflair - Repulsion
19. Nashgul - Slaughter of the Innocent
20. Necromorph - Something Dead
21. World Downfall - Rebirth

INFORMATION

Tribute to Repulsion released by FDA Rekotz on LP July 2009, CD December 2009.

• Recorded in Coldworker Studios October 2008 by Anders Jakobson.
• Guitars re-recorded in Ülgnor Studios, April 2009 by Johan Berglund.
• Mixed by Johan Berglund.
• Featuring Rickard Alriksson on backing vocals

STUFF TO READ

• Track by track

Rotting Paradise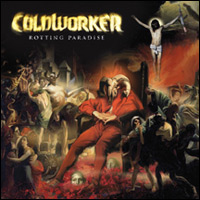 TRACKS

1. Reversing the Order
2. Citizens of the Cyclopean Maze
3. Symptoms of Sickness
4. The Black Dog Syndrome
5. Comatose State
6. Paradox Lost
7. The Last Bitter Twist
8. Seizures
9. The Machine
10. I am the Doorway
11. Scare Tactics
12. Deliverance of the Rejected

Japanese edition

1. Reversing the Order
2. Citizens of the Cyclopean Maze
3. Symptoms of Sickness
4. The Black Dog Syndrome
5. Comatose State
6. Paradox Lost
7. The Last Bitter Twist
8. Seizures
9. The Machine
10. I am the Doorway
11. Scare Tactics
12. Deliverance of the Rejected
13. Necromancer (Sepultura cover)

INFORMATION

• "Rotting Paradise" was recorded in December 2007. Drums recorded at Soundlab Studios by Anders Bertilsson and Anders Jakobson. Soundcheck engineering by Dan Swanö and Niklas Källgren. Drum tuning by Peter Damin. Guitars recorded at Studio Ülgnor by Johan Berglund, Anders Bertilsson and Daniel Schröder. Bass recorded at A Noble Home by Anders Jakobson. Vocals recorded at Coldworker Studios by Anders Jakobson.
• Mixed and mastered December 2007-January 2008 at Unisound by Dan Swanö
• Cover artwork and design by Orion Landau.
• Coldworker and CW logos by Anders Jakobson.
• Band photo by Terése Andersson.

Vinyl editions

• 300 copies in yellow vinyl
• 300 copies in red vinyl
• 300 copies in white with red splatter vinyl
• 100 copies in clear vinyl (not for sale)

From Relapse.com

Coldworker has evolved into a finely tuned Swedish death metal machine on its second full-length Rotting Paradise. Rotting Paradise balances modern metal brutality, and distinctly European flourishes of metallic grandeur to form the quintessential Swedish death metal album for a new century of extremity.

STUFF TO READ

• Lyrics
• Track by track

Pig Destroyer/Coldworker/Antigama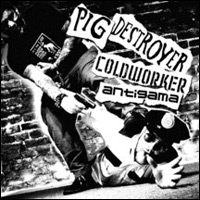 TRACKS

1. Pig Destroyer - Abaraxas Annihilation
2. Pig Destroyer - Understand
3. Coldworker - Far Beyond Driven
4. Antigama - Zoom

INFORMATION

Limited (1000 copies) 3-way split 7" EP with Japanese bonus tracks from Pig Destroyer, Coldworker and Antigama. Only available from the Relapse store with any purchase from the featured bands.

• Recorded June 6 - June 24 2006 by Coldworker at Coldworker Studios, Örebro, Sweden. Additional guitars recorded in The House of Alvinzi, Arboga, Sweden by André Alvinzi.
• Mixed June 26 - July 5 2006 by Dan Swanö at Unisound, Örebro, Sweden.
• Mastered July 10 2006 by Peter In de Betou at Tailor Maid Production, Spånga, Sweden.

STUFF TO READ

• Lyrics
• Track by track

The Contaminated Void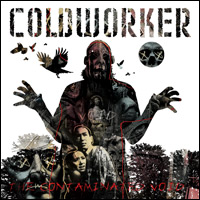 CD cover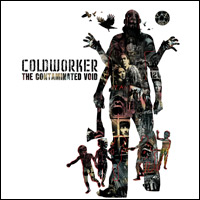 LP cover
TRACKS

1. The Interloper
2. D.E.A.D.
3. An Unforgiving Season
4. The Contaminated Void
5. Death Smiles At Me
6. A Custom-made Hell
7. Return To Ashes
8. Strain At The Leash
9. Flammable
10. Antidote
11. They Crawl Inside Me Uninvited
12. Waiting For Buildings To Collapse
13. Heart Shaped Violence
14. Generations Decay

Japanese edition

1. The Interloper
2. D.E.A.D.
3. An Unforgiving Season
4. The Contaminated Void
5. Death Smiles At Me
6. A Custom-made Hell
7. Return To Ashes
8. Far Beyond Driven (bonus track)
9. Strain At The Leash
10. Flammable
11. Antidote
12. They Crawl Inside Me Uninvited
13. Waiting For Buildings To Collapse
14. Heart Shaped Violence
15. Generations Decay

INFORMATION

• Recorded June 6 - June 24 2006 by Coldworker at Coldworker Studios, Örebro, Sweden. Additional guitars recorded in The House of Alvinzi, Arboga, Sweden by André Alvinzi.
• Mixed June 26 - July 5 2006 by Dan Swanö at Unisound, Örebro, Sweden.
• Mastered July 10 2006 by Peter In de Betou at Tailor Maid Production, Spånga, Sweden.
• Band photo: Robert Johansson
• Album artwork: Orion Landau

Vinyl editions

• 600 copies in white vinyl
• 300 copies in grey vinyl
• 100 copies in clear vinyl (not for sale)

From Relapse.com

Sweden's Coldworker storms out of the gates with it's debut The Contaminated Void. Conceived and created by Anders Jakobson (of the legendary Nasum) and his hand-picked selection of burgeoning metal players, Coldworker's razor-sharp attack is destined to send shockwaves through the international extreme scene. The Contaminated Void's fourteen tracks swarm with equal parts crushing riffs, blazing speed, and menacing vocal onslaughts. Outrageously agile guitars balance melodic leads with relentless aggression. From start to finish, The Contaminated Void burns with a ferocity and intensity rarely seen in any genre of metal. Simply stated, Coldworker and The Contaminated Void is among the finest Scandinavian metal this side of the 21st century.

STUFF TO READ

• Lyrics
• Track by track
• Reviews
• Studiodiary