Track by track commentaries to Pig Destroyer/Coldworker/Antigama
FAR BEYOND DRIVEN (Japanese bonustrack)

Anders B: Another song that I contributed with the verse and chorus riff for, this was the third song we wrote, and it's probably the song on the album that's least "death metal". It ended up as the bonus track for the Japanese edition of "The Contaminated Void". I really like this song, it just oozes with pure grinding energy, definitely hinting some Napalm Death influence. It's not a Pantera cover as a certain website managed to write. Why the hell would we cover an entire album (even though it's indeed a killer album by one of the greatest bands in the history of metal)? There's no Pantera song by the name of "Far Beyond Driven", hello...
The Doomsayer's Call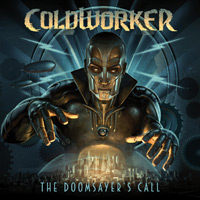 TRACKS

1. A New Era
2. The Reprobate
3. The Glass Envelope
4. Flesh World
5. Murderous
6. Pessimist
7. Monochrome Existence
8. Vacuum Fields
9. Living is Suffering
10. The Walls Of Eryx
11. Violent Society
12. Becoming The Stench
13. The Phantom Carriage

INFORMATION

Full length album released by Listenable Records, February 13, 2012.

• Drums recorded December 2010 at Soundlab Studios, Örebro, Sweden by Anders Jakobson.
• Guitars and bass recorded January 2011 at Ülgnor Studios, Örebro, Sweden by Johan Berglund.
• Vocals recorded January 2011 at Coldworker Studios, Örebro, Sweden by Anders Jakobson.
• Jason Netherton's guest vocals on "The Reprobate" recorded January 2011 at Cell Block Studios, Kent Island, Maryland, US by Darin Morris.
• Mixed and mastered February 2011 at Unisound, Örebro, Sweden by Dan Swanö.
• Outro by Oskar Pålsson.
• Band photo by Terése Andersson.
• Artwork by Pär Olofsson.
• Design by Anders Jakobson.
• Coldworker logo and symbol by Anders Jakobson.

STUFF TO READ

• Lyrics
• Track by track
• Reviews
• Studiodiary
A Tribute to Nasum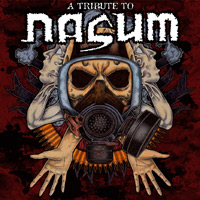 TRACKS

1. Coldworker - Den mörka tiden
2.-53. A lot of bands!

INFORMATION

A Tribute to Nasum released by Power-It-Up on LP/CD November 2009.

• Recorded in Coldworker Studios October 2008 by Anders Jakobson.
• Guitars re-recorded in Ülgnor Studios, April 2009 by Johan Berglund.
• Mixed by Johan Berglund.
• Featuring Rickard Alriksson on backing vocals

STUFF TO READ

• Track by track

Split with Deathbound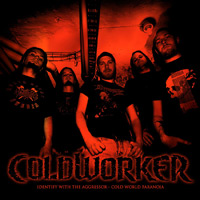 TRACKS

Coldworker:
1. Identify with the Aggressor
2. Cold World Paranoia

Deathbound:
1. Contributing with Social Sickness
2. Routine Life

INFORMATION

7" split EP released by Power-It-Up August 2009.

• Tracks recorded during the "Rotting Paradise" session in December 2007. Drums recorded at Soundlab Studios by Anders Bertilsson and Anders Jakobson. Soundcheck engineering by Dan Swanö and Niklas Källgren. Drum tuning by Peter Damin. Guitars recorded at Studio Ülgnor by Johan Berglund, Anders Bertilsson and Daniel Schröder. Bass recorded at A Noble Home by Anders Jakobson. Vocals recorded at Coldworker Studios by Anders Jakobson.
• Mixed and mastered December 2007-January 2008 at Unisound by Dan Swanö
• Cover artwork, Coldworker and CW logos by Anders Jakobson.
• Band photo by Terése Andersson.

STUFF TO READ

• Lyrics
• Track by track

Tribute to Repulsion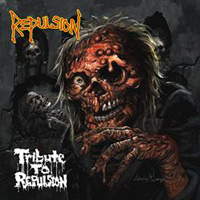 TRACKS

1. Afgrund - Splattered Cadavers
2. Belching Beet - House of Freaks
3. Blockheads - Horrified
4. Cephalic Carnage - Decomposed
5. Coldworker - Crematorium
6. Collision - Six Feet Under
7. Cretin - Eaten Alive
8. Fondlecorpse - Crypt of Terror
9. General Surgery - Maggots in your Coffin
10. Goregast - Lurking (the) Fear
11. Grind Crusher - Festering Boils
12. Impaled - Helga (Lost her head)
13. Inhume - Acid Bath
14. Haemophagus - Excruciation
15. Hamorrhage - The Stench of Burning Death
16. Looking For An Answer - Driven to Insanity
17. Machetazo - Pestilent Decay
18. Mindflair - Repulsion
19. Nashgul - Slaughter of the Innocent
20. Necromorph - Something Dead
21. World Downfall - Rebirth

INFORMATION

Tribute to Repulsion released by FDA Rekotz on LP July 2009, CD December 2009.

• Recorded in Coldworker Studios October 2008 by Anders Jakobson.
• Guitars re-recorded in Ülgnor Studios, April 2009 by Johan Berglund.
• Mixed by Johan Berglund.
• Featuring Rickard Alriksson on backing vocals

STUFF TO READ

• Track by track

Rotting Paradise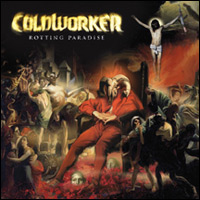 TRACKS

1. Reversing the Order
2. Citizens of the Cyclopean Maze
3. Symptoms of Sickness
4. The Black Dog Syndrome
5. Comatose State
6. Paradox Lost
7. The Last Bitter Twist
8. Seizures
9. The Machine
10. I am the Doorway
11. Scare Tactics
12. Deliverance of the Rejected

Japanese edition

1. Reversing the Order
2. Citizens of the Cyclopean Maze
3. Symptoms of Sickness
4. The Black Dog Syndrome
5. Comatose State
6. Paradox Lost
7. The Last Bitter Twist
8. Seizures
9. The Machine
10. I am the Doorway
11. Scare Tactics
12. Deliverance of the Rejected
13. Necromancer (Sepultura cover)

INFORMATION

• "Rotting Paradise" was recorded in December 2007. Drums recorded at Soundlab Studios by Anders Bertilsson and Anders Jakobson. Soundcheck engineering by Dan Swanö and Niklas Källgren. Drum tuning by Peter Damin. Guitars recorded at Studio Ülgnor by Johan Berglund, Anders Bertilsson and Daniel Schröder. Bass recorded at A Noble Home by Anders Jakobson. Vocals recorded at Coldworker Studios by Anders Jakobson.
• Mixed and mastered December 2007-January 2008 at Unisound by Dan Swanö
• Cover artwork and design by Orion Landau.
• Coldworker and CW logos by Anders Jakobson.
• Band photo by Terése Andersson.

Vinyl editions

• 300 copies in yellow vinyl
• 300 copies in red vinyl
• 300 copies in white with red splatter vinyl
• 100 copies in clear vinyl (not for sale)

From Relapse.com

Coldworker has evolved into a finely tuned Swedish death metal machine on its second full-length Rotting Paradise. Rotting Paradise balances modern metal brutality, and distinctly European flourishes of metallic grandeur to form the quintessential Swedish death metal album for a new century of extremity.

STUFF TO READ

• Lyrics
• Track by track

Pig Destroyer/Coldworker/Antigama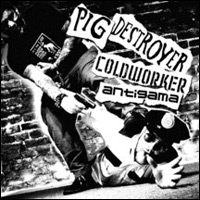 TRACKS

1. Pig Destroyer - Abaraxas Annihilation
2. Pig Destroyer - Understand
3. Coldworker - Far Beyond Driven
4. Antigama - Zoom

INFORMATION

Limited (1000 copies) 3-way split 7" EP with Japanese bonus tracks from Pig Destroyer, Coldworker and Antigama. Only available from the Relapse store with any purchase from the featured bands.

• Recorded June 6 - June 24 2006 by Coldworker at Coldworker Studios, Örebro, Sweden. Additional guitars recorded in The House of Alvinzi, Arboga, Sweden by André Alvinzi.
• Mixed June 26 - July 5 2006 by Dan Swanö at Unisound, Örebro, Sweden.
• Mastered July 10 2006 by Peter In de Betou at Tailor Maid Production, Spånga, Sweden.

STUFF TO READ

• Lyrics
• Track by track

The Contaminated Void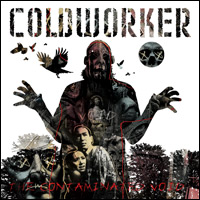 CD cover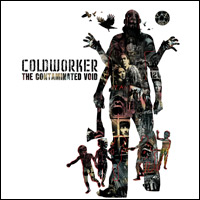 LP cover
TRACKS

1. The Interloper
2. D.E.A.D.
3. An Unforgiving Season
4. The Contaminated Void
5. Death Smiles At Me
6. A Custom-made Hell
7. Return To Ashes
8. Strain At The Leash
9. Flammable
10. Antidote
11. They Crawl Inside Me Uninvited
12. Waiting For Buildings To Collapse
13. Heart Shaped Violence
14. Generations Decay

Japanese edition

1. The Interloper
2. D.E.A.D.
3. An Unforgiving Season
4. The Contaminated Void
5. Death Smiles At Me
6. A Custom-made Hell
7. Return To Ashes
8. Far Beyond Driven (bonus track)
9. Strain At The Leash
10. Flammable
11. Antidote
12. They Crawl Inside Me Uninvited
13. Waiting For Buildings To Collapse
14. Heart Shaped Violence
15. Generations Decay

INFORMATION

• Recorded June 6 - June 24 2006 by Coldworker at Coldworker Studios, Örebro, Sweden. Additional guitars recorded in The House of Alvinzi, Arboga, Sweden by André Alvinzi.
• Mixed June 26 - July 5 2006 by Dan Swanö at Unisound, Örebro, Sweden.
• Mastered July 10 2006 by Peter In de Betou at Tailor Maid Production, Spånga, Sweden.
• Band photo: Robert Johansson
• Album artwork: Orion Landau

Vinyl editions

• 600 copies in white vinyl
• 300 copies in grey vinyl
• 100 copies in clear vinyl (not for sale)

From Relapse.com

Sweden's Coldworker storms out of the gates with it's debut The Contaminated Void. Conceived and created by Anders Jakobson (of the legendary Nasum) and his hand-picked selection of burgeoning metal players, Coldworker's razor-sharp attack is destined to send shockwaves through the international extreme scene. The Contaminated Void's fourteen tracks swarm with equal parts crushing riffs, blazing speed, and menacing vocal onslaughts. Outrageously agile guitars balance melodic leads with relentless aggression. From start to finish, The Contaminated Void burns with a ferocity and intensity rarely seen in any genre of metal. Simply stated, Coldworker and The Contaminated Void is among the finest Scandinavian metal this side of the 21st century.

STUFF TO READ

• Lyrics
• Track by track
• Reviews
• Studiodiary