Week three - the final one
Studio diary 2006

The third week of the recording of "The Contaminated Void" obviously started where week two ended - with vocals. Joel came in on Monday morning doing his second session. He managed to record four songs before we had to break to have another photosession with Robert. The first one didn't result in that many useable photos and were all outdoors. We needed some more, some darker and in an indoor environment. Said and done, we entered the garage next to Coldworker Studios and shot a lot of photos before returning to the studio.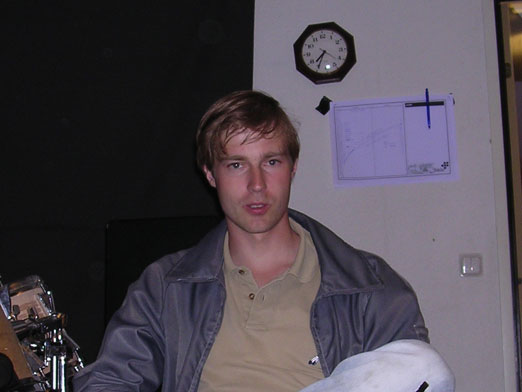 Robert hanging in Coldworker Studios talking guitars.

André had recorded his guitar solos at home and brought the soundfiles on cd to be merged with the main recording. After some adjustments we could hear what he had managed to record. Two very twisted guitar solos, melodic and sick at the same time. Quite amazing by a guy who's only played the guitar for six years.

That concluded Monday's session, in which we also managed to sign our record contract. Tuesday was all devoted to the bass. Oskar and I spent a couple of hours recording most of the remaining songs, leaving only a few to the next day. I also spent a few minutes pretending to be an experienced filmmaker as I shot some scenes for a "making of" video we will try to put together. Oskar who was listening through the bass takes probably thought that I was insane running around shooting doors and such.

Wednesday we continued to track the vocals. This time it was very special as Joel was in full work gear. Joel works as a conductor and was dressed in a suit and tie and a nice jacket. Needless to say, the vocals came out extra evil and strong due to the outfit, and he pulled off five tracks before he had to leave for work. Oskar came in and finished almost all the bass takes.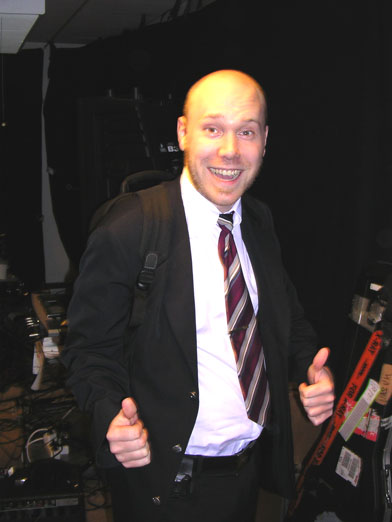 Joel in full death metal gear...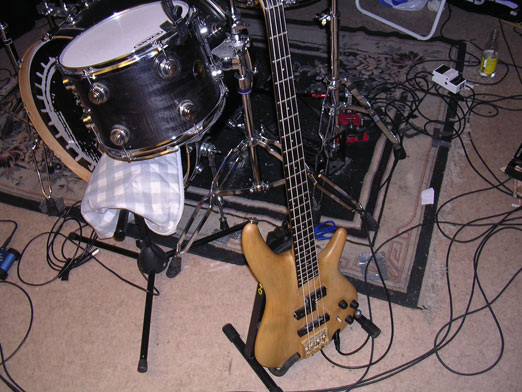 Oskar's axe, and a missplaced tom tom.

Thursday was the big wrap up day as we finished both the bass and the vocals. Joel sang the last songs ("Return To Ashes", "Far Beyond Driven" and "Decay") like the death metal god in disguise he is, and we manged to have a thorough listen through all the vocals tracks and did some patching where needed. We are all amazed by the quality of Joel's voice, and he was mostly dazzeled because he managed to record all the vocals in just four sessions. Nice work!

Friday I spent the most of the day polishing the edits on all the tracks. This is a time consuming and very boring part of the whole thing that is important in the big picture. I had already started this on the evenings earlier in the week, but this time it was all I did and continued to do until I wrote this diary.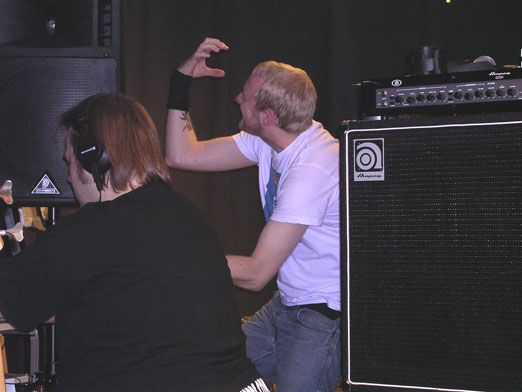 This is what happens when a bored bassplayer finds out how to shoot pictures with help from a timer .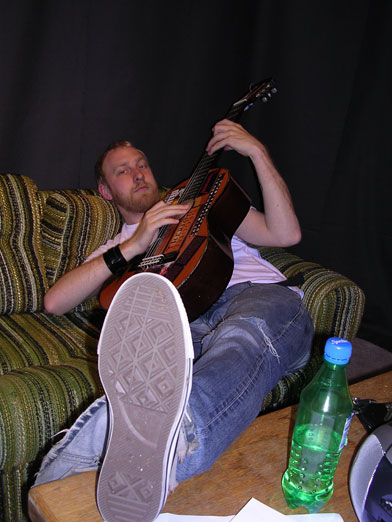 Oskar and the "show riffs"-guitar.

On Saturday André, Anders B and I returned to the studio one last time to do some final additions to the recording. André had spent a lot of hours in The House of Alvinzi Studios, Arboga (well...) recording ALL his guitars again! And he also recorded some additional guitars that we added to a few of the songs. This means that there are SIX guitars on all songs and at some parts as much as TEN guitars!

Anders B, on the other hand, placed himself in front of the microphone and recorded a few grunts and dubs for a couple of songs. Although he was quite affected by his cold, he sounded like a true grizzly bear after all.

And that wrapped the recording sessions!

The remainder of the weekend I spent working with the edits and all that boring shit, until I finally was done with everything and did a rough mix of it all. It sounds pretty amazing already, and that is without any EQ-ing or detailed mixing... In a couple of days we'll hand over the recording to Dan Swanö so he can work his magic. We can't wait to hear it mixed!