The Tour Blog
European final tour - Part 2
Posted: September 28, 2012 15:52:50 by Anders Jakobson
September 24 - Keijo's 50th show!

The only stop in Holland was in Utrecht. It's actually only two countries that get visited more than once on this tour - Germany and Sweden. The venue in Utrecht was called Tivoli de Helling and was a really cool club with a good sized room and a very nice backstage area upstairs where we could hang out and relax. The people working at the club were total pro's and took really good care of us. Everything was pretty much top notch.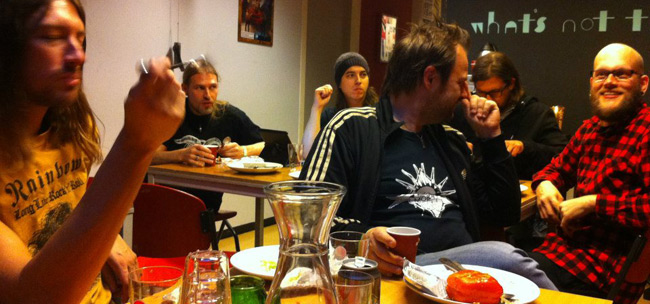 Enjoying a nice dinner at Tivoli de Helling.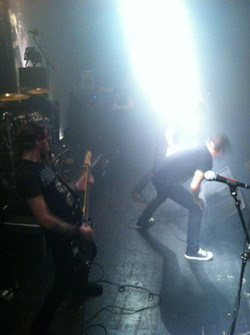 Due to stormy weather the local support act Oathbreaker got delayed and it was actually not certain that they would show up in time, but they did and could play their stuff in front of a crowd that really wasn't filling up the room or particularly wild and crazy. It was a Monday after all. For me our show felt a bit like a Monday gig, although you hardly know what day of the week it is while you are on tour. Everyday is "Gigday"… I had too many distractions during the show - bad monitor, things not really positioned where I wanted them, loose screws on the cymbal stands and so forth. I wasn't really at my best and had a hard time to get into the flow and just deliver what I am supposed to deliver. Although I shouldn't put any blame on the audience for my mood, it felt quite dead in the room. It was silent between the songs in that particular way that it felt that Keijo - who had his 50th show with Nasum this night - had to drag the response out of the people.

To my surprise the crowd got very loud and active when we had finished the main set so we went up and played the scheduled extras. The show gradually got better and better and was at it's best when it was basically over. Strange, but that how it is sometimes.

September 25 - The Grindfather guests

To get to London we had to cross the canal via a ferry. I don't like ferries, but fortunately the water was calm enough so you could live through the circa 90 minutes the ferry ride took. A couple of hours later we arrived at Underworld in London and had a little time to do whatever before we had access to the club. I went on a hunt for a new pair of jeans as the only pair I have with me sort of died during the first couple of days. No luck with that, surprisingly, so I have to live with my broken shit for a while more.

While setting up the gear our special guest for the night arrived - Shane Embury. Initially he came just for the show but as he's made a few guest appearances with us in the past, we thought it would be great to graze the only UK date on the entire tour with some Embury madness. So we constructed a completely new setlist for the night as we've more or less played versions of the same set during the first five shows just to get warmed up. We were not the only band that changed their setlist tonight - Black Breath had to do the same thing, but for completely different reasons.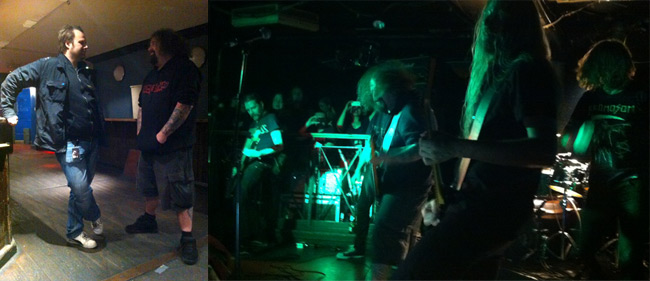 Meeting Shane is always a pleasure, and being on stage with him is an even bigger one!

At some point during the night, Black Breath's drummer Jaime hurt his left foot badly, so bad that he couldn't walk when we were at the ferry. A drummer's nightmare. After their soundcheck it was really obvious that the left foot was unusable and Black Breath had to dig forth all their "non-double bass" songs, which ended up in a really crusty set with mostly songs from their first couple of recordings. They sounded like a completely different band, but still got a great response from the audience.

Some minor distractions from my part led to some sloppy playing during parts of our show. That and the new setlist made the show less smooth than I had expected, but we found our groove at some point and the show got intense, sweaty and a really good one. It's always a pleasure to have Shane on stage, and he blasted out "The Masked Face" while Jesper had to be "only" the back-up singer, which eventually led to a stage dive into the audience. Having Shane on the stage also bookends the 20th anniversary, just like Rickard's guest appearance did back in Gothenburg. Without Shane and Napalm Death there wouldn't have been 20 years of Nasum. That's for sure.

September 26 - Jon's 100th show!

I believe we all slept through the ferry ride back to France and a few hours later we had arrived at Glazart in Paris. A quite good venue with some kind of "beach" appendix that might be very nice during the Summer. We did the usual routine - shuffled down some food and then loaded in all the stuff, and set it up.

After the soundcheck Janne, Urban, Jesper and I went together with Eric and Elijah from Black Breath into town via the subway for half and hour or so to visit the catacombs of Paris. This was very exciting and we were ready for a chilling sight. To our dismay we were too late and the catacombs were closed for the day! No catacombs, just a catastrophe! Instead we hung out at a café in the rain having a cup of coffee just to feel that we were away from the club, backstage room and bus. You need some time away every now and then.




The way to the catacombs. Thumbs down for it being closed, but thumbs up for some coffee!

Back at Glazart Coilguns had already started playing and before Black Breath played Sublime Cadaveric Decomposition kept the room warm. It was a really hot venue and we were virtually sweating our asses of during the show. Jaime had been to a doctor with his injured foot, but they didn't find anything broken or anything like that and he was able to perform as usual, so it was just London that got the crust version of Black Breath.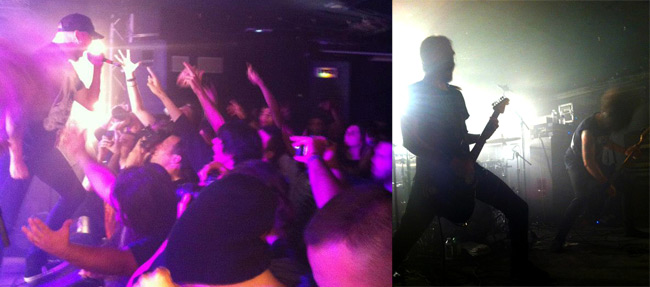 Our show was the final of the "anniversary shows" - Jon's 100th show with Nasum - and it was hot and crazy. The place was more or less packed, at least it felt so because there wasn't that much air in the room and quite sweaty. All in all a fun night.

September 27 - The wizard of CERN

The following day we were in Switzerland for the last time, yet again at Usine in Geneva. This venue was on the "European Grind Shift Tour" back in 2004, and yet again Mumakil supported us, just like back then. Coilguns was also on the bill, and when they played the venue was frighteningly empty… That changed during the night, thankfully, and in the end the show up was good.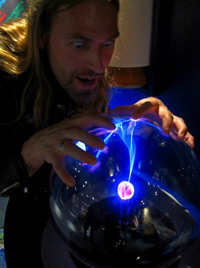 In fear of repeating yesterday's fatal fail with the visit to the catacombs of Paris, Jesper, Urban and Eric went away pretty much directly after the load in to visit CERN - the European Organization for Nuclear Research which is in Geneva. The guys were away for quite some time and returned with a great experience richer, without having the possibility to see the particle accelerators though.

The rest of us basically stayed at the venue using the free internet to get some work done. The last couple of days have been more or less interNOT so it was nice to be able to communicate and work on some stuff.

During the intro for our show, Jesper suddenly said: "Hey, what are we playing tonight?", and we quickly decided on a set we've been playing for most of the final tour so far. It was just so funny to hear that virtually seconds before we entered the stage. Again the show was a good one. I had feared it to be a dull one judging from the poor attendance during the beginning of the night, but it turned out to be quite good and during the extras I surprised the band by starting a completely different song than what they had expected. And I did it by choice and not as a mistake!