IN MEMORY OF MIESZKO TALARCZYK
Mieszko A. Talarczyk left us in the tsunami disaster December 26, 2004 and we will forever miss him. In memory of Mieszko we have devoted this part of nasum.com to him. Here you'll find a collection of texts and other stuff related to Mieszko.
Eulogies - Good bye from Nasum
"Mieszko never had the chance to be a hero or a survivor. He most likely died in the first wave. I do know that the last thing he did was to protect his girlfriend so in my eyes he died as a hero."
Read Anders Jakobson's Eulogy
"I still pick up the phone to call you just to ask if you think we'll go to Japan soon or if that drummer still sucks /.../ and I remember there is no one on the other side of the line."
Read Jon Lindqvist's Eulogy
"He really tried living his life to the fullest and since he was such an efficient person I think he, for the most part, succeeded in doing so."
Read Urban Skytt's Eulogy
"I regularly find myself chuckling when I'm on the subway or walking around and come to think of Mieszko's moronically funny sens of humor, or some stupid situation we have been in."
Read Jesper Liveröd's Eulogy
Miscellaneous files and texts
Mieszko - the sound engineer
Apart from being the singer, guitar player and song writer in Nasum, Mieszko was also a well established sound engineer with his own recording studio: Soundlab. His daily job was to record and mix music. Among the many bands he worked with are Disfear, Rotten Sound, Exhumed, Nine, The Peepshows and Skitsystem.
In connection with the recording of "Helvete", Mieszko wrote an interesting piece about his process, going into details about how to capture different instruments and what mik's to use.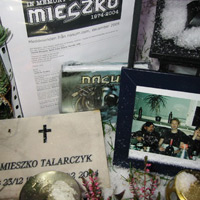 One year later
As the one year aniversary of the Tsunami disaster got closer, the visitors of nasum.com got the chance to post one last word to Mieszko.
The messages were put at his grave on the 26th December and later put at the memorial site in Thailand with the help of Matte Borg (Genocide SuperStars). Here you can read the messages and see photos.