MERCHANDISE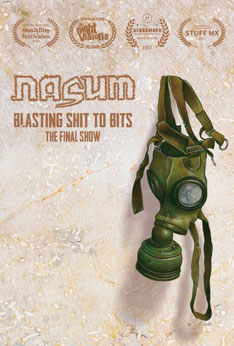 Blasting Shit To Bits DVD
Description:
The Last Show + interviews. Comes with 40 minutes of extras and a booklet, housed in a slipcase. Region 0 (PAL).

Price including shipping for a single item:
Sweden: 175 SEK
World: 210 SEK (Aprox. 20 EUR/24 USD)

Availability:
Blasting Shit To Bits DVD: 11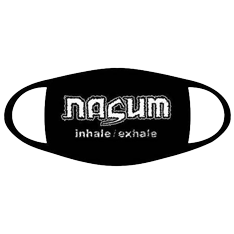 Inhale/Exhale mask
Description:
Black hand-sewn masks with white screen print. Not guaranteed to protect the bearer or others from diseases!

Price including shipping for a single item:
Sweden: 100 SEK
World: 120 SEK (Aprox. 12 EUR/14 USD)

Availability:
Inhale/Exhale mask: 6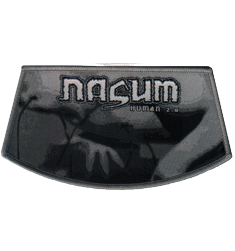 Human 2.0 patch
Description:
Shaped, black/white embroidered patch with grey border. Size: 12x6,5 cm. Made by Pull the plug patches.

Price including shipping for a single item:
Sweden: 65 SEK
World: 80 SEK (Aprox. 8 EUR/10 USD)

Availability:
Human 2.0 patch w/ grey border: 6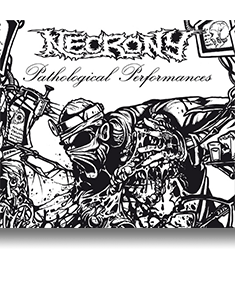 Necrony - Pathological Performances (EUR) CD
Description:
Remastered reissue of the Necrony album (1993). European edition, comes in a white slipcase.

Price including shipping for a single item:
Sweden: 176 SEK
World: 192 SEK

Availability:
Necrony - Pathological... (EUR) CD: 10+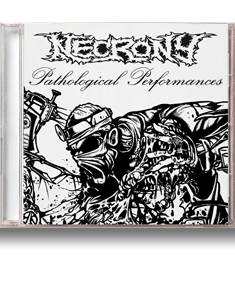 Necrony - Pathological Performances (AUS) CD
Description:
Remastered reissue of the Necrony album (1993). Australian edition.

Price including shipping for a single item:
Sweden: 176 SEK
World: 192 SEK

Availability:
Necrony - Pathological... (AUS) CD: 10+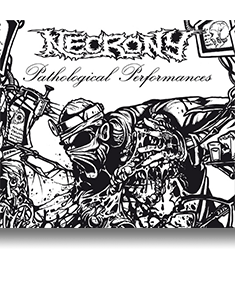 Necrony - Pathological Performances (MEX) CD
Description:
Remastered reissue of the Necrony album (1993). Mexican/US edition, comes in a white slipcase with embossed printing.

Price including shipping for a single item:
Sweden: 176 SEK
World: 192 SEK

Availability:
Necrony - Pathological... (MEX) CD: 10+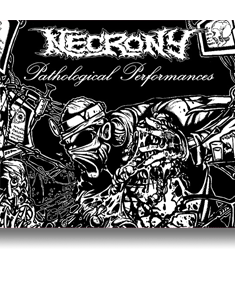 Necrony - Pathological Performances (ARG) CD
Description:
Remastered reissue of the Necrony album (1993). Argentinian/South Amercian edition, comes in a black slipcase.

Price including shipping for a single item:
Sweden: 176 SEK
World: 192 SEK

Availability:
Necrony - Pathological... (ARG) CD: 10+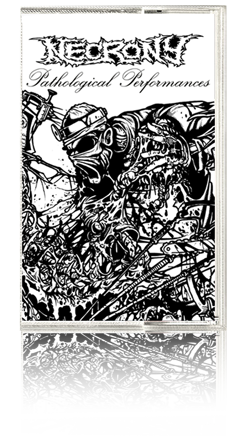 Necrony - Pathological Performances (EUR) CS
Description:
Second cassette reissue of the Necrony album (1993). European edition released by Selfmadegod Records.

Price including shipping for a single item:
Sweden: 151 SEK
World: 164 SEK

Availability:
Necrony - Pathological... (EUR) CS: 6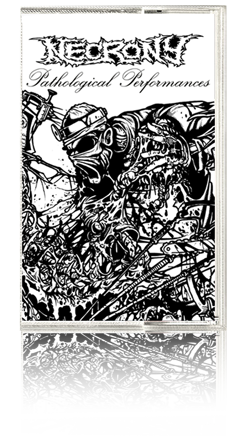 Necrony - Pathological Performances (CHI) CS
Description:
Third cassette reissue of the Necrony album (1993). Chilean edition released by Diabolic Summoning Records.

Price including shipping for a single item:
Sweden: 151 SEK
World: 164 SEK

Availability:
Necrony - Pathological... (CHI) CS: 3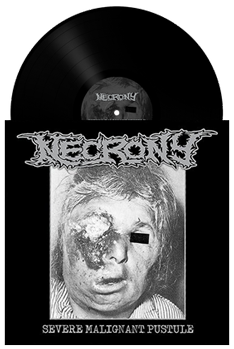 Necrony - Severe Malignant Pustule 10" EP black
Description:
First official vinyl version of the 1991 Necrony demo. Remastered 10" EP with insert. On black vinyl. Limited to 100 copies.

Price including shipping for a single item:
Sweden: 207 SEK
World: 270 SEK (375 SEK traceable)

Availability:
Necrony - SMP 10´´ EP black: 10+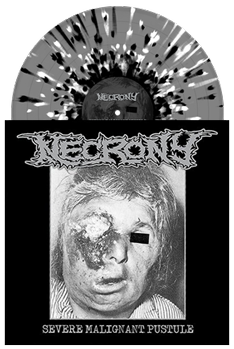 Necrony - Severe Malignant Pustule 10" EP silver
Description:
First official vinyl version of the 1991 Necrony demo. Remastered 10" EP with insert. On silver/splatter vinyl. Limited to 100 copies.

Price including shipping for a single item:
Sweden: 207 SEK
World: 270 SEK (375 SEK traceable)

Availability:
Necrony - SMP 10´´ EP silver: 10+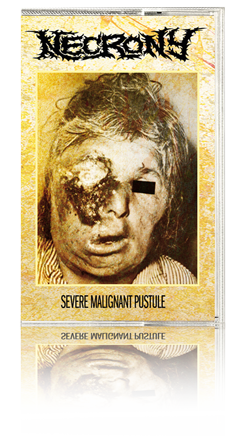 Necrony - Severe Malignant Pustule CS
Description:
Second official cassette version of the 1991 Necrony demo, released by Diabolic Summoning Records (Chile).

Price including shipping for a single item:
Sweden: 151 SEK
World: 164 SEK

Availability:
Necrony - SMP CS (CHILE): 3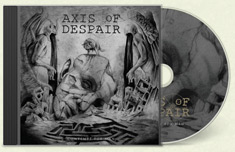 Axis of Despair - Contempt For Man CD
Description:
First album from Anders Axis of Despair. "Grindcore album of the year" according to some reviews. 20 songs of prime Swedish grindcore!

Price including shipping for a single item:
Sweden: 125 SEK
World: 145 SEK (Aprox. 15 EUR/17 USD)

Availability:
Axis of Despair - Contempt For Man CD: 10+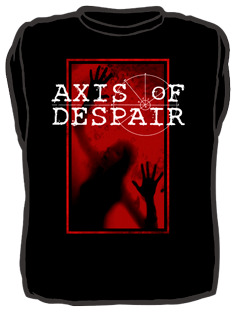 Axis of Despair - red/white/black t-shirt
Description:
Axis of Despair t-shirt, black Gildjan Heavy Cotton t-shirt with red/white print.

Price including shipping for a single item:
Sweden: 170 SEK
World: 205 SEK (Aprox. 20 EUR/24 USD)

Availability:
Axis of Despair - red/white t-shirt S: 5
Axis of Despair - red/white t-shirt M: 1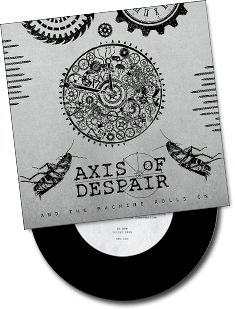 Axis of Despair - And the Machine Rolls On 7" EP
Description:
Third EP from Axis of Despair. Six tracks recorded at same time as the album. Black vinyl.


Price including shipping for a single item:
Sweden: 90 SEK
World: 120 SEK (Aprox. 12 EUR/14 USD)

Availability:
Axis of Despair - And the... 7" EP: 5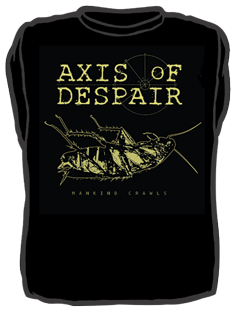 Axis of Despair - gold/black t-shirt
Description:
Axis of Despair t-shirt, black Gildjan Heavy Cotton t-shirt with gold print. Only available in size Small.

Price including shipping for a single item:
Sweden: 170 SEK
World: 205 SEK (Aprox. 20 EUR/24 USD)

Availability:
Axis of Despair - gold/black t-shirt S: 3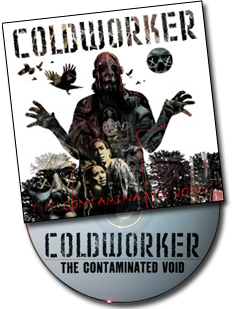 Coldworker - The Contaminated Void CD
Description:
The first Coldworker album released by Relapse Records 2006.

Price including shipping for a single item:
Sweden: 75 SEK
World: 90 SEK (Aprox. 9 EUR/11 USD)

Availability:
Coldworker - The Contaminated... CD: 10+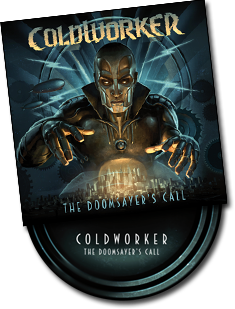 Coldworker - The Doomsayer´s Call CD
Description:
The third and final album from Coldworker, released by Listenable Records 2012.

Price including shipping for a single item:
Sweden: 75 SEK
World: 90 SEK (Aprox. 9 EUR/11 USD)

Availability:
Coldworker - The Doomsayer´s Call CD: 10+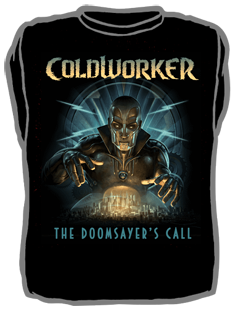 Coldworker - The Doomsayer´s Call t-shirt
Description:
Black t-shirt with multiple colored print with a version of "The Doomsayer´s Call" artwork. Brand: Printer. FINAL SALE - PAY ONLY FOR SHIPPING!

Price including shipping for a single item:
Sweden: 51 SEK
World: 74 SEK (Aprox. 7 EUR/8 USD)

Availability:
Coldworker - t-shirt S: 11
Coldworker - t-shirt XL: 5


Place your order
MERCH INFORMATION
Stock updated: December 17, 2022

To the left you'll find all the items in the Nasum shop along with information, prices and availability. You place an order by clicking on the green button above, which will fold out a form. After submitting the form we will reply with the exact price and payment information. Below are some additional information.

FAIR PRICES

We try to keep as fair prices as possible, but unfortunately we can't do much about the shipping costs. But if you order multiple items, we always charge the actual shipping cost. The prices listed by the items are for single items with shipping, and multiple items will obviously cut the shipping costs.

METHODS OF PAYMENT

a) PayPal - safe and fast and the recommended method. A small fee is added by PayPal to be paid by the customer.

b) Wire transfer - safe, but slower. The customer makes an international bank transfer to an IBAN account number.

c) Swish - only for Swedish customers

NOTE: Due to exchange rates and such, we only accept payments in SEK, which shouldn't be any problem for anyone. Aprox. prices in EUR and USD are available.