Related stuff - and more - on the merch page!
Newspost • Posted: November 24, 2015 10:51:22 by Anders Jakobson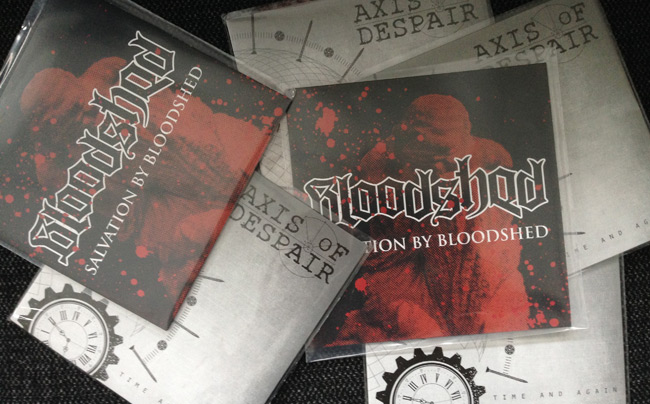 A bunch of more or less odd stuff has been added to the merch page. First and foremost the two freshly released related 7" EP's, "Time and Again" by Anders new band Axis of Despair, and "Salvation by Bloodshed" from the 18 year old death metal project Bloodshed including Mieszko and Anders.
Read more about the Bloodshed project and EP in this vault blog entry
. Both EP's are available in their limited and regular editions, at least for a while...
Then there's a few Nasum items - a handfull of "Shift" LP's, the recent repress in black vinyl, and a handfull of the "Domedagen" cassette EP. Two tribute albums, one for Nasum and one for Repulsion, are also on the page. Both has little heard covers performed by related band Coldworker.
Get your stuff here!
BIOGRAPHY
The complete biography of Nasum covering the entire history of the band, from the early years to the end of band in 2004... And a slight addition of the 2012 Farewell return.
•
To the biography
DISCOGRAPHY
The definite guide to the Nasum discography with lots of photos of every release, along with all possible information and comments written by Nasum's Anders Jakobson.
•
To the discography
IN MEMORY OF MIESZKO
Nasum remembers former lead singer, guitarist, song writer and producer Mieszko A. Talarczyk with eulogies, pictures and more. Includes Mieszko's own words about the "Helvete" recording.
•
To the In Memory of Mieszko page
SHOWARCHIVE
A complete run down of each and every show Nasum performed from the first one in 1995 to the final stage appearences in 2012.
•
To the showarchive
Lyrics
Lyrics to all Nasum songs, organized release by release.
•
To the Lyrics