The Grand Finale is imminent
Newspost • Posted: September 11, 2012 15:49:56 by Nasum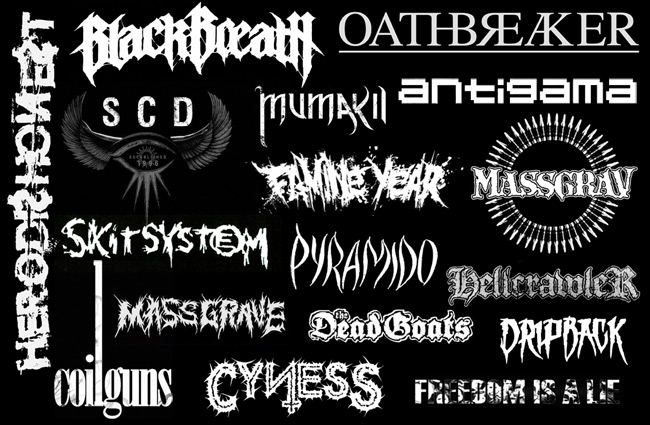 Remember about a year ago, when Nasum announced its definitive farewell?
45 shows around the world later, the final 17 concerts are imminent.
Please observe:
These shows are truly the very last shows this legendary band will ever do, and if there was ever a moment for a band to go out hard it will be on these shows. There will be blood...
For Nasum, 2012 is the year when the past finally makes amends with the present, and in a strictly limited string of furiously spectacular Grand Finale concerts, 17 European cities will be laid to waste starting September 20 in Helsinki. The
NACE pdf source
final concert, at Debaser Medis in Stockholm on October 6th, promises to be a massive spectacle, free of charge until 21, and cheap tickets at the door the remainder of the night.
With specially invited guests Black Breath accompanying the band throughout Europe (not including Helsinki), Nasum now announces a list of local supports in respective cities. Some bands are specially invited to open the shows and a few are local talents.
Since mid May, Nasum has covered both North America and many of Europe's most prominent festivals, followed by Thailand, Australia, New Zealand and Japan in August
NBBI engineer codes
.
- This Farewell tour has been weird and extreme in every possible way so far, but it has been totally worth it. Although we have treated each and every show like the very last – as they in most cases have been the final time we visit that particular place – we have a lot of energy left for the final shows, and will go out in style, said founding member, drummer Anders Jakobson.
20.09 Helsinki (SF) @ Nosturi w/ Hero Dishonest, Famine Year
21.09 Göteborg (SWE) @ Truckstop Alaska w/ Black Breath, Skitsystem
22.09 Copenhagen (DK) @ Pumpehuset w/ Black Breath, Mass Grave
23.09 Hamburg (GER) @ Logo w/ Black Breath, TBC
24.09 Utrecht (NL) @ Tivoli De Helling w/ Black Breath, Oathbreaker
25.09 London (UK) @ Underworld w/ Black Breath, Dripback
26.09 Paris (FR) @ Glazart w/ Black Breath, Sublime Cadaveric Decomposition, Coilguns
27.09 Geneva (CH) @ Usine w/ Black Breath, Mumakil, Coilguns
28.09 Munchen (GER) @ Backstage Club w/ Black Breath, TBC
29.09 Ljubljana (SI) @ Gala Hala w/ Black Breath, Hellcrawler
30.09 Budapest (HU) @ Durer Kert w/ Black Breath, Freedom Is A Lie
1.10 Bratislava (SK) @ Randall w/ Black Breath, TBC
2.10 Ostrava (CZ) @ Barrak w/ Black Breath, TBC
3.10 Krakow (PL) @ Fabryka w/ Black Breath, The Dead Goats, Antigama
4.10 Berlin (GER) @ Magnet w/ Black Breath, Cyness
5.10 Malmö (SWE) @ KB w/ Black Breath, Skitsystem, Pyramido
6.10 Stockholm (SWE) @ Debaser Medis w/ Black Breath, Skitsystem, Massgrav
nasum.com
facebook.com/nasumband
BIOGRAPHY
The complete biography of Nasum covering the entire history of the band, from the early years to the end of band in 2004... And a slight addition of the 2012 Farewell return.
•
To the biography
DISCOGRAPHY
The definite guide to the Nasum discography with lots of photos of every release, along with all possible information and comments written by Nasum's Anders Jakobson.
•
To the discography
IN MEMORY OF MIESZKO
Nasum remembers former lead singer, guitarist, song writer and producer Mieszko A. Talarczyk with eulogies, pictures and more. Includes Mieszko's own words about the "Helvete" recording.
•
To the In Memory of Mieszko page
SHOWARCHIVE
A complete run down of each and every show Nasum performed from the first one in 1995 to the final stage appearences in 2012.
•
To the showarchive
Lyrics
Lyrics to all Nasum songs, organized release by release.
•
To the Lyrics