Nasum teams up with Black Breath for the final tour
Newspost • Posted: July 4, 2012 12:16:21 by NASUM
All grind things come to an end… For Nasum, 2012 is the year when history finally catches up and makes amends with the present. And as the Swedish grindcore behemoth is coming up to around half way of what is its final farewell world tour, the final leg of the most intense, unruly and cathartic tour in the history of the band is announced.
Europe – you shall be blasted.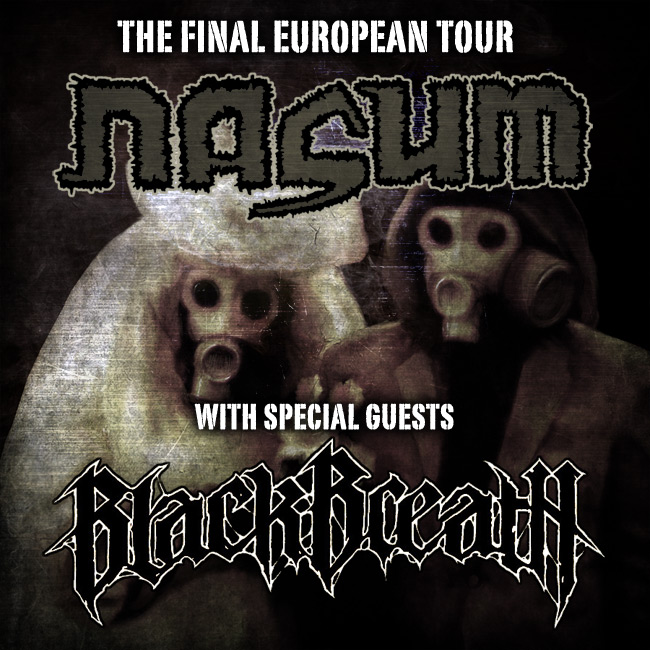 In September and October, Nasum will close the book - forever - with a
tttime
string of European club dates. Joined by special guests
IEST files downloads
Black Breath, Nasum will lay around 16 major European cities to waste starting September 20th and ending with a massive grind finale, free of charge, in the Swedish capital of Stockholm on October 6th.
"The shows we have played so far have been everything we could ever hope for", commented the band. "It has been
Global codes sale
completely insane. From the premier gig in Örebro via the USA and Canada through the European festivals, every single show has been crazy proof that this tour means as much to Nasum's fans as it means to us. And judging by the long line of support acts we've had along the way – Brutal Truth, Dropdead, Massgrave, Wormrot, Magrudergrind, Vomitory, to mention a few - grindcore is alive and kicking and is not to be fucked with after we're gone"
The final tour in Europe this fall follows still to come gigs at some of Europes most renowned summer festivals: Extremefest(s), Roskilde, Obscene Extreme, Ilosaari, Wacken, Resurrection and Vagos, not to mention August dates in Bangkok, Australia, New Zealand and Japan.
Along with Black Breath, Skitsystem appears on all Swedish shows.
SEPTEMBER
20 TBA
21 @ Truckstop Alaska, Gothenburg (Sweden) w/ Black Breath, Skitsystem
22 @ Pumpehuset, Copenhagen (Denmark) w/ Black Breath
23 TBA
24 @ Tivoli De Helling, Utrecht (The Netherlands) w/ Black Breath
25 @ Underworld, London (UK) w/ Black Breath
26 @ Glazart, Paris (France) w/ Black Breath
27 TBA
28 TBA
29 @ Gala Hala, Ljubljana (Slovenia) w/ Black Breath
30 @ Durer Kert, Budapest (Hungary) w/ Black Breath
OCTOBER
1 @ Randall, Bratislava (Slovakia) w/ Black Breath
2 TBA
3 @ Fabryka, Krakow (Poland) w/ Black Breath
CLSI standards online
4 TBA
5 @ KB, Malmö (Sweden) w/ Black Breath, Skitsystem, Pyramido
6 @ Debaser Medis, Stockholm (Sweden) w/ Black Breath, Skitsystem, Massgrav
Note: The TBA dates will be announced the coming weeks, along with more support bands.
BIOGRAPHY
The complete biography of Nasum covering the entire history of the band, from the early years to the end of band in 2004... And a slight addition of the 2012 Farewell return.
•
To the biography
DISCOGRAPHY
The definite guide to the Nasum discography with lots of photos of every release, along with all possible information and comments written by Nasum's Anders Jakobson.
•
To the discography
IN MEMORY OF MIESZKO
Nasum remembers former lead singer, guitarist, song writer and producer Mieszko A. Talarczyk with eulogies, pictures and more. Includes Mieszko's own words about the "Helvete" recording.
•
To the In Memory of Mieszko page
SHOWARCHIVE
A complete run down of each and every show Nasum performed from the first one in 1995 to the final stage appearences in 2012.
•
To the showarchive
Lyrics
Lyrics to all Nasum songs, organized release by release.
•
To the Lyrics