More info about the Napalm Death split
Newspost • Posted: March 14, 2008 11:23:24 by Anders Jakobson
Here's what I know so far:
• It will probably be released in April by FETO, with distribution by Cargo.
• There will be 1000 copies made.
• It will most likely be called "SOS Japan - Grind Kaijyu Attack!"
• Napalm Death has some killer artwork on their side...
...and so does Nasum. Below is a preview of the artwork for Nasum's side of the 12". I contacted Jonathan Canady, who did the booklet layout for "Grind Finale", and together we developed an old idea about a Godzilla type of monster (obviously now dubbed "Grindzilla"...) going bonkers in a city. As Jonathan decided to ink the artwork in the old "Scum"/"Mentally Murdered" style it was pretty obvious that the buildings he destroyed were the corporate buildings of the same MNC's as on "Scum". Just a little nod to the guys on the other side of the picture disc...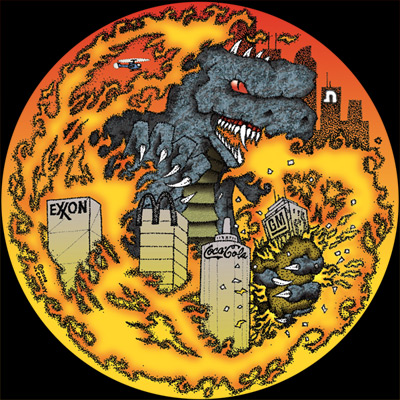 More info like pre-orders and such will come closer to the release.
BIOGRAPHY
The complete biography of Nasum covering the entire history of the band, from the early years to the end of band in 2004... And a slight addition of the 2012 Farewell return.
•
To the biography
DISCOGRAPHY
The definite guide to the Nasum discography with lots of photos of every release, along with all possible information and comments written by Nasum's Anders Jakobson.
•
To the discography
IN MEMORY OF MIESZKO
Nasum remembers former lead singer, guitarist, song writer and producer Mieszko A. Talarczyk with eulogies, pictures and more. Includes Mieszko's own words about the "Helvete" recording.
•
To the In Memory of Mieszko page
SHOWARCHIVE
A complete run down of each and every show Nasum performed from the first one in 1995 to the final stage appearences in 2012.
•
To the showarchive
Lyrics
Lyrics to all Nasum songs, organized release by release.
•
To the Lyrics