Finally: new merchandise!
Newspost • Posted: August 12, 2005 22:32:09 by Anders Jakobson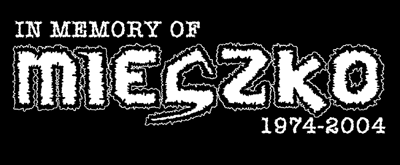 After a long time with only weird sizes we finally have stocked up on old, new and really old merchandise! Yes, we have made some reprints of the recent designs, two in a new color, and we've made some more excavations in the vault and reprinted two classic designs from the past and - as requested - made a new design in honour of Mieszko.

This design is authorized by Mieszko's girlfriend and the idea of the t-shirt is to combine dignity and tongue-in-cheek, so that's why I've made this "Mieszko logo" in the Nasum style. I hope you like it, I think it turned out very good.

I decided to change colors of the t-shirts (not the print) for the "Napalm Death" and "Gasmask" designs. I've heard a lot of people liking the "Napalm Death" design but not white shirts. I tried to invert the print to have it on black but it didn't look good, so I found this gray-green coloured shirt that was very nice. I hope you like it too.

The "Gasmask" design changed from silver sand coloured t-shirt because the original colour was too pale and too close to white. This new colour is very much like the main colour of nasum.com and looks really nice.

No hoods this time. Maybe later in the fall.

There might be another piece of merchandise coming next week which isn't a t-shirt or anything else you wear, but very cool. I hope I can make it. You'll see it once it's here!

The charity shirts are going fast. I've sold more than half of them in just a week, so hurry up if you want one. I am not putting them on lay away - if you want one: pay up!

I've talked to Mieszko's girlfriend about the charity and she thought that it would be suiting to give the money to the Red Cross's help for the Tsunami victims, so that is where the money will go to.

Get your asses to the merchandise page now and shop!!!