The Recording of "Helvete"
A studio diary written during the recording of Nasum's "Helvete" November 2002 - January 2003.
Jump to episode
one
|
two
|
three
|
four
|
five
|
six
|
seven
|
eight
Episode one, in which the drums are poundered
The first week (six days to be exact) was all about the drums. The absolute first day (Monday, 18th) was an orgy in soundchecks and all that boring stuff. We had invited our long time friend and sometimes soundengineer live
Per Lindberg
to help us tune the drums. Per showed up every now and then during the rest of the week and checked out the tuning.
This recording was the debute for Anders brand new DW kit and also the debute for Soundlab Studios brand new Pearl Chad Smith signature snare and all these drums worked very well together. The drum sound has a nice tone and a good "snap" in the snare. Very promising.
Tuesday to Thursday 30 songs were recorded with some re-recordings on Saturday which also was the day of setting the guitar sound for the coming weeks multiple guitartakes. After a lot of different guitars, amps and pedals we came up with a guitar sound that is totally crushing! So everything is set for the guitars to be recorded.
Episode two, in which the guitars make stuff comes to life
The second week was all guitars, nothing else. We've decided to record four tracks of guitars this time and this week we recorded guitar number 1 and 2. Needless to say, the sound is quite massive and fat with only two guitars...
We miked the cabinet with three microphones to capture the whole register - treble, middle and bass. So, as a matter of fact we recorded three tracks of guitars at once - i.e. six tracks for the first couple of guitars. These six tracks will be mixed into two tracks early next week once we're done with all the editing.
The third week will include both bass, vocals and even more guitars... Stay tuned!
Episode three, in which the schedule got fucked up
The week started good - on Monday Mieszko edited some guitars, recorded vocals for one and a half songs and we tried out a good bass sound. Then everything got extremely worse...
On Tuesday Mieszko developed a really nasty cold which was pretty more than your average cough and sneeze: Mieszko's vocal chords are truely fucked and he can't sing for about two weeks! This is not good at all. Since the vocals are the toughest part of the recording we had decided to sing a little now and then between bass and third/fourth guitar takes during week three and four, and to mix the whole thing the fifth week. Well, that's not going to happen. The schedule is pretty fucked up and at the moment we are not sure what's going to happen.
The rest of the week Mieszko stayed home and recovered from the cold and on Monday he'll be back to start with the bass. Jesper is going to make his first appearence in the middle of the week and by the end of the week Shane Embury of Napalm Death will hit the studio. Expect a full report on Sunday...
Episode four, in which a giant came into the studio
The fourth week was mainly all bass. Mieszko set the sound and recorded a few songs that Jesper hadn't had the time to learn because of different reasons. Then, on Wednesday, our beloved third member finally showed up in the studio. In case you didn't know Jesper lives in Lund, far, far away from Örebro, so he can't come and visit us on a regular basis.
We were really anxious to see his reaction and when he sat down in the sofa and listened to a few tracks we immediately knew that he liked the stuff, which was nice.
Anyway - Jesper recorded the bass for all tracks that he knew and a few more and late Friday afternoon, he and Mieszko went to Skavsta airport to pick up Shane. The drive took more than the usual two hours because of a really thick and nasty fog, and the drive home took an even longer time.
Saturday was the big day! The band and Shane got together around noon and headed towards the studio after a meal at the famous Rosalis Deli. The first thing we did was to play our version of "Unchallenged Hate", the Napalm Death cover we've recorded for the Nasum/Napalm Death split. Shane gave us thumbs up even though a couple of notes might be wrong.
After playing a few other songs for the Godfather of Grind he felt ready to record "his" song, which right now goes under the working title "Suffer the Nasum". Mieszko taught him the song and Shane recorded it without any serious trouble. Since we had two more songs to record the bass for we asked Shane if he felt like learning and record some more and he did, so in two hours Shane learned and recorded three songs! "Bargain!", to quote the master himself.
The remainder of the day we spent setting the sound for the third and fourth guitar and when we did a little test adding the two new guitars on a song it felt absolutely perfect. The two new guitars blended nicely with the first two, creating this massive monster of sound that will knock you dead...
On Sunday, while Anders drove Shane to the airport, Mieszko edited the bass tracks so that he can concentrate on the new guitars Monday morning.
It was really nice to see Shane again and being able to make this little strange idea we had about bringing him over to record something with us a reality was so cool. We love the guy and are eternally thankful for his appearance. We talked a lot about trying to meet up on the road again in the future (the big discussion was about playing Japan and Australia together) and we also talked about the upcoming split 10" EP that definitively is going to happen. Napalm Death will record their stuff during next spring and put it out on their own label FETO. We'll trade a song with each other - we've recorded "Unchallenged Hate" and Napalm Death will record our "The Masked Face" (and we guess you can believe how that feels?!! Fucking A!). That split will something special for sure!
Bonus feature:
Here's two VIDEOCLIPS (!) taken with Anders' digital camera. Unfortunately the clips are VERY dark... You have to tweak the brightness on your screen A LOT to see anything at all.
Clip one - Mieszko teaching Shane the song
Clip two - Shane playing the song
Episode five, in which things get much clearer
In the fifth week of recording Mieszko was able to sing again, so it was mainly vocals and the third and fourth guitars the whole week. The addition of the new guitars really made the guitarsound complete - a fat, massive wall of heavy guitars but with clarity so you actually can hear the riffs and melodies. Very nice. It really sounds great!
And with the addition of vocals to some tracks the songs became totally complete, finally! We never rehearse new stuff with vocals so it's nice to hear that the songs turn out great with the vocals.
This far into the recording we must say that we are really satisfied with the sound. All though we have drums, four guitars, bass and vocals, everything seems to come through in the whole soundscape. That's very promising for the mix.
The week ended with some recordings of extra drums. There's a part in a song that we left out just to record some strange sounding drums, so we recorded that part + some additional cymbals and toms for some other songs. There are chances that we'll record some more drums for intros and shit if we feel that it's neccessary.
We also listened to some possible samples and discussed different kinds of sounds that we plan to put between songs and stuff like that. All this should be recorded in the coming weeks.
Week six will be cut short due to the Holidays and Mieszko's birthday, but we will continue with the guitars and vocals a couple of more recording days.
Episode six, in which the guitars got finished
The sixth and seventh week was both cut short due to the holidays and all that crazy stuff. But during the days when we worked in the studio it was all guitars and vocals as usual. Jesper payed a second visit to record some dark vocals. It worked fine, but since he only had two days to sing all his stuff some dark vocal parts are left to be sung by some special guests that hopefully will show up during the eighth week.
Anders tried to sing some but it turned out completely crappy so there'll be no more Anders vocals - ever!
By the end of the seventh week all the guitars were recorded. All songs now have four fat guitars. And guess what? There will be even more guitars recorded soon! This time its some additional harmonies, noises and guitars with a totally different sound that will be recorded. That, and the last remaining vocal parts will be recorded during the eighth week.
Since Mieszko had to be in another studio recording a song with Millencolin Monday to Wednesday, we have hired a person to take care of two days of neccessary editing so the recording process still is going allthough Mieszko isn't present.
Episode seven, in which everything is recorded
By the end of the eight week everything (except a bass part to be perfectly honest) was finally put on tape! To finish the vocals we had to invite a couple of guests to help us out with the last lines of low and dark vocals. And why not invite the best? In other words the mighty Jörgen Sandström (ex-Grave, now Entombed/The Project Hate) visited the studio a couple of hours and sung some (all the dark vocals in "Unchallanged Hate" for example). This was a great pleasure for us.
Bonus feature:
Here's again a videoclip taken with Anders' digital camera. Again, the clip is VERY dark so you have to tweak the brightness on your screen A LOT to see anything at all.
Clip three - Jörgen singing the word "gone"
And YES, Jörgen is singing to some music, but only he can hear it...
We also had the pleasure to be joined by our original vocalist/drummer Rickard Alriksson who sung some really really low stuff on the very last day of vocals. This is Rickard's first re-appearence in Nasum since he quit the band after "Industrislaven" was recorded almost 10 years ago. Always fun to have some good friends helping out.
So, what is left? Well, this final ninth week we (mainly Mieszko of course) will mix the album. Time permitting we will mix all 30 songs, but probably we'll be forced to only mix the songs that will appear on the album (about 20-25 songs).
Episode eight, in which "Helvete" is finished!
The ninth week Mieszko mixed 26 songs, finishing up with the last song 5 o'clock in the morning of the 20th. After that we let the recording rest for a while, while trying to decide which songs to exclude and figure out the tracklist and possible samples. January 29th Mieszko and Anders spent a good five hours in the studio trying out a tracklist and preparing samples. The 30th we went to Spånga (Stockholm) to master the album at the residence of Peter In de Betou - the best (?) mastering engineer in Sweden...
The ultra nice and brilliant mastermind (he!) Peter used his equipment and foremost his precious ears to bring out the best of the recording. Mastering is an art, and an important piece of the recording. After some volume and eq adjusting we started to add the samples and editing the songs. In true Nasum fashion the album is very intensely edited with short pauses between the songs and so on. It all came out nice in the end.
"Helvete" is 35.16 minutes long and consist of the following 22 songs:
1. Violation
2. Scoop
3. Living next door to malice
4. Stormshield
5. Time to discharge
6. Bullshit
7. Relics
8. We curse you all
9. Doombringer
10. Just another hog
11. Drop dead
12. I hate people
13. Go!
14. The final sleep
15. Slaves to the grind
16. Breach of integrity
17. The everlasting shame
18. Your words alone
19. Preview of hell
20. Illogic
21. Whip
22. Worst case scenario
That's it! The studio diary of the recording of "Helvete" - November 18 2002 - January 30 2003 - is now over! Prepare for more info about "Helvete", along with recording details written by Mieszko and a taste of the good stuff further on this winter/spring...
Thanks for reading this!
Navigate through the discography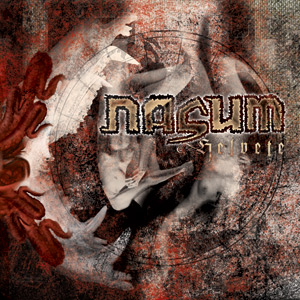 Tracklist
1. Violation
2. Scoop
3. Living Next Door To Malice
4. Stormshield
5. Time To Discharge
6. Bullshit
7. Relics
8. We Curse You All
9. Doombringer
10. Just Another Hog
11. Drop Dead
12. I Hate People
13. Go!
14. The Final Sleep
15. Slaves To The Grind
16. Breach Of Integrity
17. The Everlasting Shame
18. Your Words Alone
19. Preview Of Hell
20. Illogic
21. Whip
22. Worst Case Scenario

Bonus song on the Japanese edition:
23. Helvete