DETAILED DISCOGRAPHY:
Blasting Shit To Bits - The Final Show
DVD
Released by:
• Selfmadegod Records, Poland
Recording info:
• Concert audio recorded by Antti Patronen at Debaser Medis, Stockholm October 6 2012. Mixed by Keijo Niinimaa.
• Audio mix and mastering by Simon Ellegaard.
• Video shot by Casper Haugegaard, Michael Panduro, Rasmus G. Sejersen.
• Audience video shot by Andre Assis, Kósa Dániel, Michael Korell, Mike Kujawski, Aron Lindblom, Fredrik Lundqvist, Henric Rehnmark.
• Directed and edited by Michael Panduro.
• Subtitles by: Daniyar Aktayev, Mattia Guidarelli, Clément Guillaume, Henning Moser, Francesco R, Antti Saarilampi, Nils Schaede, Kike Valderrama, Michael Panduro, Anders Jakobson.

Line up:
Keijo Niinimaa - vocals
Urban Skytt - guitar
Jon Lindqvist – guitar and backing vocals
Jesper Liveröd - bass and backing vocals
Anders Jakobson - drums

Comments by Anders Jakobson:
About the shooting...

During the Farewell tour we met the Danish filmmaker Michael Panduro when he asked to film us in a different way during our show at the Roskilde festival. Michael and his crew filmed us with a number of cameras, some mounted in weird places, and the edited result was really cool. It had an intimate feeling that made it a very different concert documentation. However, that particular show wasn't really that good. It was shot in daylight on the last day of a long festival weekend. It kind of lacked some energy.

We kept in touch with Michael and met him at a later date where we decided to shot the final show in the same way. Michael had the idea of incorporating audience shot footage in the final version as well to make it even more intimate. Michael and his crew tagged along on the last two dates of the tour and shot some behind the scenes kind of stuff too.

After the final show, Michael started assembling all the stuff and it took quite a while. About four years after the actual show, an edited version of the entire concert was finished. Michael did some retrospective interviews with all the members of the band and placed them between the songs, thus transforming a live video to a concert movie. We decided to call it "Blasting Shit to Bits - The Final Show" after a phrase from the original farewell statement, and in 2017 the finished movie had it's premiere at Musikfilm festivalen in Copenhagen, Denmark.

We had screenings at some other festivals during a few years until we decided that a physical release was needed. Michael had assembled some bonus material and we put together a really good release that gave value for the money. The DVD was released by the end of 2020 by Selfmadegod Records, Poland.

About the artwork...

During the festival years we had used Mike Wohlberg's design as the poster. It was originally a poster for the Philadelphia show on the tour and was later used as an official tour t-shirt during the final European leg of the tour. It felt natural to use it for the DVD, but we added a slipcase with art by Lisbet Fredslund based upon an idea from Michael Panduro. It's very cool and fits the theme of the final show.
Navigate through the discography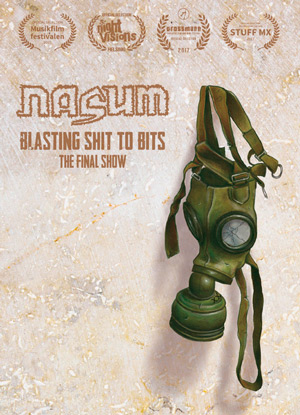 Tracklist
1. Mass hypnosis
2. This is
3. The Masked Face
4. Scoop
5. Bullshit
6. Relics
7. Shadows
8. Corrosion
9. Multinational Murderers Network
10. Parting is Such Sweet Sorrows
11. The Smallest Man
12. The Professional League
13. A Welcome Breeze of Stinking Air
14. Particles
15. The Engine of Death
16. Twinkle, Twinkle Little Scar
17. I See Lies
18. Tested
19. Time to Act
20. Fury
21. The Final Sleep
22. Löpandebandsprincipen
23. I Hate People
24. The Black Swarm
25. Circle of Defeat
26. Closer to the End
27. Inhale/Exhale
28. Worst Case Scenario
29. Wrath
30. Just Another Hog
31. The Deepest Hole
32. The Idiot Parade
33. Den svarta fanan