DETAILED DISCOGRAPHY:
Helvete
CD/LP/Picture disc LP
Released by:
• Relapse Records, USA (CD - world/LP)
• Ritual Records/Howling Bull, Japan (CD - Japan)
• Vinyl Maniacs/GMR, Sweden (PD LP - World)

Recording info:
• Recorded at Soundlab Studios, Örebro, Sweden November 18 2002-January 20 2003 by Mieszko Talarczyk.
• Additional engineering by Mathias Färm and David Castillo.
• Mixed by Mieszko Talarczyk.
• Mastered at Tailor Maid Studios, Spånga, Sweden January 31 2003 by Peter In de Betou.
• Artwork and design by Paul A. Romano.

Line up:
Mieszko Talarczyk - guitar, bass and lead vocals
Anders Jakobson - drums
Jesper Liveröd - bass and low vocals
Guests:
Shane Embury - bass
Jörgen Sandström - low vocals
Rickard Alriksson - low vocals
Comments by Anders Jakobson:
About the recording...
We covered the whole recording process in a weekly studio diary, including photos and videoclips. When the recording was completely finished Mieszko wrote a detailed piece about the recording which gave the listeners at look into how albums were recorded in Soundlab Studios. Finally we released an mp3 with the making of the song "Preview to Hell", showing the progression of the song from the Mini Disc guitar/drums rehearsal, via the recorded drum tracks, through the rough mix, ending in the mastered version.
•
The recording of... (The studio diary written by Anders)
•
The making of... (The detailed piece written by Mieszko)
•
"Making of" Preview of Hell (mp3)
About the title...
When we discussed titles for the third album we decided to have a one word title. I wanted to call the album "Pravda" which is the Russian word for "truth". It was quickly voted down by the other members. Jesper, who has the best English vocabulary in Nasum, suggested "Chagrin" and Mieszko and I said "What the fuck does that mean?". It was too complicated.
One day Mieszko said: "I have a new suggestion - what about 'Helvete'?" and I immediately loved it. "Helvete" is a very strong word in Swedish. It means "hell" but it's also used in many different ways to express different things and that made it attractive. It also summed up Nasum's sound and also the lyrics which for once concentrated on current events following the 911 attack.
Having a title in Swedish was both a good and a bad idea. It added a mysterious and exotic feeling, but it also got pronounced and spelled wrong by people who didn't understand Swedish. We also found out that the word (with some accents) is the French word for a guy from Switzerland. That happens - a word means one thing in one language and another thing in another. The word "kiss" means "urine" in Swedish, which was annoying for all Swedish metal fans... "Oh, you like Kiss? Do you like shit as well?"... Fuckers!
About the cover...
Between "Human 2.0" and "Helvete" we had begun work on our collection of early releases and rare stuff, then known as "Blueprints for Extinction" and Relapse had ordered free lance artguy Paul Romano to work with us. Paul was a totally nice guy that we immediately got a good vibe from.
When "Blueprints…" had to be postponed as we started working on the third album we contacted Paul to get him involved in the project. When Paul was on board we started giving him ideas about what we wanted. The plan was to have a red cover this time which felt connected to the hellish theme of "Helvete". Paul sent us a few sketches that were pretty cool but not what we wanted this time. We gave him further ideas and Mieszko wrote down all his ideas in a lengthy email containing the unforgettable line "the cover should look like our guitarsound".
We didn't hear anything from Paul for quite a long time until he finally gave us the full cover. We liked it but did some minor adjustments. I worked with Paul doing the booklet layout and on screen everything looked alright, but when the album came we couldn't believe how large and ugly the lyrics were written. I can't understand how it came to that. Luckily the font size was a lot smaller on the LP layout!
...and I guess it's obvious for all metal fans that Paul continued to do more artwork for albums that reached way more listeners than "Helvete". Most noticeable the artwork for the first number of Mastodon releases.
About the other versions...
The Japanese version has a bonus track that ended up being the title track. We didn't know this until we submitted an outtake for the Japanese version. As the song didn't have any lyrics, or any real vocals for that matter - the vocals were to most part cut and pasted from other songs - it didn't have a title until we decided it should be called "Helvete". This song is quite unique as it is the only Nasum song that has been performed live before it was recorded, and then it didn't end up on the real record...
The LP was issued by Relapse on clear, white and marbled grey vinyl. The picture disc was made by Sweden's Vinyl Maniacs/GMR in 2005 when they released the first three albums on this format.
Late 2014 "Helvete" was reissued on vinyl along with the three other Nasum albums. The reissue was released in a gatefold cover and included liner notes by Anders Jakobson.
The reissue came in three editions:
• 2400 copies in black vinyl
• 500 copies in gold/white merge with black, gold and red splatter (exclusive to Relapse's mail-order)
• 100 copies in clear vinyl (not for sale)
Navigate through the discography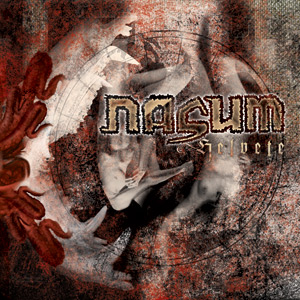 Tracklist
1. Violation
2. Scoop
3. Living Next Door To Malice
4. Stormshield
5. Time To Discharge
6. Bullshit
7. Relics
8. We Curse You All
9. Doombringer
10. Just Another Hog
11. Drop Dead
12. I Hate People
13. Go!
14. The Final Sleep
15. Slaves To The Grind
16. Breach Of Integrity
17. The Everlasting Shame
18. Your Words Alone
19. Preview Of Hell
20. Illogic
21. Whip
22. Worst Case Scenario

Bonus song on the Japanese edition:
23. Helvete