THE NASUM VAULT - 1992-1997: THE PRE-ALBUM YEARS
Earliest recorded Nasum rehearsals 1992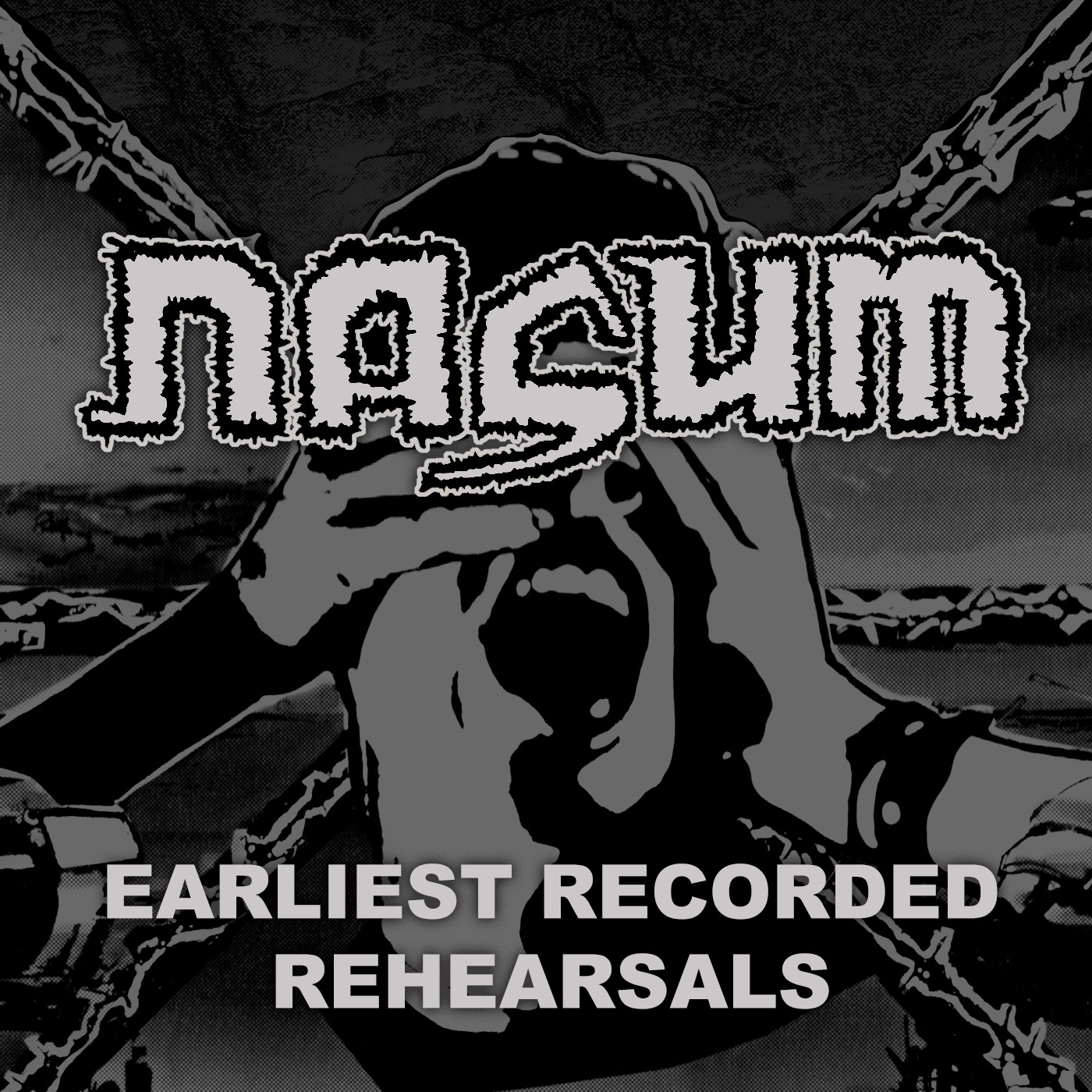 NOTES ON A REHEARSAL

Last year I went through all my tapes looking for rehearsals and odd things. I found a lot of cool stuff, but not everything I remembered. I really wanted to complete this collection with a certain recording I remember well, but never found.

With that said, I would say to 99,99% that this is the absolutely first recording of Nasum that exists, very likely recorded sometime during the second half of 1992. I would also say to the same percentage that we probably hadn't named ourselves Nasum at this point. As the story goes, original drummer/singer Rickard and I were busy writing "complex" songs for our death metal band Necrony and at some point we did a short grindcore song to blow of some steam and the basis for a new band was born.

We found some lyrics from the punk band we shared rehearsal room with on the floor, quickly translated them to English and thought "wow, this sort of became Napalm Deathish" and could rehearse with vocals, as can be heard in these songs. If you know Swedish you will hear Rickard complaining about loosing the lyric sheet mid song...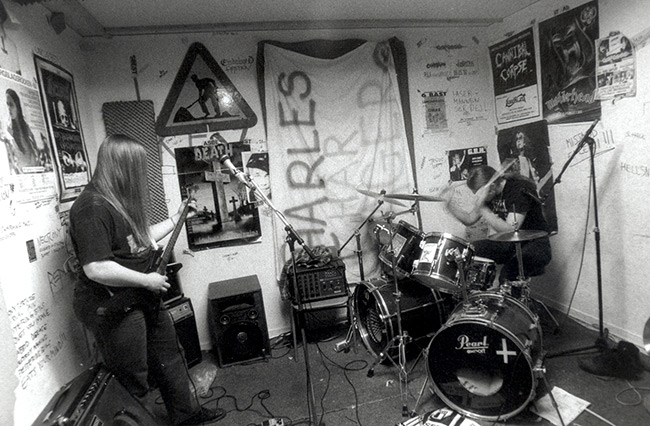 So here are the first three Nasum songs ever written - "Blind World", "Think" (both with stolen lyrics) and "Scarecrows". This is pretty rough stuff, and I have left all the incomplete takes and stuff in here to make it more authentic. But it is really rough. We're not playing that well and the sound quality is, well, lo-fi. Our equipment weren't top notch. I guess I had my red Ibanez DT 350 X Series but I definitively didn't have a proper amp or distortion pedal, judging from the weak guitar tone. Rickard had a Pearl Export with beat up drumheads and cheap cymbals so that explains the sound.

This is obviously before Mieszko joined the band. Actually we were heading into the studio to record our songs at the same time as a Necrony recording but had to postpone the Nasum recording a few weeks, thus giving Mieszko a chance to join the band and write another song. But that was probably many months from this rehearsal session.

I have no particular comments to the songs. I notice that the intro for "Think" is a bit longer with some strange pause in the middle and I find it really amusing that there actually are vocals/lyrics to the songs.

After the three Nasum songs there were some more stuff from the same session on the tape. These times, when Rickard and I rehearsed as a duo, we had a lot of different projects going on so occasionally we rehearsed with 3-4 bands/projects at the same time, sometimes switching instruments. This happened this time too and we did some d-beat stuff with Rickard playing the guitar and me playing the drums. I decided to keep one of the songs in here, a Mob 47 cover of "Dom ljuger" ("They lie"), a true Swedish classic. Towards the end of the song I apparently decided to blast a little bit, so this might be the first recorded blastbeat from me in Nasum.

As mentioned above, I looked for a particular rehearsal of Mieszko and I playing the riffs for a song called "Maze" that never was used or even rehearsed with Rickard. I can't say I remember why we killed it. I know I have some lyrics for it somewhere but that's it. Unfortunately I was unable to locate the recording. I think it was written after the "Blind World" session or possibly after the "Really Fast" session. I found a note with some titles of songs that never was used ("Maze", "Theatre Corporations", "Deviate from the Norm", "Your False Face", "Impasse", "In-Sects") and I remember that some of them had riffs but I don't remember any else than "Maze" being rehearsed in any fashion.

Speaking about the "Really Fast" session, I haven't found any proper rehearsal from that one but I did find some acoustic riffs from a few songs. I have added them as a bonus. This is basically how every Nasum song sounds at some point. Not that exciting, right?

Tracklist
1. Blind World (Take 1 and 2)
2. Blind World (Take 3)
3. Think
4. Scarecrows (Take 1, 2 and 3)
5. Dom ljuger (Mob 47 covers)
6. Uneventful Occupation (acoustic)
7. Self Vilification (acoustic)

- Anders Jakobson, October 7, 2022
HELP ME FUND THE VAULT AND THE RARE NASUM
I have a lot of Nasum "vaults". There are the digital vaults, harddrives, CD-R's and whatever that contains some stuff. And then there are the analog vaults. Boxes filled with documents and notes and boxes filled with tapes containing rehearsals and rare stuff. I'd be more than happy to share this with the fans, but I need some funds to take time of from work to really do all that boring excavating that's needed to find and document everything.

I have put together a GoFundMe page for this: gofundme.com/the-rare-nasum and any donation is appreciated. You can also support this cause by buying The Rare Nasum stuff at Bandcamp. Or you can make a donation without going through GoFundMe or Bandcamp - just contact me at nasum@nasum.com. Everything that comes in via these channels are ear marked for a future massive excavation.

I really hope you can help me to preserve The Nasum Vault for the world. Thanks!

- Anders Jakobson.