The Vault Blog - MONTH:
January

, 2018
First Nasum gig ever on YouTube
Posted: January 23, 2018 10:56:56 by ANDERS JAKOBSON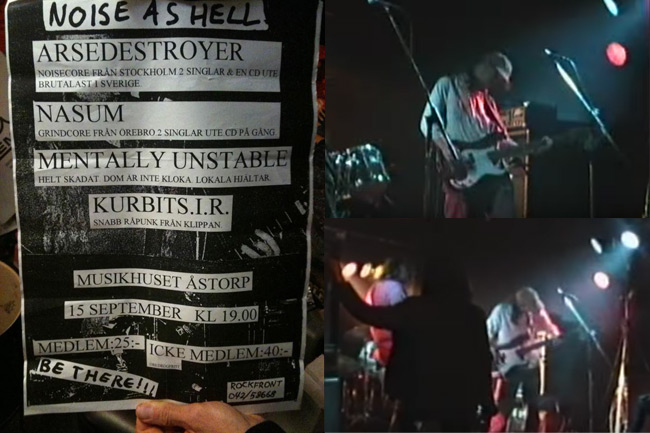 After 22 years and change, I've re-experienced the first Nasum gig EVER as a video has been uploaded to YouTube. Sweet memories? Well, not entirely…

Where to start? Perhaps by telling the complete story. The recording of "Industrislaven" became Rickard's last effort as a drummer and singer of Nasum. We recorded it in February of 1995 and when the release of the MCD drew nearer half a year later we got an invitation to do a show in Berlin as a sort of release party. Rickard said that he didn't want to do any shows and departed from the band. We weren't really drowning in grindcore drummers at that time, but we managed to find a stand in drummer in Per "Perra" Karlsson. A former local guy that had moved around in Sweden and made a little career as a death metal drummer in Suffer. Perra was a solid drummer who perhaps didn't really get the crust punk side of Nasum, but could deliver some mean blast beats when needed.

We did a few rehearsals with him and taught ourselves how to sing and play our own songs. Mieszko and I decided to split the vocal duties and I got to be the guitar player while Mieszko handled the bass. A weird line-up for sure.

Somewhere along the way we got a gig in Åstorp in the south of Sweden, on the way to Germany. Mieszko and I had been there a year or two earlier with our punkband Charles Hårfager, so that became the very first Nasum show. I don't remember a lot of details apart from Mieszko breaking a string on the bass during soundcheck so we had to borrow a bass from one of the other bands, most likely Arsedestroyer. It's also possible that we borrowed a double pedal from their drummer as well as I have a slight memory of Perra complaining about some mysterious screws in the pedal.

So, this show is what has been added to the many millions of videos on YouTube. The video is just 16 minutes long and it's hardly the entire show. There should be at least 10-15 minutes missing before the clip begins. Sadly, I don't have any old notes about the setlist, but I would suspect that we started with "Löpandebandsprincipen", "Cut to Fit" and a few other "hits" from "Industrislaven". But we're not getting that in the clip, we start of with a poorly played cover song instead. Ouch!


This is the playlist in the video:
1. Dom styr våra liv (Mob 47 cover... sort of...)
2. Krigets skörd
3. Scarecrows
4. Escape   
5. Revolution   
6. No Time to Waste
7. Stalemate (Napalm Death cover)
8. Re-create the System
9. Domedagen
10. Dolt under ytan
11. I helvetet
12. Smile when you're dead
13. For some reason just improvised noise
The last "song" is embarrassing as hell! Perra alternates between blast beats and d-beats while Mieszko sings and plays "something" and I'm going full on Sonic Youth on my poor guitar, perhaps as a result of a broken string? So pointless! We did something similar the next day when we improvised "black metal", which the Germans seemed to like though…
As for the show at Knaack Club in Berlin I remember two things in particular: 1) When I saw the "Industrislaven" MCD for the first time I was so extremely disappointed with how the front cover had turned out as it wasn't at all as we had wanted it to be. (Another disappointment was when I listened to it and realized that the track-list had gotten fucked up…
[read more here]
) 2) Perra lost his notes after the Åstorp show and although we sort of wrote them all over again it was obviously a psychological thing and most of the arrangements got screwed up.
I wonder if there are some videos from that show as well… If so, get in touch!
Back to the first show with some final reflections:
* I wish the clip was complete because I like the songs! Many years passed until the next time Nasum played live and became a touring band, and most of these songs didn't make it to future setlists as we had the albums to chose songs from.
* I was slightly afraid of hearing the vocals, but it sounds quite OK in this clip. I guess a crisp soundboard recording of the show would have unveiled the truth. It's quite fun to see long-haired me and Mieszko on stage. I would say that we only shared a stage in this manner - upfront, that is - three times in total, so it's quite special.
* Also, one can argue who wore the worst outfit in the clip - me in a Nasum t-shirt and khaki pants or Mieszko in his white long-sleeved shirt? Goddamnit...
Anyway, thanks to Anders Nilsson who uploaded this clip, and thanks to Jonas Alfons who was the original promotor and who held the camera back in 1995. And obviously, thanks to Perra who shared the stage with us those two days in September 1995. For a current dose of Perra, check out
Dreadful Fate
.
Share this blog post
BLOG CALENDAR
<<
January 2018
>>
Su
Mo
Tu
We
Th
Fr
Sa
1
2
3
4
5
6
7
8
9
10
11
12
13
14
15
16
17
18
19
20
21
22
23
24
25
26
27
28
29
30
31
SEARCH OR SUBSCRIBE
SEARCH THE BLOG

SUBSCRIBE
•
Subscribe to the blog via RSS
ABOUT THE VAULT
Nasum might not be a performing band anymore or existing in the normal sense, but the legacy remains under the sharp supervision of the founding member Anders Jakobson. THE NASUM VAULT is the "umbrella" for a number of projects collecting information and items from the Nasum history.

The first project was The Vault Blog, introduced in 2014 as a place to share "interesting, semi-interesting or uninteresting things" from the Nasum Vault - stories, images and what ever. The second project was The Rare Nasum, audio goodies published on Bandcamp - rehearsals and live shows. Side by side with these two projects, there is The Official Nasum YouTube Channel where video oddities are posted.

This page is the collective portal for The Nasum Vault, grouped in the three different time periods of the band. This page will be updated when new stuff is added, and you can always help the Vault to grow by supporting The Rare Nasum - see more info at the bottom of the page.

Last updated: February, 2021.