The Vault Blog
Tragedy - in so many ways
Posted: November 22, 2018 14:38:23 by ANDERS JAKOBSON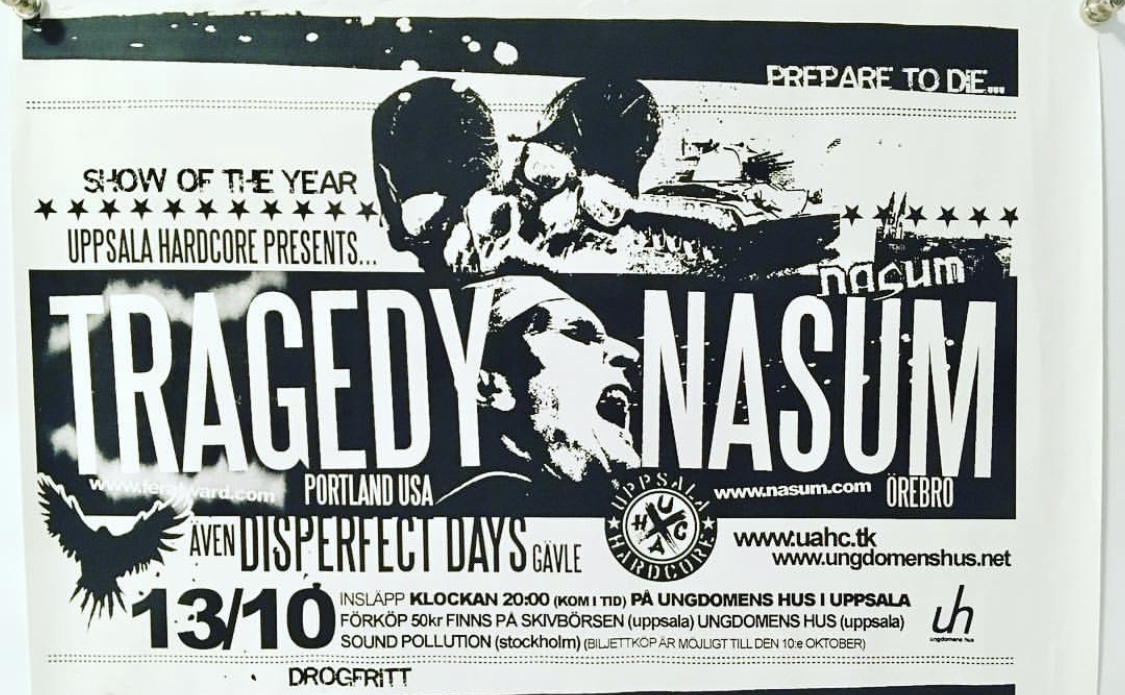 This quite cool looking poster made its way to the internet this week. It's marketing a show in Uppsala, Sweden, October 13 2003 when Nasum and Disperfect Days supported Tragedy.

This is one of those shows that made its mark in my memory, but perhaps for the wrong reasons.

To begin with, I was super psyched about playing with Tragedy. It was pretty close to "a dream coming true" at that time. Also, Swedish National TV (SVT) came to the show solely to interview us for a segment in a weekly show called "Studio Pop". That was really exciting. This was when "Helvete" was still sort of fresh and getting a lot of attention in Sweden.

Uppsala is not especially far from Örebro and it's even closer to Stockholm so the day's traveling was easy as pie. I guess the plan was that we would leave Örebro in the early afternoon. My girlfriend and I had been to my parents and borrowed a car and then to the rehearsal room to loaded in the usual equipment to save some time before picking up Mieszko. We parked outside my apartment building and had lunch or whatever. Suddenly the phone rang and it was my father. He said: "I've gotten a phone call from the police and they said that there has been a break-in in the car!".

I quickly went down to the street, and sure enough, the back window had been smashed in! The only thing missing was a huge bag that was stuffed with some drum hardware, my stickbag, my DW double pedals and most alarming of all, our backdrop. Anger and panic!

As time suddenly wasn't on my side I went to a gas station to rent a mini van and then to the music store and got some new pedals, a bunch of sticks and the hardware that was missing and then we were on our way to Uppsala.

I believe I was pretty shook up by all the craziness and I can't say that I remember much of the day. I do remember the interview with SVT (which as far as I know isn't featured on YouTube) and I remember talking a bit with the Tragedy guys, who actually were more impressed that I was the drummer of Krigshot as well a Nasum member... After Tragedy's show I gave their drummer the sticks I had bought. It wasn't my model and I figured he needed to have sticks more than I did as they were on a proper tour.

The day after I called the police and made a theft report going into extreme details describing the bag and it's content. Then I filed a report to the insurance company and eventually got some money to cover some of the losses. But nothing more than that happened.

…until a few months later when I got a call from the same music store where I stocked up on new stuff the day of the theft. They said that a guy had walked into the store with the bag with our stuff! I went there and picked it up and it was all there (except for the stick bag if I remember correctly). I got a phone number to the guy and called him. He told me that he had found the bag outside his home just across the street from my place, which means the thief broke into the car and then went past my place to dump it across the road! He had taken it to the police, where they obviously not check the lost and found with the filed theft reports! In three months he got ownership of the bag, but just took it across the street from the police station to the music store as he figured SOMEONE probably was looking for it.

So I got my stuff in return, and we got the backdrop once again, which was great. It was featured on the final Nasum show 2012.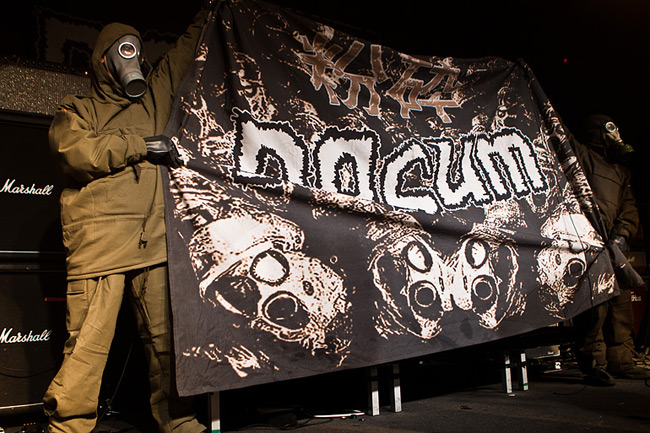 On a little side note I must obviously add that Tragedy's latest release "Fury" is the one of the best records of 2018!
BLOG CALENDAR
<<
November 2018
>>
Su
Mo
Tu
We
Th
Fr
Sa
1
2
3
4
5
6
7
8
9
10
11
12
13
14
15
16
17
18
19
20
21
22
23
24
25
26
27
28
29
30
SEARCH OR SUBSCRIBE
SEARCH THE BLOG
SUBSCRIBE
•
Subscribe to the blog via RSS
TWITTER - #NASUM
#nasum Tweets