The Tour Blog
Part one of week two of the US/Canadian tour
Posted: May 28, 2012 11:31:52 by Anders Jakobson
We are currently in Portland, Oregon where we completed the Northwest shows just a couple of hours ago, which apart from today's show in Portland also included a stop in Seattle, Washington yesterday.

But before we went to the west we did two amazing shows on the east coast. The show at Europa in New York was absolutely crazy and the best club show so far in the US. The place was packed, it was hot as hell and the New York crowd brought the best out of us. We were also joined on stage - semi-surprisingly - by Travis Bacon from Grudges who sang "I hate people" together with Keijo. All in all it was a memorable evening, which also sadly became the last show together with Brutal Truth and Dropdead.

Then our van took us to Maryland Deathfest - the first announced show on this tour, where we got a spot even though the festival was completely booked - which could be seen as a highlight of the tour. We got into Baltimore quite early and we played absolutely last on the day. Before us both Napalm Death and Godflesh headlined the outdoor stages.

Although MDF was smaller than I had expected, it was obviously the biggest show on the tour so far, with approximately 2000 people in the room when we played. This is what it looked like: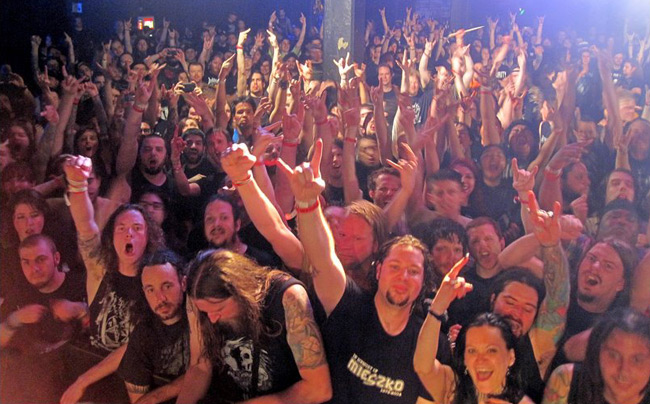 Kudos to Paul from Canada in the front row with the "In Memory of Mieszko" t-shirt.

Apart from being the biggest show on the tour it was also the hottest that quickly sucked all the energy out of us, but with a packed room you really had to deliver the good stuff despite being close to catching fire. The good stuff this evening included an American version of our Mr and Mrs Gasmask live action intro, with the help from real life married couple Greg and Meghan. We yet again had musical guests on stage, where Jason Netherton and Travis Bacon rejoined us.

After a late show we had just a few hours at the hotel before we had to leave for the airport so sleeping wasn't really an option, which obviously left us extremely tired and not particularly in the mood for a seven hour flight... This also meant that we had to part with half of our crew, our merch seller Jamie Getz and our bearded driver Erik Larson. Both super nice guys that made the first week a good time with lots of laughs and good work. We miss you guys and wish you the best!





Jamie waving a wad of cash at MDF and Erik looking all tired but happy at the Baltimore airport early in the morning.

During these Northwestern dates we've had a new driver called Jeff who has a van that is very close to falling apart, but still does the work. He also has a puppy called Hartka (possibly spelt in another way) that rides with us in the van. Quite funny.

Seattle was really cool where we were supported by the mighty Black Breath, Massgrave and Theories who all were super cool guys, and during the Portland show we were yet again supported by Massgrave as well as From Ashes Rise and Nightnurse. We thank all these bands for sharing their backline and for their over all nice attitudes during these shows.

What else? Yeah, we went to Matt Jacobson's pizza place Sizzle Pie here in Portland and had a few really good slices at a really cool place. Unfortunately, Mr Jacobson himself was not in town. And for those who don't know: he is the owner of Relapse Records and the guy who signed Nasum back in the late 90's.

Only four shows left, three in California and one in Texas. Apparently it's hot as hell in Texas so MDF might not remain the hottest show on the tour in a few days. We'll see...