The Tour Blog
European final tour - Part 1
Posted: September 24, 2012 14:47:23 by Anders Jakobson
September 20 - Back at Nosturi

The final tour started - not particularly unexpected - with another early morning wake up call, as I had to transport myself from Örebro to Arlanda Airport. The last time at Arlanda as a member of Nasum... Since I've seen too much of Arlanda this summer, that notion brought no nostalgic feelings what so ever!

Three and a half hours after my alarm clock rang I met up with the Stockholm guys and we did the last check in, the last security check and the last boarding. An hour in the air later, in which we actually travelled back in time… (as Finland is another timezone), we landed in Helsinki and were met at the airport by tour manager Janne and Niko from Fullsteam who eventually brought us into town and to the hotel close to the venue. The venue in question was Nosturi, a nice place by the harbor, that has a special place in the Nasum history. It was at this venue we had our very first Finnish show back in 2003. The show was the first of a four day tour with Rotten Sound, and it was also the last tour as a three piece. Urban had more or less joined the band, but didn't feel confident enough to perform on stage yet, so he actually sold merch on that particular tour.

At the venue we met Petri, our 9th addition to the tour party, who would join us to take care of the merch table during the final tour. Petri is a really good guy that I became friends with a couple of years ago when Coldworker toured with Misery Index and he took care of their merch. I love Petri and I love having him in our little gang. Apart from being our merch guy he actually also went up on stage as he sings in Famine Year who were our support act together with Hero Dishonest.

After soundcheck and food and waiting and support acts we started this tour with a really good show. The room was packed and we got a really nice vibe from the room. Jon, who loves Finland even made a little speech to the crowd at some point of the night. The overall feeling was good, but I felt really rusty as I hadn't played a single stroke since the Japanese shows. It was quite a tough task to perform as my muscles got numb pretty much after the first few songs. I had to cheat a little bit to be able to play all the blast parts, and it worked fine but I was quite exhausted after the show.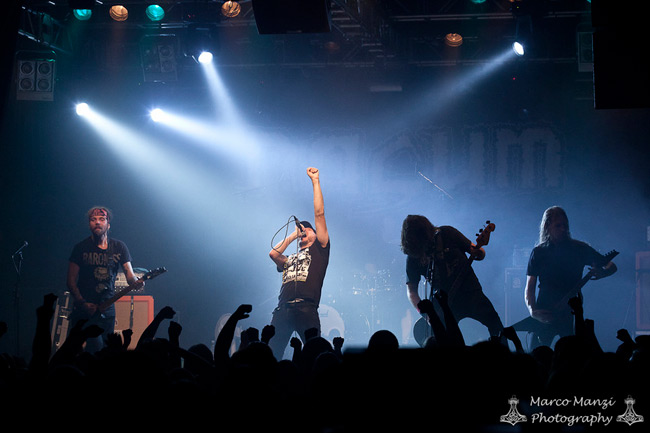 Cool photo stolen from Marco Manzi - see more at http://marcomanzi.kuvat.fi

September 21 - The 200th show!

Although Helsinki definitively was part of the final tour, it felt like it really started in Gothenburg as it was there we were joined by Black Breath and moved into our mobile home so to speak. But obviously we had to fly again to get there, and not only once but twice. We had a short layover in Copenhagen and it felt so nice to realize that that actually were the last flights ever (as Nasum, that is). Might be a strange thing to complain about because usually airports and flights have some sort of exciting charge to them, but considering the sick amounts of airports we've visited and flights we've done were quite happy to say goodbye to them.

Unfortunately we were forced to stay at the Landvetter airport outside of Gothenburg for quite a while as the nightliner driver had gotten to another airport in the vicinity. But we found Black Breath who were more or less sleeping on their luggage. After almost two hours we could get on board our home for the coming weeks, a massive nightliner. Although it's quite big, you still have walk slightly bent inside the buss, but at least the bunks are large enough to sleep in so you don't feel like you've been buried alive.




The outside and inside of the nightliner.

One crooked bus ride later we got to Truckstop Alaska, a cool semi-secret club in Gothenburg. We had a few venues to choose from but chose Truckstop Alaska because it's the best. Jon, Urban and the Black Breath guys had previously visited the club, but the rest of us were virgins. But it sure was a cool place. Martin from At The Gates/Skitsystem was the promoter and he took good care of us.

This was the first show where we had our own equipment since the tour premiere in Örebro in May. After months of rented back line, mostly of high quality, it felt really great to set up my own drums again. In the break between the tours I had bought a new drum mat and put up all my drums and cymbal stands and marked them with tape, so it's pretty easy for Hannes and I to set it all up every night. As we were late and the sound check took quite some time things got a little bit stressed, but everything felt good for the show.

This was the 200th show of Nasum since the first one back in 1995. As a little celebration we invited original singer/drummer Rickard Alriksson to join us on the only "Rickard song" in the set - "Löpandebandsprincipen". Rickard lives in Gothenburg now so it was quite easy to arrange this. I got a crazy kick out of sharing the stage with Rickard again during the minute it took to introduce the song and play it. It was the third time Rickard did a guest appearence with us - the first one being the "Helvete" release party and the second time being at the Hultsfredsfestivalen, which pro shot footage most of you probably have seen. Any way, it was great and it really bookended the 20th anniversary.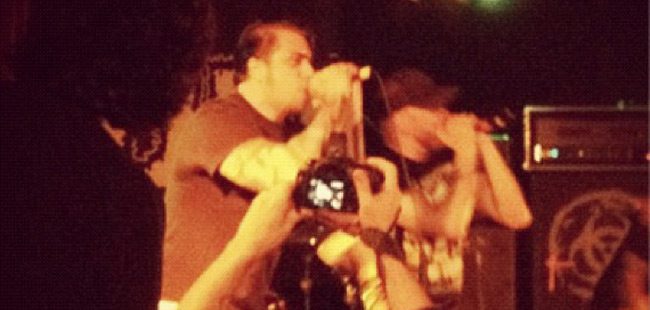 The first and last Nasum singers performing together.

Truckstop Alaska was filled to the brink. Actually a few hundred people were left outside unable to come in. I believe that might a first for Nasum. I feel a little bad for this situation, but it was pretty clear from the start that you really had to be in time to get in as there were no pre-sales. Skitsystem opened the show, as they will in Malmö and Stockholm as well, and obviously they also have a special place in the Nasum history as we've shared both stages and a 7" EP with them in the past, not to forget that Mieszko recorded their "Enkelresa till rännstenen" album.

Our show felt good with a great response from the crowd. My muscles were working better but still not to 100%, but it was a good step in the right direction.

September 22 - Urban's 100th show!

The next morning we woke up in Copenhagen. The beauty of riding in a night liner is obviously that you travel while you sleep, unless you are in party mode and stay up all of the night. We were parked outside of Pumpehuset, pretty much in the center of the Danish capitol. A nice venue that I have visited before, but not with Nasum. After taking a short walk in the city in hunt for some breakfast it was time to load in the gear. I felt already that we've gotten a better routine for the load in part so it went quite quick. We had a lot of time for the soundcheck so Hannes and Antti took their job seriously to get the exact set up and sound they want for Black Breath and us.

On this particular show we were joined by some friends from the US tour - Canadian crust grinders Mass Grave, who are on a quite long European tour at the moment. It's always nice to see some familiar faces again.

Not that much happened during this day, just a lot of dead time to kill in the backstage room or in the bus, which is pretty much how the remaining days will be unless there's something nice to go and look at in the city. I guess most of us will have to come up with their own routines to handle the touring life. Jon has brought his own bowling balls and plans to visit a bowling alley in every city, if possible. That's one way to handle it.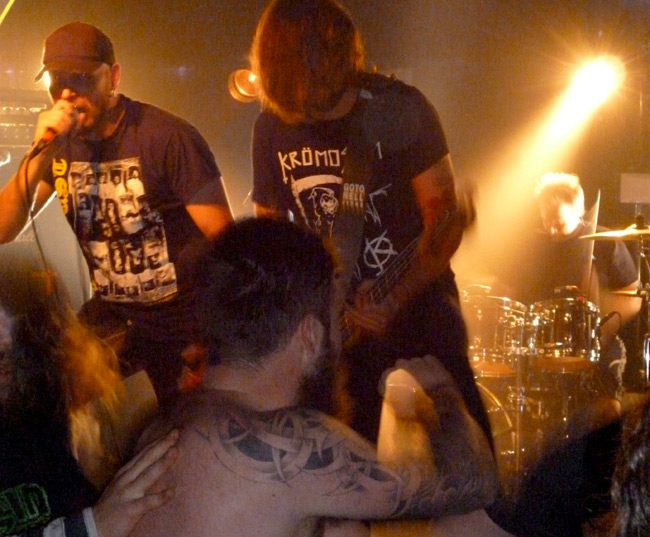 Nasum, for the last time in Copenhagen.

The show, which was Urban's 100th with Nasum - the second of a few anniversaries coming up during the first week of the final tour - was again a good one. In the ongoing tale about my muscles they are pretty much in grind mode now, so from now on I can relax and just play (and ultimately stop reporting about them). We played in the smaller room of the Pumpehuset venue and the attendance was good, but not as crazy as in Helsinki and Gothenburg. But it was yet again good, and also the final time Nasum played in Denmark.

September 23 - Jesper's 150th show!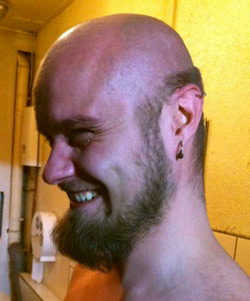 Four days into the tour, we left Scandinavia and got to mainland Europe, and to be specific Hamburg, Germany. The venue was Logo, a quite small place but it felt like a cool place when we got access to it. We all pretty much dived into the catering and stuffed our faces with whatever food that was there. Our FOH Antti needed to shave his head and Petri helped him, but for some reason they only shaved half of the head so now Antti looks like a really old version of himself. It so funny, because facing him you don't see the haircut but then you do and it's a funny surprise every time.

A "local" support band was added in the last minute, Cancer Clan with members of Cyness, who warmed up the audience before Black Breath crushed it as usual. Man, this band sounds great, especially now when Antti does their sound as well.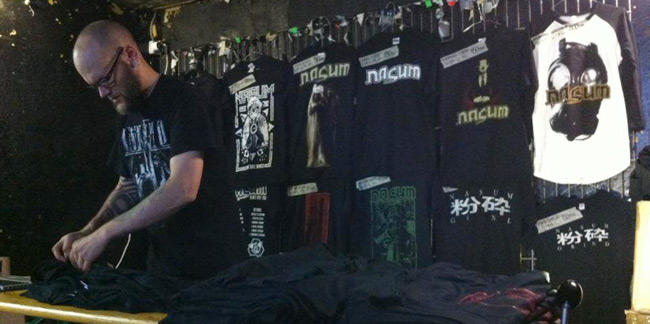 Petri setting up the merch in Hamburg.

Again, not much happened during this day, apart from a special visit from out Swedish booking agent Silvester who happened to be in Hamburg due to some work related issues. Silvester has been really good to us and we have a mutual appreciation for each others work during this crazy year.

We totally forgot to announce from stage that the show was Jesper's 150th with Nasum… Bummer, but never mind. Yet again this was a good show in which Keijo got into a beef with a pole on the stage… Not a singer's best friend. During the end of the show we had some amp trouble which temporarily got us out of the flow, but we were able to wrap it up nicely and even play some extra songs. The Hamburg crowd were good to us!