NASUM.COM - HOME OF THE SWEDISH GRINDCORE BAND
"Nasum best describes a phenomenon of what happened to Grindcore in the 2000's; the genre was thrown in head first into the depths and heights of the musical world we had no idea existed before hand, it is safe to say that the world of Grindcore; was thought to be flat before these Swedish iconoclasts brought back with them a raw noise from the perceived edge, and forged it to be the music of Nasum."
-
grindtodeath.com
THE NASUM VAULT is the "umbrella" for a number of projects collecting information and items from the Nasum history.

The Nasum Vault Homepage is the portal for the whole project. Start there, then visit The Rare Nasum at Bandcamp for audio goodies, The Official Nasum YouTube Channel for video oddities or read The Vault Blog below for "interesting, semi-interesting or uninteresting things" from the Nasum Vault.
THE VAULT BLOG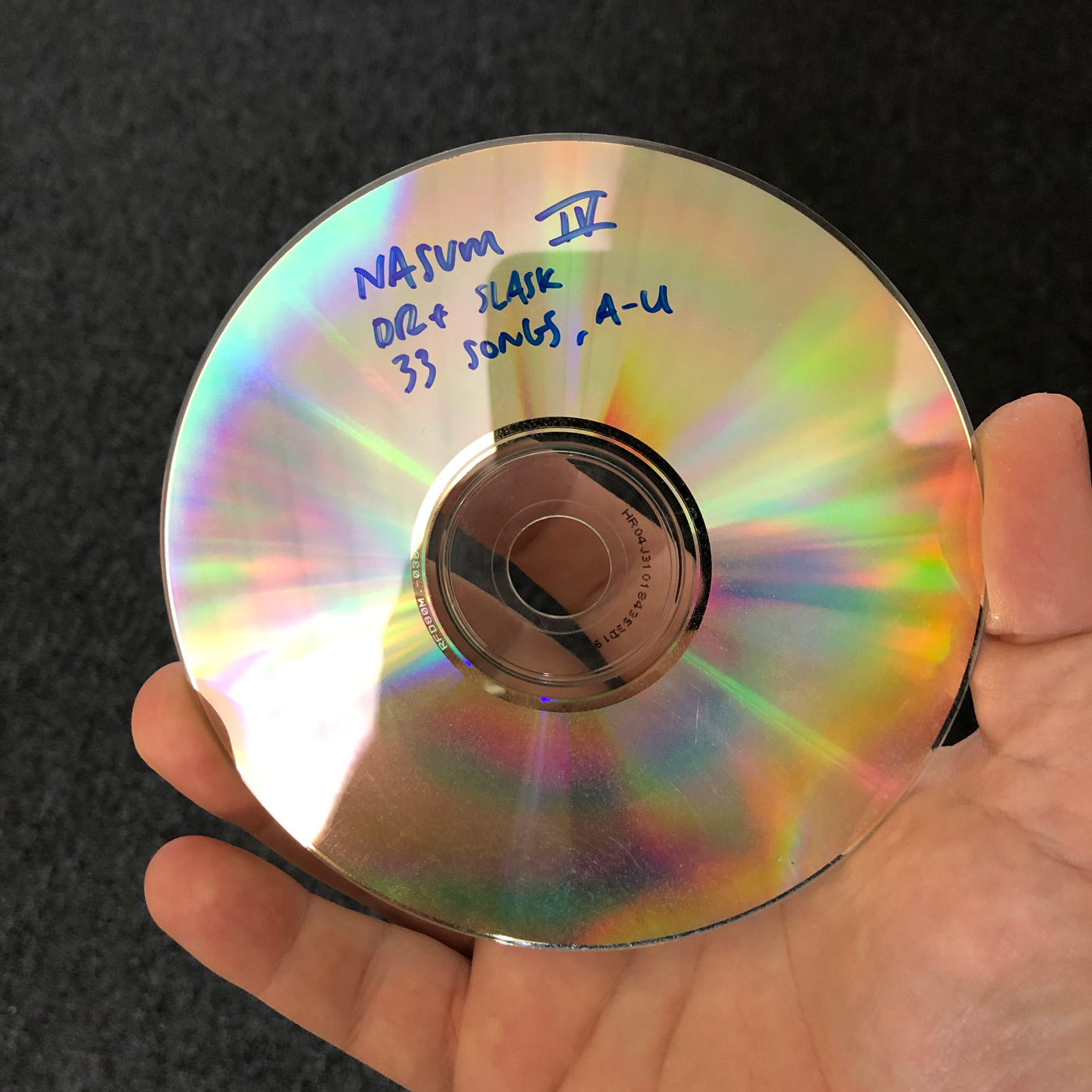 Posted: June 21, 2021 09:05:43 by ANDERS JAKOBSON
The other week I found a box of CD-R's and DVD-R's with some different stuff on them. One actually had some scribblings on it and I realised that it was a "work in progress" CD from the recording of "Sh...
•
Read the entire post
PREVIOUS POSTINGS:
•
June 3, 13:46: The vault has been updated
•
May 20, 16:48: The show from a parellel world?
•
May 8, 18:00: A new (sort of) release! A green tape!
NEWS
THE FAREWELL TOUR 2012
During May to October 2012, Nasum briefly returned for a final farewell, celebrating the 20th year of the band and to give the fans an ending to the band that everyone deserved. Here are some stuff connected to that Farewell tour.
EXPLORE NASUM.COM
THE NASUM DVD!
Released December 18 2020 - NASUM: BLASTING SHIT TO BITS - THE FINAL SHOW. Full-length movie and 40 minutes of extras.
Physical:
•
Selfmadegod Records
•
Indiemerch
Digital:
•
Vimeo on demand
MERCHANDISE
Visit the Nasum shop and find merchandise and stuff from related bands!
•
To the merch page!
NASUM @ FACEBOOK