The Vault Blog - MONTH:
December

, 2016
Auction: Signed Shift LP from 2004
Posted: December 14, 2016 22:12:42 by Anders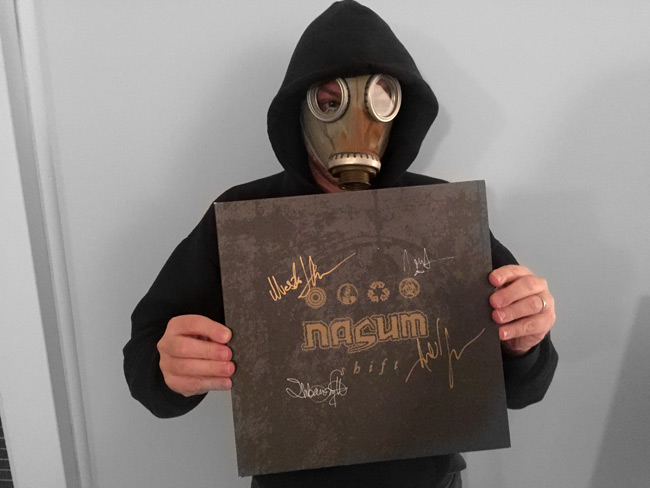 The story: "Shift" was released on CD and LP during the fall of 2004. Basically immediately after the release we embarked on our first headlining European tour. In the meantime Burning Heart promoted the album and got a deal with the huge Swedish metal/hardcore magazine Close-Up where a number of signed Nasum items were supposed to be part of a contest.

Burning Heart had promoted "Shift" by pressing a few white coveralls with the "Shift" artwork a some employees in gasmasks and coveralls (similar to the look in the "Wrath" video) gave away Nasum t-shirts at a Slayer show. We got these coveralls and gasmasks and signed them along with five copies of "Shift". Mieszko and I signed the stuff with gold ink at Burning Hearts offices while Urban and Jon signed them with silver ink at the last Swedish show for the "old" Nasum, at Fellini, Uppsala, December 4.

Well, the stuff were never submitted for the contest before Christmas and you all know what happened then. Since then, the stuff has been in the vault waiting for the right moment. Well, the right moment is sort of here now.

For the last nine years the Swedish national radio (Sveriges radio) and the P3 channel in particular have spent one week in December doing Musikhjälpen (The Music Aid) where three presenters are locked up in a glass box for 144 hours playing music all around the clock in benefit for a certain cause. The project is supported by the entire Swedish music industry (and many others) who donates stuff to auctions. It's quite a huge thing, really. Read this article if you want to know more and what the theme of the year is.

This year Musikhjälpen is broadcasting from Örebro, the birthplace of Nasum, and I decided it was time to give away one of the LP's for an official auction. The auction ends on Sunday and is held at Swedish auction site Tradera, but it's open for international buyers. All you need is a verified PayPal account.

• The auction
• Sign up for international buyers




One final note: As I wrote the signatures are in two different colors, and it's basically because we couldn't find a gold pen for the second part of the signing - we are not sorting the members in gold or silver status!

SUPPORT A GOOD CAUSE AND PLACE A BET ON THE LP! Thanks!
BLOG CALENDAR
<<
December 2016
>>
Su
Mo
Tu
We
Th
Fr
Sa
1
2
3
4
5
6
7
8
9
10
11
12
13
14
15
16
17
18
19
20
21
22
23
24
25
26
27
28
29
30
31
SEARCH OR SUBSCRIBE
SEARCH THE BLOG
SUBSCRIBE
•
Subscribe to the blog via RSS
TWITTER - #NASUM
#nasum Tweets