Category: Ramblings & reviews
Posted: Monday, 28 August 2006 23:41
If you are a constant reader of the metal press you already know this, but this last weekend Jesse Pintado passed away at a hospital in Holland.
Jesse was - obviously for his work in Terrorizer, Napalm Death and Lock-up - a real character in the grindcore world.
On stage he was sort of a dark and mysterious person who didn't really do much than just stand on his side of the stage, headbanging himself sweaty while bashing out one cool riff after the other.
Off stage he was a warm and funny person with a big heart and great knowledge in most subjects, be it food or extreme music.
He also snored like a fucking saw mill.
We did that long, long tour back in 2000 and I remember that on the second day of the tour Jesse brought us Swedes on a tour of Paris, walking up the hills to the Sacré Coeur. I was totally not prepared for that sort of hospitality from that dark and mysterious person.
A few hours later Jesse showed us how to play "Dead shall rise", but it wasn't until close to seven weeks later we played on stage with Jesse.
These are memories I will cherish forever.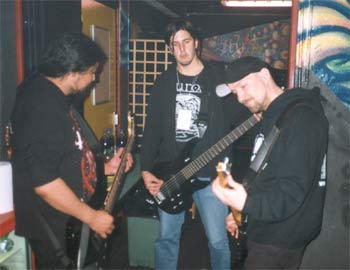 In January I wrote a blog about the rumours regarding the musical content on Terrorizers long awaited second album. I was not happy about the talk about 13 minutes tracks, chants and classical piano parts. As a Terrorizer fan all I wanted to hear was that classic grindcore sound that did such a huge impact on me back in the late 80's that I wanted to play it myself. Terrorizer wasn't an original band back then, taking lots of inspiration from Repulsion, Discharge and probably even Napalm Death, and I didn't see the point in changing something that was perfect.
That was what I wrote. This blog was recently wrongfully used by a writer for Sweden's Close-up Magazine who twisted this into how angry and bitter I was about the new Terrorizer, and used that as a big part of an interview with Jesse. The result is almost a constructed beef between Jesse and I which I felt was totally uncalled for. I loved Jesse.
I bought the magazine last Saturday and read it properly during the Sunday thinking about meeting Jesse to set things straight. To know now that Jesse was on his death bed at this time sends shivers down my spine.
I've listened to "Darker days ahead" a couple of times and I am even supposed to review it for the paper where I work. I can't say that I've liked it so far, but I will certainly listen to is in a totally different way now. It will remain Jesse Pintados grindcore legacy for years to come.
My thoughts are with all the people who have played with him and of course his family in L.A.. Rest in peace.